A woman went viral on TikTok after suspecting that the "puffed up" bags of chicken sold at Walmart indicated they were left out of the fridge and spoiled.
The video, posted by @jess.diazzz on TikTok, received more than 8.2 million views and 12,300 comments since November 28.
"I thought y'all were joking, but all the bagged chicken is puffed up with bacteria," the on-screen text read. "If it's puffed that means it did not have refrigeration and is contaminated."
In the video, Jess showed herself pushing on the bagged Tyson chicken to show that they were filled with air which she claimed was "contaminated."
Walmart's official TikTok account commented on the video thanking Jess for "making them aware."
"We are in close communication with Tyson, who told us a 'puffed' bag does not indicate spoilage in this case," the comment read.
In a comment to Newsweek, a spokesperson from Tyson Food said a "poofed" bag does not indicate spoilage.
"During the normal manufacturing process, air can be captured in the bag since this is not a vacuum seal process. In such cases, the chicken is safe to eat," the statement said. "As always, it is important to cook poultry to 165 degrees Fahrenheit."
But just a week before Jess uploaded her now-viral TikTok, another user who goes only by @p.e.a.c.e.s4u, posted a similar video calling Walmart out for their puffed bags of Perdue chicken. Her video received more than 11.9 million views since it was uploaded.
In the video, the TikToker said she was looking at the bagged chicken at her local Walmart when she noticed "big poof bags" or bags that seemed to have extra "contaminated air."
"I told the manager, team leader Deanna that this means these bags were left without refrigeration," @p.e.a.c.e.s4u explained. "I know because I've done it several times."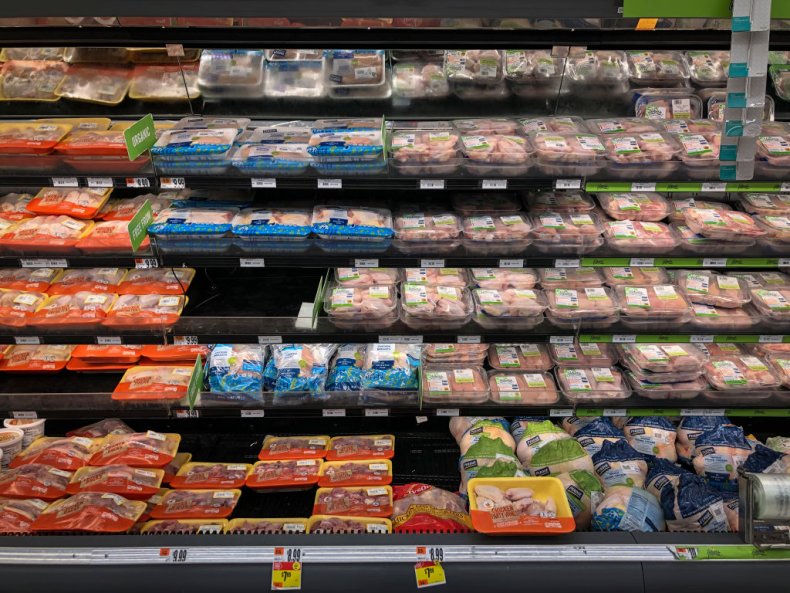 In the comments of both videos, many said that both women's claims were correct and that the puffed-up bags did contain bacteria.
"Yes mam I work in food service and that is correct," one user commented.
But others were quick to mention that the chicken did not look frozen and that many packaged meat commonly has gases pumped into the package to avoid spoilage.
Others said that the puffed bags could have indicated an elevation change and did not necessarily mean there was contamination.
"They use nitrogen or other inert gases that stop oxygen from getting in and causing bacterial growth," one user explained.
Recently, a popular myth-busting website, VerifyThis, found that a puffed-up bag does not indicate contamination. In fact, they found that USDA-approved packaging can commonly make the bag look puffy and can indicate that the bag was properly sealed.
A spokesperson for the National Chicken Council said that puffiness is not an indicator of spoilage. They recommended that to check for spoilage, people should reference the Sell By or Use By date, check for foul smell, leakage or discoloration.
Newsweek reached out to Walmart for comment.
Updated 12/22/2021, 4:54 p.m. ET: This story has been updated with a comment from a Tyson Food spokesperson.