Woman Swallowed by Sinkhole After 'Steaming' Ground Beneath Her Opened Up
A woman was swallowed by a steaming, geothermal sinkhole after the ground beneath her opened.
The woman from Perth had been visiting Rotorua's Whakarewarewa, on New Zealand's North Island, when the sinkhole opened beneath her, ABC Australia reported. The path had been leading to a Māori village tourist attraction.
The woman was rushed to the hospital after suffering severe injuries. She was in stable condition at around midday on Friday, a Waikato Hospital spokesperson told ABC.
Whakarewarewa is a geothermal area located on the North Island's Taupō Volcanic Zone. The hole was about 3.3 feet deep and had crumbled open over a fumarole—an opening near a volcano that emits scolding hot gasses and steam. The gasses reach extreme temperatures, sometimes as hot as 752 Fahrenheit.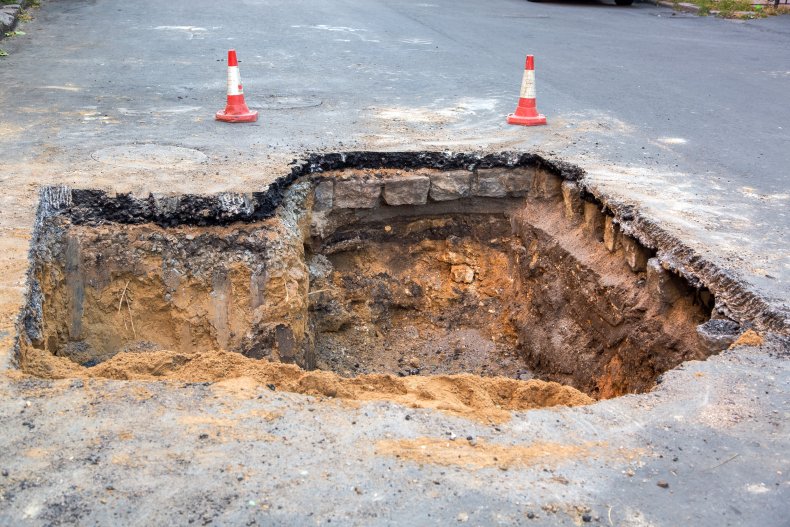 The woman's partner was also injured but was not taken to hospital, ABC reported.
The ground "may have been compromised" following recent heavy rainfall in the area, a village spokesperson told ABC
Tessa Marks witnessed the accident and told 1News that she heard "someone call out for help."
Marks called an ambulance and noticed the gaping hole in the pavement.
The witness said that the area has been "steaming" for a week but people had still been walking close to it. Marks told One News that a cone had been placed there though it did not stop people.
The village will be temporarily closed while an investigation into the incident is underway.
"First and foremost our thoughts are with the couple involved in the incident and Rotorua Lakes Council will provide any support or assistance we can. The council is working with Work Safe, which is making initial enquiries," a statement from Rotorua Lakes council said. "Work on repairs is expected to begin tomorrow (Saturday) but the road will remain closed to enable us to monitor the site in the coming days to ensure it is stable. People who do not need to be there are asked to stay away. The village has been temporarily closed to visitors by village management."
Sinkholes such as this are not uncommon for the area. A volcanologist from research institute GNS Science, Brad Scott, told 1News that it was a "very normal process in the area."
Sinkholes such as this occur when volcanic steam rises up and creates a cavity in the rock.
Scott told the news outlet that this sinkhole is similar to others that have appeared in the area. "This one just happens to be under a road," he said.
They are usually managed "very well," Scott said, by being closed off to the public.
Newsweek has contacted the Waikato Hospital and local police for a comment.