Woman Taken in Unmarked Van in Video Vandalized Security Cameras, NYPD Says
Conflicting viewpoints have been expressed over a video posted Tuesday on social media which purports to show officers from the New York Police Department taking an individual into custody and placing them in an unmarked van.
Warning: the following video may contain scenes of violence or language some may find offensive.
The suspect, described by those present as a trans woman named Nikki, was arrested during a protest at Abolition Park on suspicion of vandalizing surveillance cameras. According to the NYPD, projectiles were thrown towards the officers during the arrest.
"In regard to a video on social media that took place at 2 Ave and 25 St, a woman taken into custody in an unmarked van was wanted for damaging police cameras during 5 separate criminal incidents in & around City Hall Park," read an explanatory tweet from the NYPD on Tuesday. "The arresting officers were assaulted with rocks and bottles."
In further tweets, the NYPD said the person was arrested by the Warrant Squad, which employs unmarked vehicles in their search for suspects on the wanted list. Officers on bicycles surrounded the vehicle as the arrest was made, barring individuals from interfering.
Some on social media disagree with the official version of events. Twitter user Joshua Potash tweeted that the NYPD was "lying."
"As your tweet says there's VIDEO of the kidnapping," Potash wrote. "No bottled or rocks. We all know you're lying, because we all watched multiple videos of the kidnapping."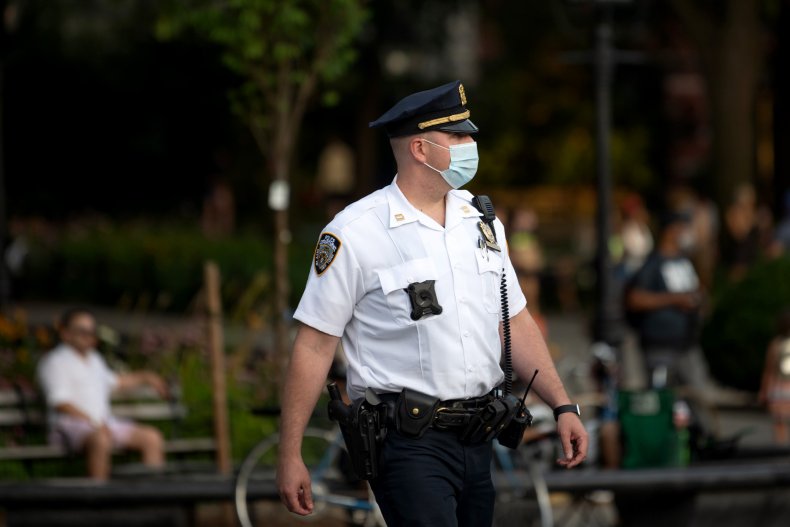 The usage of an unmarked van during the arrest has led some to compare the situation with tactics used by federal law enforcement agents in Portland, who have been observed arresting demonstrators on the street and placing them into similar vehicles.
New York City Public Advocate Jumaane Williams said Tuesday that the video was concerning and that he was "reaching to try to get some answers." The Human Rights Campaign called the arrest "deeply troubling" and used the hashtag #WhereIsNikki in a Tuesday tweet.
"This video—of a protester in New York City being thrown in an unmarked van—is terrifying and should be unacceptable to everyone who respects the constitutional rights this country was founded on," tweeted New York Representative Jerry Nadler. "There must be an immediate explanation for this anonymous use of force."
Demonstrators have reported incidents of NYPD officers using excessive force in their attempts to patrol the protests. NYPD Commissioner Dermot Shea said in June that police in the city had shown restraint.
"I think the officers used an incredible amount of restraint in terms of allowing people to vent," Shea said during a hearing about police misconduct. "I am proud of their performance in policing these protests, ending the riots and upholding the rule of law."
President Donald Trump said he would send federal law enforcement agents to major U.S. cities where protests against racism and police brutality had gone out of control. Trump has mentioned sending the agents into New York City, but New York City Mayor Bill de Blasio said in July that he would take legal action if that happens.
"If we see these federal officers on our streets then we will see the Trump administration in court to stop it," de Blasio said at a news briefing.
Newsweek reached out to the office of Mayor de Blasio for comment.