Woman Takes Matters Into Her Own Hands After $11K Theft Caught on Camera
A woman who had her possessions stolen in a restaurant in London has taken to the internet to ask for help this week, gaining viral attention.
Laura Lao moved to the U.K. from Hong Kong in March. A photographer, on July 16 she had been working and popped into the Acai Berry cafe to have a drink.
Lao told Newsweek: "I put my bag next to my feet. A man in a pink top walked into the restaurant, moved my bag with his feet, and finally took my bag away."
"When I entered the restaurant there were four or five girls there," she explained: "Due to the space with only women I let my guard down. I mistakenly thought it was safe."
Within 10 minutes, Lao noticed that her bag was missing. Containing her passport, visa, working phone, and over £10,000 ($11,900) of photographic equipment and other items, she was devastated and reported it to London's Metropolitan Police force immediately—at the same time getting the CCTV footage from the restaurant.
"I couldn't sleep that night," she explained: "On Sunday morning I went to the police station. There were two policemen there."
She explained that the thief seemed to know where the bag was and what was inside it, and thought that he might have been following her for some time before the theft happened.
In tears, Lao says she asked if the police would go with her to retrace her steps and try to find more information. But she claims the police said that they couldn't help immediately: "[They said] the thief left and can be anywhere in London now," recalled Lao: "[They explained] we can't send police with you, they won't attend today. Please wait."
They did write up her case, and during the typing she asked if she could send some comments and information via email: "I just worried he didn't have the patience to type enough information and notes."
Amid her fears over cataloging the incident, Lao asked to send extra details, including in an email. Lao included pictures of the items and their boxes with the serial numbers, the CCTV footage and any additional information she could think of.
"The policemen didn't even bother to look at the CCTV footage I was trying to show them," she claimed: "I spent 3–4 hours at the police station and felt hopeless and helpless."
In a statement, the Metropolitan Police told Newsweek: "The victim attended a central London police station and as is routine with this crime type, it was recommended she file a report online.
Sergeant Phil Rowe said: "Any instance of personal theft and robbery is taken extremely seriously and inquiries are underway to identify those responsible for this incident."
Left to wait, Lao decided to post the CCTV on Twitter and try to find the thief by herself: "Fortunately, I got lots of help from nice people," she said.
With over 19,000 retweets and more than 13,000 likes, the tweet captured viral attention which gave Lao's case a new lease of life.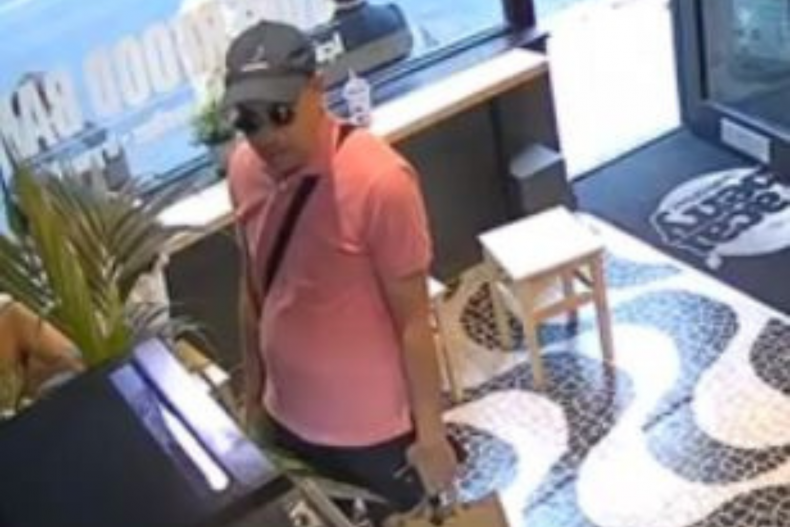 By the following Monday, and as the post was gaining traction online, Lao says she was contacted by journalist and Liberal Democrat party member Edward Lucas, saying he wrote a letter of complaint to the police for her.
Despite the police telling Newsweek they are "not aware of any complaint being made in relation to the handling of this investigation," in a tweet Lucas wrote he'd "submitted a formal complaint" over her "treatment."
She says Lucas also suggested contacting Chief Superintendent Owain Richards, police commander for central and west London. Taking this advice, Lao headed back to the police station and waited in reception to ask for an update.
Lao says she was told her "case had been passed to another officer," and when questioning whether they had seen the CCTV footage, says she was told they "didn't know."
Dissatisfied, she says she asked to speak to Richards, but this was refused without a pre-arranged appointment.
Upset that she still felt she was getting nowhere, she posted another update on Twitter—this time tagging the chief superintendent she had been advised to contact.
Richards quickly left a comment, sending Lao a DM with his phone number where they caught up.
"He apologized for my previous experience in the police station. He helped me," claimed Lao.
Later she returned to the police station and made another recorded statement, this time fully confirming all of the lost items and details.
According to the latest information from CrimeRate—a data analysis project that uncovers crime trends in the U.K., there have been more than 39,000 cases of theft from a person recorded in the capital city between June 2019 and May 2022.
No arrests have been made in the theft case and inquiries continue.
The Metropolitan Police issued a statement on July 20, with a picture of the suspect, that said: "We need the public's help to locate this man. A lot of valuable items were taken in this theft, leaving the victim understandably upset. We would also like to speak with anyone who was in the area at the time and may have seen where this man went after he left the restaurant." Anyone with information that could assist police is asked to call 101 or tweet @MetCC and quote CAD 2561/17JUL.
"I am so grateful for the many kind people who helped me and followed this case. Many strangers show their kindness to me. I love the U.K., I love people in this country," said Lao.
She also shared how she had received messages from others who had been the victim of similar crimes in London. "From my conversations, I realized it feels like a targeted crime," she said. A friend told her she had been told by an Apple employee when replacing her phone that "three or four East Asian women came in for lost items on a daily basis in London. It's felt more than just theft to us which feels heartbreaking.
"There are many Asian women in this lovely city, we work hard, and we also contribute to this city. We shouldn't be targeted for crime."