Woman Telling Johnny Depp Her Baby Belongs to Him Removed From Courtroom
A woman with a baby was reportedly escorted from the courtroom Monday during the Johnny Depp vs. Amber Heard defamation trial after yelling out that Depp was the father of her child.
While the court was on a morning break, a woman in the gallery reportedly yelled, "Johnny, I love you! Our souls are connected!," according to Law & Crime Network host Angenette Levy.
Levy reported that Depp turned and waved to the woman before she continued to lift up the baby she held in her arms, shouting, "This baby is yours!"
The woman was quickly escorted from the Fairfax, Virginia, courtroom, Levy reported, adding that while Judge Penney Azcarate was not on the bench, that kind of behavior is not tolerated in the courtroom.
The high-profile trial is in its 20th day. Depp has sued Heard, his ex-wife, for $50 million for defamation after she wrote an opinion piece in The Washington Post in 2018 implying that she was a victim of domestic abuse. Heard is countersuing Depp for $100 million for nuisance.
The trial has generated a significant amount of public support for both parties. Depp has a crowd of fans waiting for him outside of the courthouse each day when he arrives and leaves.
In one instance, fans of his shouted at him, "You will always be the Captain Jack Sparrow." The actor responded by using the Pirates of the Caribbean character's voice, saying that he's still around and that he sees him sometimes.
However, Depp said on the witness stand a few weeks earlier that he will not be returning to Disney's Pirates franchise for its sixth film.
In addition to his fans, Depp recently secured support from an international women's abuse organization known as MISSION NGO. It wrote in a statement, "In deep respect of the victims of domestic abuses that we have to affirm for intellectual honesty are, generally, WOMEN, we feel to express, as women, as mothers, as free thinkers, our compassion for Johnny Depp in this bad page of his personal history."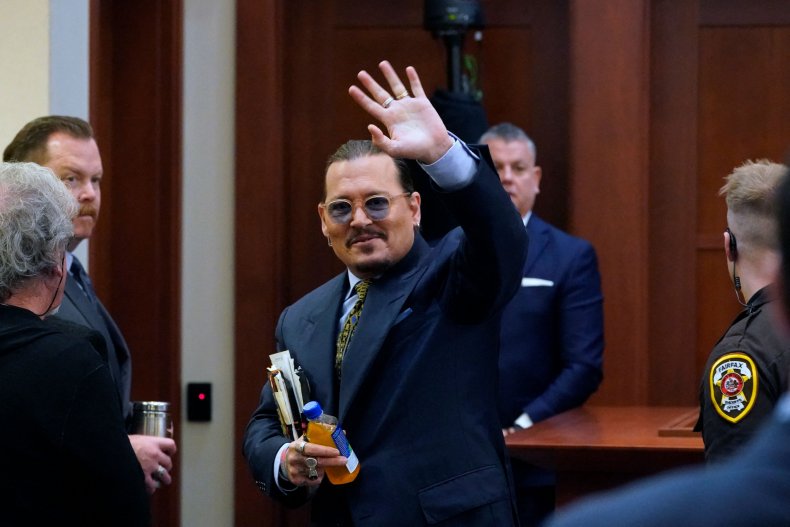 The trial's first weeks have been emotional, as Depp and Heard have accused each other of domestic violence and abuse in their short marriage. They were married in February 2015 before the actress filed for divorce in May 2016.
The jury has also heard audio recordings and videos of the couple's volatile arguments. The actors and witnesses have testified in graphic detail about injuries, including the time Depp had a finger severed, as well as sexual abuse and other alleged violence.
The trial is set to hear closing arguments on Friday.