Woman Falls Into Thermal Feature at Yellowstone's Old Faithful After Entering Park Illegally
A woman who entered Yellowstone National Park illegally sustained serious burns after when she fell into a thermal feature Tuesday morning, park officials have said.
According to reports, the incident happened as she was backing up to take photos. She fell into a hot spring or fumarole—an opening that emits steam and gas—near the Old Faithful geyser.
Park rangers stopped the woman near Mammoth Hot Springs. She had been driving for around 50 miles in spite of her injuries.
The incident took place after the woman entered the park illegally. Yellowstone has been closed to members of the public since March 24. The National Park Service (NPS) made the decision to temporarily close the park in light of the COVID-19 pandemic. It will remain closed until further notice.
Officials have not identified the woman involved or revealed the extent of her injuries. Linda Veress, Yellowstone Park public information specialist, told Newsweek it is not known which thermal feature she fell in.
After she was stopped, the woman was flown to the Burn Center at Eastern Idaho Regional Medical Center for treatment. Veress told Newsweek the incident is being investigated.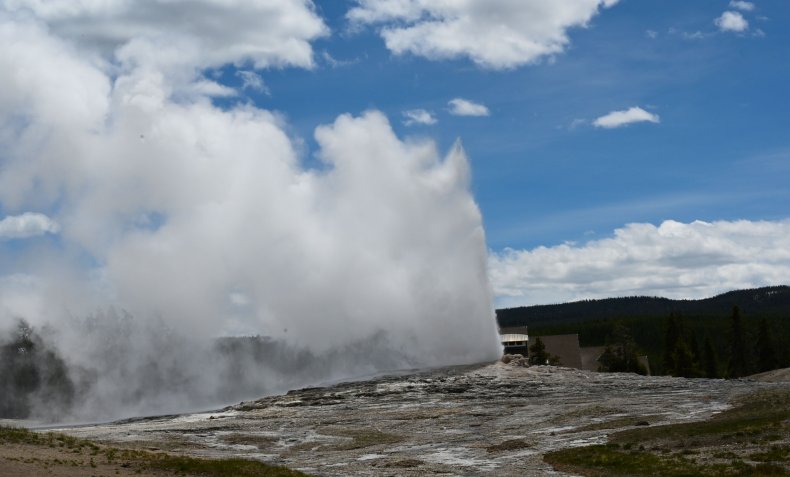 According to the NPS, there are more than 10,000 hot springs and geysers in Yellowstone—making the park home to approximately 60 percent of all hot springs and geysers in the world.
Signs have been installed to warn visitors of the dangers these geothermal features can pose and boardwalks have been built to provide a safe platform from which to view them, but accidents still happen.
"Geothermal attractions are one of the most dangerous natural features in Yellowstone, but I don't sense that awareness in either visitors or employees," Hank Heasler, the park's principal geologist, told Yellowstone National Park Trips.
Over the years, more than 20 visitors to the park have died from burns caused by Yellowstone's geothermal features. The most recent incident took place on June 7, 2016, when Colin Nathaniel Scott, a 23-year-old from Portland, Oregon, slipped and fell into a hot spring near Porkchop Geyser. According to Yellowstone National Park Trips, he and his sister had illegally walked off the boardwalk and more than 600 feet into the Norris Geyser Basin.
The previous day, a 13-year-old boy was hospitalized having suffered burns on his foot and ankle after his dad—who was carrying him—slipped. The NPS said father and son had left the designated trail.
The article has been updated with comments from Linda Veress, Yellowstone Park public information specialist.