A food truck employee landed in 375-degree frying grease when a car crashed into the Main Chicks HTX food truck over the weekend.
A restaurant nearby to where the food truck parks captured surveillance footage of the accident. The footage shows a light-colored SUV hopping the curb and plowing into the side of the food truck. The truck is pushed several feet sideways causing patrons standing by the ordering window to jump back and away from the crash.
The driver was allegedly under the influence when the incident occurred, according to Main Chick's HTX owner Ali Nasser.
"Last night an individual made the decision to drive under the influence and ended up driving off the road and into our food truck while we were operating with hot oil," he wrote on Facebook.
"We were working in there. It was basically a kitchen that someone drove into. The scary part was, it moved with the whole operation going on in there. No one was wearing seatbelts, because it's not a moving vehicle or anything like that," Nasser told local news station KTRK.
The impact of the collision sent one employee into the hot oil from the deep fryer. She had her back to the fryer. In order to get out, the employee had to lift herself with her arm still in the 375-degree grease. The employee sustained major burns on her arm and upper body, KTRK reported.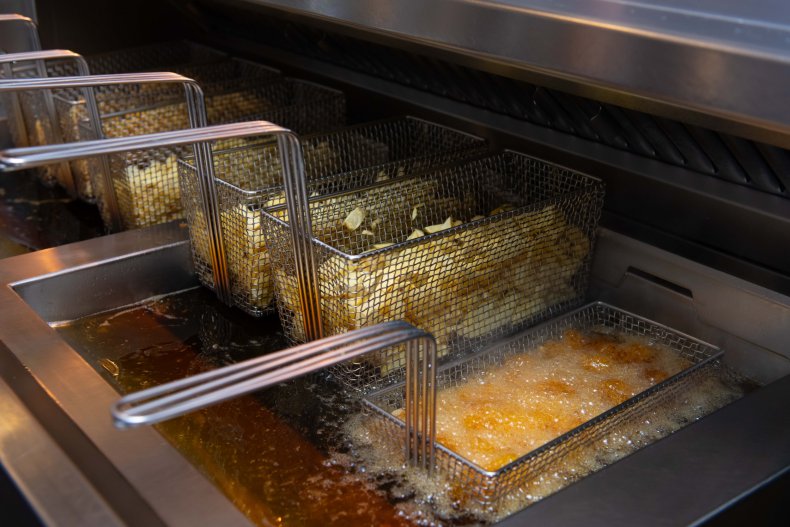 Main Chicks HTX announced on Saturday the Spring, Texas location of the chicken Nashville Hot-style chicken truck would be closed temporarily.
"This individual's actions have caused life-changing injuries to some of our team members and we must prioritize the safety of our staff before opening up to the public again," the Facebook post read. "We hope to serve the Houston area again very soon and as always we are extremely grateful for the support everyone has shown."
"It's a small business, so it's harder to compensate for these things, but we don't want to just leave our employees without any help. We want them to know we are there, and Houston is there for them," Nasser said.
Nasser started a GoFundMe fundraiser to help pay for the hospital stays for the three employees who were injured in the crash.
"We are asking for help from our Main Chick family to aid in providing our team members with funds to cover their medical bills and treatments in order to allow them to recover and heal," Nasser wrote on the fundraiser's page.
The GoFundMe has raised over $10,700 as of Tuesday afternoon, just two days after it was created.
"We are so grateful to have such amazing people supporting us," another Facebook post from Main Chicks HTX read. "We will keep you updated on when we will reopen."
Newsweek reached out to the Harris County Sheriff's Office for comment but did not hear back by publication time.