Woman Tips Waiter Thousands After Followers Donate in 'Venmo Challenge'
Meredith Steele has shown how TikTok can be used for good when she tipped a waiter thousands, after some of her 400,000 followers donated as part of a "Venmo challenge."
At the start of June, Steele, who is reportedly based in Bath, Maine, took to her TikTok to express her anger after learning that a waiter, upon discovering he is gay, had been tipped nothing, and was instead given leaflets for a church.
"My best friend just shared with me today that a co-worker of hers, who is openly gay, was twice today tipped zero dollars, and his zero-dollar tip was accompanied by a church pamphlet," she said in a video.
The waiter who remained anonymous, told The Times Record: "I just stopped and stared at it. I felt angry. I was raised as a Christian and this isn't how Christians treat people."
Over the past few months, Steele has organized "Venmo challenges," in which her followers send money to a dedicated Venmo account, which she then uses to tip large amounts to waiters, and films their reaction.
"I started doing them at Christmas this past year - the service industry had been hit so hard by the pandemic and I wanted to use my platform to help give local servers a little financial boost right before the holidays, and my followers really got behind it," Steele told Newsweek.
"Bad news spreads so quickly and has felt so pervasive this past year, and people online really crave the ability to see good news in action. Every time I shared a video, more donations would come in to keep the tips going, so we kept tipping," she said.
After Steele prompted her followers to send money to the Venmo account in order to tip the waiter this time round, she said the amount of money she received "exceeded my expectations by thousands, like thousands of dollars more than I ever thought humanly possible could be contributed by strangers on the internet."
"He cried. His dad cried. I cried. It was really powerful to be able to take something that was meant for judgment and criticism and turn it into something loving and powerful. He was so incredibly grateful and appreciative of all of it," she said.
In fact, Steele's Venmo was flooded with so many donations that she eventually put a "cap" on them and decided to donate any extra money to EqualityMaine, a local organization helping the LGBTQ+ community. Steele didn't disclose how much money was tipped to the waiter to protect his privacy, but showed the donation to EqualityMaine, which was over $10,500.
"I spoke with the server when I gave him his gift and asked if he thought the summer camp donation would be something he'd get behind, and he loved the idea - saying it was a cause he'd support as well," she said of her decision to donate the extra money.
EqualityMaine is organizing a weeklong leadership camp called the New Leaders Project for LGBTQ+ kids in Maine, towards which the donation will aid. The project helps teach local youth "leadership skills, community building and self-empowerment."
The donation will fund scholarships for 10 12- to 17-year-olds to attend the camp free of charge this summer. "Kids in every corner of the state exist in their communities and schools as the only LGBT person they know," said EqualityMaine's development director Christopher O'Connor to The Times Record. "Camp gives them the chance to meet kids just like them and know they're valued, respected and loved. They get to feel comfortable in their own skin and explore maybe a new name or pronouns they've been thinking about but may be too scared to share it at home."
"He was really grateful and I just want to tell you guys how grateful I am. Like I think sometimes people think TikTok's a pretty stupid app, and it can be, but it also is really cool to see how you guys can change the whole earth in just little 25 cent increments, so thankyou for the privilege of doing that," said Steele in a video.
Newsweek contacted Equality Maine for further comment.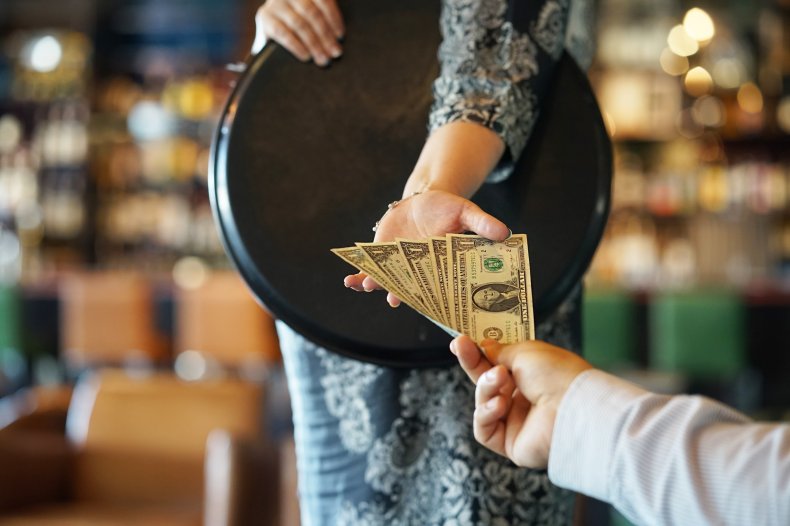 Update 6/23/21, 02:36 a.m. ET: This article was updated with comment from Meredith Steele.