Voter Denied Access to Polling Location for Wearing Black Lives Matter Face Mask
A voter in Atlanta claims she was barred from entering a polling station upon arrival due to wearing a face mask brandishing the slogan Black Lives Matter.
Nicky Griffin was eventually permitted entry to cast her vote, but says she was at first told she could not go in to the station in Fulton County while wearing the covering. She said staff suggested she turn it inside out.
"I waited in line and as I got to the door to enter the poll I was told I couldn't enter," she told Fox 5 Atlanta. "I was told that because of this simple mask I couldn't enter the polls because it was considered campaigning."
Griffin said she pressed the issue and following a discussion over this was allowed in to East Roswell Library to cast her vote.
She told Fox 5: "I said can you please show me where black lives or matter is on the ballot. If it's not on the ballot then it's not considered campaigning."
Griffin said she was sharing her experience to ensure others were not turned away for similar reasons.
"Had I not have known my rights or had I not been willing to stand up I would have been turned away, forced to turn my mask inside out," she said.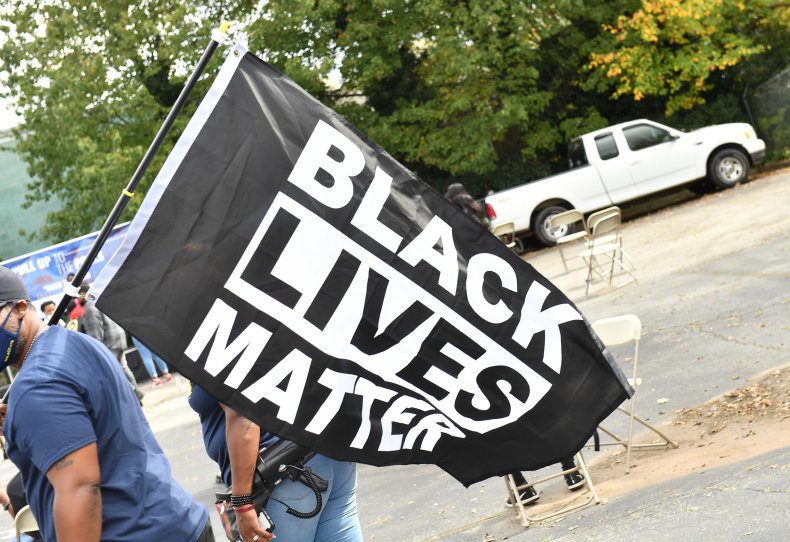 "In general black lives matter doesn't mean I'm Republican or Democratic.
"You have the right to wear a black lives matter shirt. If you choose to wear a confederate flag then you have the right to do that. What you don't have the right to do is wear something about someone on the ballot."
Newsweek has contacted the Fulton County Government and the Georgia Secretary of State for comment on restrictions at polling stations.
Voters have turned out to early voting in record numbers in Georgia, according to its Secretary of State Brad Raffensperger.
As of Saturday evening, around 2.7 million votes had already been cast through early in-person voting and by mail, according to a statement from Raffensperger.
Around half that number had been cast at a similar point in 2016.
Polling in the state is tight, with Real Clear Politics putting Biden just in the lead based on an average of survey results but only by 0.8 points.
Other areas in the state have seen issues with early voting, with reports of 10-hour queues in one county.