A woman in India has been found with her own twin growing inside her abdomen, in what is believed to be the first case of its kind. Doctors who operated on the 17-year-old said they found bones, teeth, hair and "other body parts" in the 14-inch-long mass—the largest fetus ever found in a person with the extremely rare condition, her doctors say.
The woman went to hospital complaining of an abdominal lump that had been there for five years, but was gradually increasing in size and causing pain intermittently.
An examination by doctors at the All India Institute of Medical Sciences revealed the mass was affecting the whole abdomen and that it was firm with an irregular surface. Further investigations, including a CT scan, showed the mass had soft tissue, what looked like vertebrae and ribs, and calcified components.
From this, the team suggested the woman may have the condition fetus in fetu (FiF). This is a developmental abnormality when a person ends up with their twin inside them. It is not known why this happens, but researchers believe it could be the result of one twin absorbing the other in the womb. Another theory is that it is a very extreme type of teratoma—a type of tumor that is made of different body tissues including hair, muscle and bone.
FiF was first reported at the end of the 18th century. Since then, fewer than 200 cases have been recorded in medical literature. In most cases, the fetus is found in the abdomen. However, the tumor can appear in any body part—previous cases have been reported on the thorax, scrotum, oral cavity and pelvis, the team note.
Most known cases are in children. In March, news emerged of a woman in Colombia who gave birth to a baby with a twin growing inside its abdomen.
Just seven known cases were in people over the age of 15. Until now, all these were cases were in men.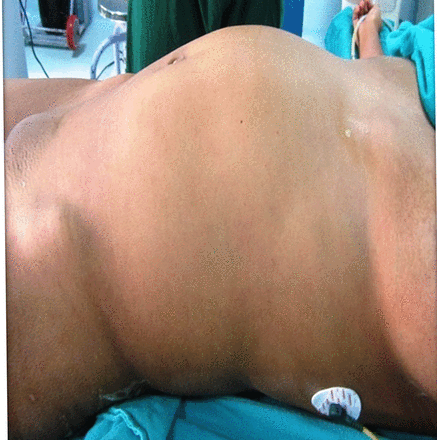 The woman came to hospital complaining of a hard lump in her abdomen. Doctors found it was her twin growing inside her.
BMJ Case Reports 2019
The woman, researchers say in BMJ Case Reports, represents the first adult female to have FiF. It is thought the condition occurs in one in 500,000 people.
After their preliminary diagnosis, doctors performed surgery on the woman, where they found a mass "composed of hairy cheesy material." It had teeth and structures that appear to be the beginnings of limbs. They also found hair, mature bones and other body parts, including intestinal tissue and skin structures. They removed the fetus and confirmed the woman was suffering from FiF. The mass was found to be 36×16×10 cm (14x6x4 inches). The team says this is the largest mass in a FiF case recorded.
The woman was discharged from hospital and is "doing well," the team wrote in a report. "This case will be followed up at every year in view to detect malignancy as some adherent tissue was left during surgery."
In a statement to the journal, the patient said: "I was much worried about my abdominal lump, after the operation I am feeling very well and my abdomen is now flat and my parents are also very happy. Thanks to all operating doctors."
Uncommon Knowledge
Newsweek is committed to challenging conventional wisdom and finding connections in the search for common ground.
Newsweek is committed to challenging conventional wisdom and finding connections in the search for common ground.
About the writer
Hannah Osborne is Nesweek's Science Editor, based in London, UK. Hannah joined Newsweek in 2017 from IBTimes UK. She is a graduate of Goldsmiths University and King's College London. Languages; English.
You can get in touch with Hannah by emailing h.osborne@newsweek.com