Woman Unknowingly Wanders Through Philadelphia Shooting in Chilling Video
A woman shared a now-viral video she took as she walked home in Philadelphia, Pennsylvania on July 4 while she was unaware of a shooting that took place as she was filming.
"Watch me vlog my walk home in philly making jokes as I unknowingly walked through a shooting while joking about walking through what seemed like a shooting," read the text over @rachhkent's video, which amassed more than 3 million views.
According to a release issued by the City of Philadelphia, two officers were reportedly shot during the city's Fourth of July concert and fireworks at about 9:47 p.m.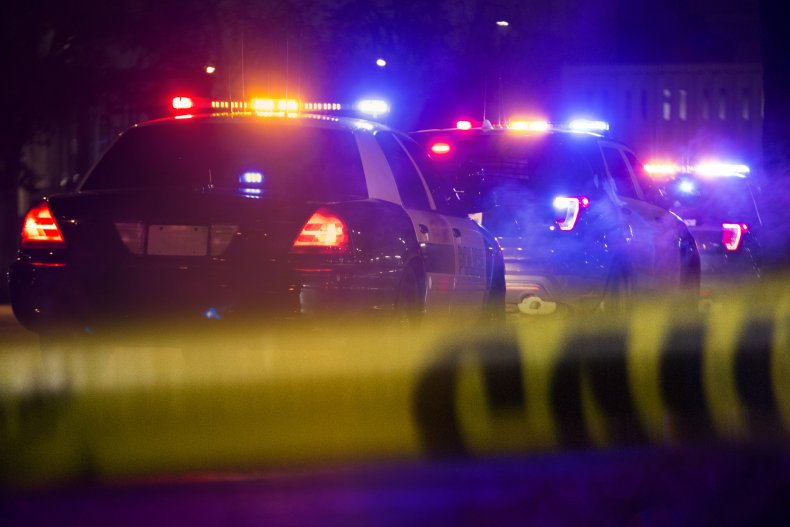 "Both officers were treated and released from the hospital later that night," the release stated. "Philadelphia Police is continuing to investigate this incident."
TikToker @rachhkent explained she was walking home because the roads were closed. Clips of her walk home were sprinkled throughout the video, and she questioned why there were so many police officers out.
At one point in the video, @rachhkent said a man told her to follow him. Not aware of what was going on, she said that she refused and crossed the street. She included a clip showing the man running away.
Later in the video, she described the city as a "madhouse."
"It's honestly kind of crazy because all these explosions are going off in the background and people are scurrying very quickly back to their homes," @rachhkent said. "And it's just, are we in a mass shooting? No, it's just fireworks, but everyone is too on edge."
Just before the video concluded, @rachhkent said she passed someone on the street who was on the phone that said they did not know what was happening but to get inside.
The final clip showed that @rachhkent arrived home safely.
In the comments section, she noted that her situational awareness was off after having a few drinks and that the video was recorded just before and during the shooting.
"I didn't know what was happening, clearly," she wrote.
TikToker @rachhkent also said that she is signed up to receive alerts and notifications from the city, but they were delayed, and she did not receive them until she got home.
Viewers took to the comments section to voice their opinions on @rachhkent's experience.
"Honestly. This is peak American experience," a viewer wrote.
"When you said, 'But they're just fireworks', 'everyone's so on edge,' my heart broke for you," another comment read. "I'm so sorry this is the reality in the US."
Others said the man that she avoided may have tried to warn her of what was happening.
"I love how that guy telling u to come [with] him prolly was tryna warn u especially as he was running away," one viewer wrote.
Some pointed out the "chaos" that went on around @rachhkent while she appeared to remain calm, while others questioned why the police did not tell her to get inside.
TikToker @rachhkent said she believed the shooting occurred just after she passed the group of officers on the street.
"It's always chaos in the city I didn't think it was anything going on," she said in a response to one comment.
"Real talk tho: I'm so glad you are [OK]," a viewer wrote. "Tonight could have ended very differently and I'm glad it didn't I hope you can recover emotionally."
In a follow-up video, @rachhkent showed the text alerts she received. The first text she received was at 10:06 p.m., which informed her of a "security incident."
Other text messages provided information about how people can reunite with loved ones.
Newsweek reached out to @rachhkent for comment.
This is not the first harrowing video that has been posted on TikTok.
A video of a dog that was trapped in a silverback gorilla enclosure was posted on TikTok.
One video went viral after a teacher showed the hockey pucks she tapes to desks in case there is an active shooter in the building.
Another video allegedly showed footage from the inside of a McDonald's during an active shooter situation.