Woman Upset Because Partner Keeps Pic of Ex and Son Sparks Rage: 'Immature'
A woman upset over the fact her partner keeps a photo of his ex and their son has been slammed by the internet at large.
In a viral post on the popular discussion website Mumsnet, user Suddenlypoor asked if she was being unreasonable for her annoyance that her partner kept the photo, despite being long divorced.
According to the Centers for Disease Control and Prevention, there were 630,505 divorces across 45 states and Washington D.C. in 2020. This represents a divorce rate of 2.3 per 1,000 people.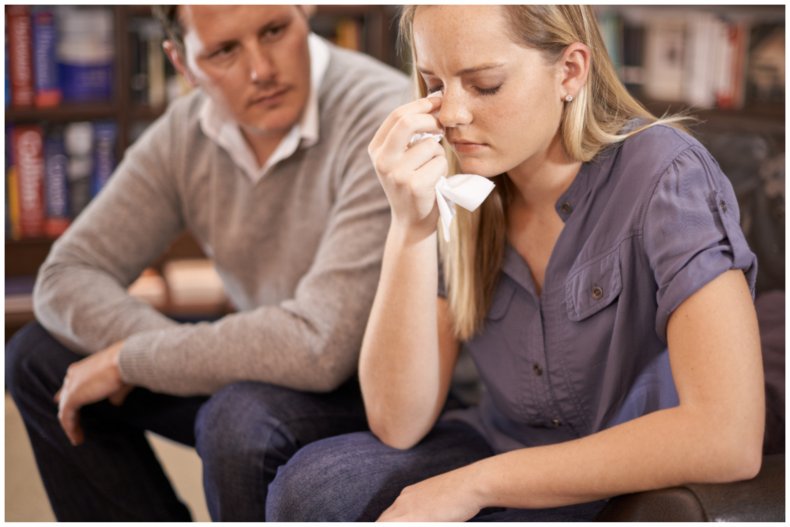 The post read: "As the title says really. Partner has a picture on display in his office of him, his ex, their son and his parents. For context, me and him [have been] together three years.
"No pictures of me/ us anywhere in the house (we don't live together) Am I right to be annoyed?"
The comment clearly struck a nerve and has amassed more than 130 responses, with many berating the woman.
One Mumsnet user said: "You're being very unreasonable. She's his son's mother. You'll need to move past this because they'll probably be in plenty of pictures together over the years, the son's graduation, wedding, etc."
Another added: "No you're not. It's in his study, not framed above the fire. You can't erase his history and it's not as if it's a photo of just her. If it bothers you, get a nice photo taken of you both and frame it."
A third commented: "I can't believe you actually think you have the right to be annoyed here. That is his child and she will always be the mother of his child. Presumably, the child goes to his house, which you don't live at? Do you want him to tear down all the photos of him and his mum and replace them of ones of you?"
A fourth Mumsnet commenter posted: "YABU [you are being unreasonable]. She's the mother of his child and always will be. You sound immature."
According to a 2019 study published in the Social Psychological and Personality Science journal, men view their ex-partners more fondly than women.
The study said: "Our results also revealed that breakup attributions regarding the partner (or relationship) correlate with the ex-partner attitudes.
"Given that women tend to make these attributions more than men, we assume that it is "something about him" that may launch many romantic breakups."
The study added: "We found support that ex-partner attitudes may serve as a sign that individuals have overcome a breakup. This is most likely true of participants who are in a new relationship and report greater breakup acceptance."
If you have a similar family dilemma, let us know via life@newsweek.com. We can ask experts for advice, and your story could be featured on Newsweek.