Woman Urged Not To Try To Save 30 Year Marriage After Husband Wants 'Space'
The internet has warned a woman to protect herself from a potentially cheating husband after he told her that he's been unhappy for a long time, and that he's moving to another city.
In a post shared on Mumsnet earlier in February under the username SoVerySad111, the woman explained that on Christmas Day her husband told her that he'd been unhappy for some time during their 30-year marriage, even though he's never mentioned this before.
She wrote: "Although we don't do much together when our almost grown-up children are all away I thought we got along well enough. We've agreed to try and save our marriage and I've found a counselor to start with very soon.
"He says he also needs space and time and has rented a flat in the city he works in so he can cut his commute and work through his feelings. We've been married almost 30 years and I don't work, he has a very well-paid job. Our youngest is in final year at university and the older ones have left home. How can I save my marriage? Will the counselor be able to help me?"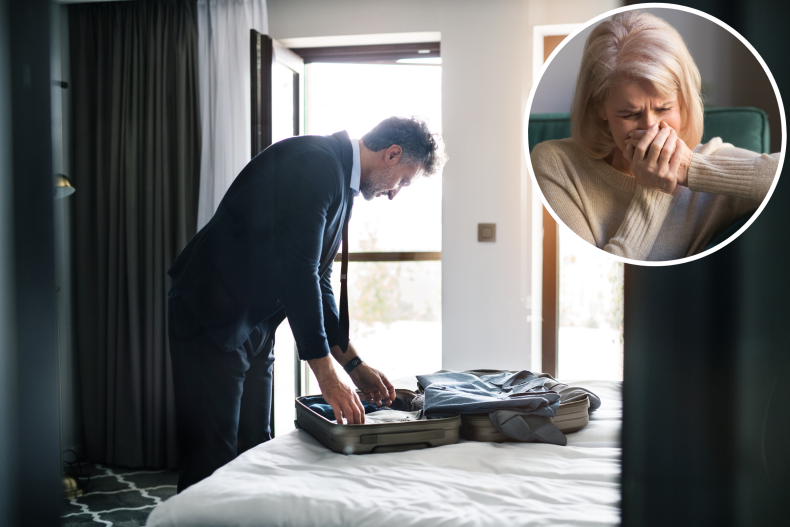 According to Cooper Trachtenberg Law Group LLC, the divorce rate in America In 2022, was 2.3 per 1000 people, which is a decline compared to previous decades. Moreover, contrary to all projections, the divorce rate in America fell by 12 percent during the COVID-19 pandemic.
Soula Hareas, a licensed mental health counselor at McNulty Counseling and Wellness, told Newsweek that this is a very common issue, and there are always two light switches that go off in these situations, "the first being the feeling that, 'I do not want to be in this relationship anymore."
She said: "Between light switch one and two going off, many days, weeks, months, or years could go by. During that time people try to save a marriage, but once light switch number two goes off, where there is actual verbalizing of the desire to leave and action towards the dissolution of marriage, the hope of saving the marriage diminishes.
"This is because the partner may feel like they are being blindsided by this news, but in reality when you dissect the marriage, this is something that has built up over time.
"Intimacy is a sure sign of a problem but it's not the only sign. I'm sure if she were in therapy there would be other things that happened before intimacy became an issue," they added.
According to Hareas, the holidays are always a time when these kinds of "bombs" are dropped because it is not only a time of reflection but people truly come to Christmas Day and realize that the entire world seems to be happy and celebrating, but not them.
"They feel miserable and it's that uncomfortable feeling that makes people speak up about leaving their spouse. If the children are grown then he may have waited until they were all out of the house and then tried to see if they could reconnect as empty nesters because children take up so much of the parents' time.
"He may have felt guilt because she is a stay-at-home mom. Some men do not want to leave their wife when she has not worked out of the home because they feel a financial and emotional obligation because she has sacrificed a lot to raise their children."
Hareas said that in many situations, when couples go to therapy one person is already mentally checked out and they are just coming to appease the other person or have a safe space with a therapist there to soften the blow.
She added: "Can this marriage be saved? It depends on how motivated the two are and the work they want to put into saving the marriage. I always tell clients anything can happen. Many times these situations are a wake-up call and the idea or fantasy of divorce sounds better than the actual reality when they miss their partner and the life they had with them.
"My advice to this woman would be go into therapy and allow her husband to do the talking so she can fully understand the reasons why and truly see where he stands, not where she thinks he stands. Therapists don't have magic wands, we give the tools and guidance but it is the couple that must put the work into the relationship in order for things to change."
The post quickly went viral on the platform and has already received over 1000 answers. Among those, most are suggesting her husband has already got someone else.
One user, Beanie567, commented: "Cherchez la femme. His head's been turned. Look up 'the script' - he's probably following it." And MrsTerryPratchett said: "He's s******* someone else. Protect yourself."
Aria2015 wrote: "I agree with the above poster. I suspect he's met someone else and now he's rewriting history and telling you he's never been happy/unhappy for a long time. You can try counseling, but I'd be looking to also consulting a solicitor on the side to see where you stand."
And Lucylock added: "Sorry OP. What a shock, but time to collect bank statements, details of finances and speak to a solicitor."
Another user, TessoftheDubonnet, commented: "Indeed. Needing time and space is code for I need to test drive a new model and I'll probably trade you in... Sorry. Now use your time wisely. By the time he makes up his mind, he'll be way ahead of you, unless you start to get your ducks in a row now.
"You want to be able to deal with this shit from a position of strength, otherwise, you risk being taken to the cleaners. What's your financial situation? Do you have access to everything? I know this [is] very a huge shock, but better forearmed..."
Newsweek was not able to verify the details of the case.
Has an infidelity broken your trust in your partner? Let us know via life@newsweek.com. We can ask experts for advice, and your story could be featured on Newsweek.