Woman Urged to Unsee Renter's Secret Pet During Inspection: 'What Cat'
The internet has urged a realtor to unsee her renter's secret cat, which she "failed to inform [her]" about at the time of moving, after a video of the fluffy discovery went viral on social media.
In the viral clip, shared on TikTok on Tuesday by the realtor, under the username Reallpretty0, the gray cat can be seen looking at her as if it knew it'd been busted, but then quickly moved on to smell her hands and make friends with her.
The hilarious post comes with a caption that says: "When tenants fault to inform you about their cat." And the poster also added: "The look we gave each other."
According to the Humane Society, your landlord is not allowed to go into your apartment and remove a pet or even show up and force you or your pet out; instead, they must go through a legal process to remove tenants or their pets.
The organization says that if a lease doesn't mention pets at all, then you are likely allowed to have pets, although some communities can ban certain types of animals. The Humane Society's advice is to always check your local housing laws as those outweigh the lease.
But even if your lease doesn't allow pets, you may be allowed to keep them depending on your local housing laws and the type of lease you have. You may also be entitled to keep your pet against your landlord's wishes if you have an assistance animal.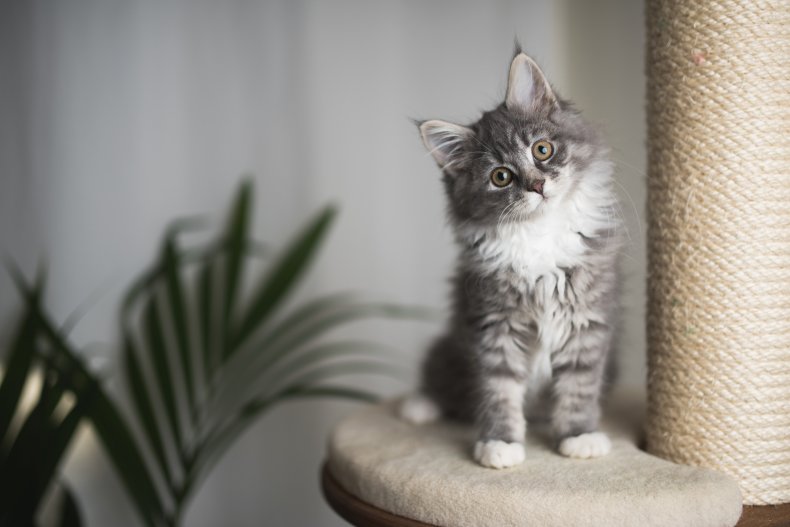 The video has quickly attracted animal lovers from all over the platform, and it has so far received over 2.7 million views and 490,000 likes.
One user, Ur Mom, commented: "On behalf of the tenants, that is a ghost." And Space Hunger said: "Is this just a video of an empty house??" lowest_5 added: "What cat???"
Izzi6511 joked: "That looks like a pine cone to me." And Kite said: "Pls let him stay." ash trash wrote: "I think he's just a guest for the weekend while his house gets fumigated."
Another user, Lmgoingplaces, asked the realtor: "Pretend you never saw it. It's too cute." And jreallyj said: "That cat is like 'They told me it was tomorrow!" aloegoof added: "They're just watching him for the weekend."
Newsweek reached out to Reallpretty0 for comment. We could not verify the details of the case.
Do you have funny and adorable videos or pictures of your pet you want to share? Send them to life@newsweek.com with some details about your best friend and they could appear in our Pet of the Week lineup.