Woman Finds Venomous Snake in Car Glove Box While Driving
A woman found a venomous red-bellied black snake in the glove box of her car when she was driving in Queensland, Australia.
The woman driving got "a hell of a fright" when she saw the snake in her car, according to Andrew of Andrew's Snake Removal, who got called to take the reptile away.
He speculated that the snake got into the car when it was parked outside the woman's home before hiding in the glove box, where it was found "sitting nice and content." When the woman saw the snake, she pulled over outside a chemist shop and called for snake removal.
Andrew said in the Facebook post: "It's usually a nightmare to find a snake when it's got into a car but luckily found this guy pretty quickly. Busy day."
According to the Australian Museum, red-bellied black snakes are one of the most frequently encountered snakes on the east coast of Australia and are responsible for several bites every year.
However, the snake species is shy and will only bite if severely bothered. They will typically try to freeze to avoid detection and will try to flee if approached.
If a red-bellied black snake bites, it will be a rapid but clumsy bite, and sometimes, the snake will hang on and chew.
Their venom generally causes mild or negligible symptoms, like bleeding and/or swelling at the bite site, nausea, vomiting, headache, abdominal pain, diarrhea, sweating, local or general muscle pain and weakness, and red-brown urine (due to myoglobin being released from damaged muscle tissue).
Despite this, the red-bellied black snake is one of the least dangerous elapid snakes in Australia. While they are responsible for a number of bites, very few human deaths have resulted in a bite from a red-bellied black snake. The Australian Museum also says that of the deaths attributed to this kind of snake, the snake's identity was often unconfirmed.
Red-bellied snakes pose a higher risk to children and pets as they are smaller and medical attention should be sought for all suspected bites.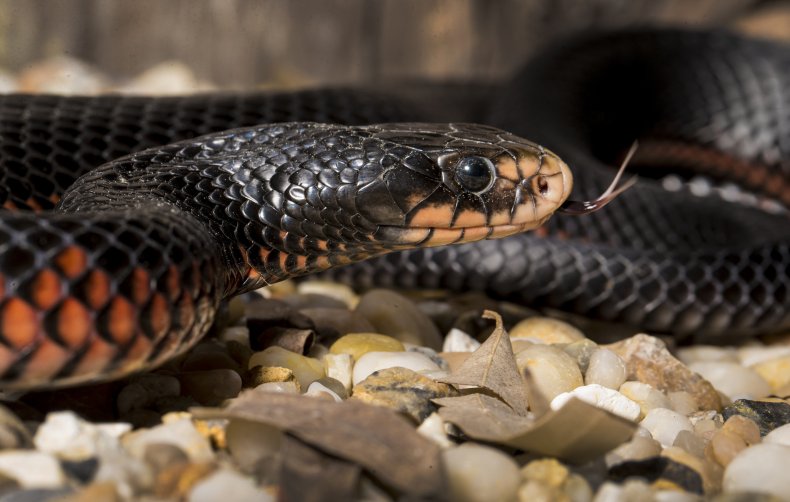 While it is a strange incident, a red-bellied black snake found hiding in a car glove box is far from the first weird snake discovery that Australia has had recently.
On Wednesday, a tiger snake hitched a lift under somebody's car before crawling out at a gas station and wrapping itself around a pump. Earlier this month, a large carpet python was found curled up under an electric blanket in a boy's bed.