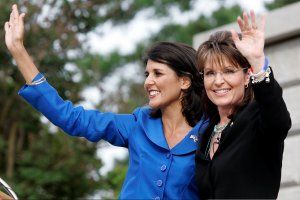 Last Tuesday, the upper crust of South Carolina's Republican establishment gathered at the tony Spartanburg home of Karen Floyd, the state party chair. They'd come for a $1,000-per-couple GOP fundraiser, headlined by visiting Gov. Tim Pawlenty of Minnesota. Among the luminaries were Roger Milliken, a billionaire textile magnate who has donated millions to the party, and Robert Chapman, a retired federal appellate judge appointed by Ronald Reagan. There were lawmakers, state officials, business tycoons, and a one-star general. The guests mingled and chitchatted, sipping gin and tonics and nibbling on little quiches. It was the sort of scene you'd expect in this bastion of Southern conservatism: genteel, elderly, and above all, very, very white.
Until, that is, the party's freshly anointed gubernatorial nominee arrived: Nikki Haley, 38 years old and Indian-American, wearing a snug, saffron-colored suit and stilettos you could impale a small animal with. Only a few months ago, she was an obscure state representative. Then former Alaska governor Sarah Palin endorsed her, the Tea Party movement embraced her, and she proceeded to dispatch a U.S. congressman, the lieutenant governor, and the attorney general in the Republican primary and runoff. Now she's the hottest thing in South Carolina politics. And if she wins in November, becoming the state's first female and first nonwhite governor, she'll likely rocket to national prominence and secure a spot in the GOP firmament.
Comparisons to Palin are inevitable. Haley is attractive and earthy, with a gleaming smile and a steely resolve. While the former Alaska governor often seems tongue-tied and uninformed, Haley comes across as sharp and articulate. She's remarkably poised for someone fairly new to politics. And she's a natural at the art of schmoozing. At the Spartanburg fundraiser, she mugged for pictures with new fans, locked eyes intently on those she met, and listened solicitously to the party poohbahs. "I want you to feel good about your governor," she said to one guest after another, managing to make it sound heartfelt each time. They ate it up. "She brings something new to our party," said Henry McMaster, the attorney general who lost to her in the primary and later endorsed her, in his introductory remarks. "We have a new leader for the conservative movement in this country, right here in South Carolina."
Eager to shed their image as the party of old white men, national Republicans are salivating. "The GOP has long struggled with expanding the base of our party," says Nick Ayers, executive director of the Republican Governors Association (RGA). Haley offers "a big chance for us to bring ethnic minorities into the party." In Haley, the GOP has found a candidate who not only has consistently espoused conservative dogma—small government, lower taxes, less regulation—but one who appeals to multihued, 21st-century America. When Ayers met her, he immediately grasped her potential. "She had core principles she was unwavering on," he says. "I thought it would be icing on the cake that she had darker skin and was Indian-American."
So does this herald a new era of diversity in the GOP? Only to an extent, says Scott Huffmon, a political-science professor at Winthrop University in Rock Hill, S.C. "What [Haley's rise] says about the Republican Party is that they are open to minorities and women," he says. While that's significant, it doesn't mean there's a corresponding urge to take up what are typically considered minority issues—endemic poverty, for instance, or employment discrimination. If Haley "had entered the race talking about issues that minorities face, she would not have gotten into the next round," Huffmon argues.
Haley shies away from talk of breaking racial and gender barriers. She says she's proud of her heritage and of the accomplishments of Indian-Americans—their educational attainment, their income levels, their philanthropy. But that's about as far as she'll go. "Everybody else is looking at this to be something special," she told me. But "there was actually nothing special about this at all." Pressed on the matter, she allowed that "the fact that I happen to be an Indian female, of course that brings a new dynamic. But what I hope it does is cause a conversation in this state where we no longer live by labels, but we live by philosophies."
If Haley's nomination signals an evolutionary step for the GOP, it also says something about the changing face of the South, the heart of the modern Republican Party. After all, she'd be the second Indian-American governor in the country, joining Republican Bobby Jindal of Louisiana. Though race remains a volatile force in the region, "people down here don't fight about [it] like they used to," says Hastings Wyman, founder of the Southern Political Report newsletter. Part of the reason is generational change, as kids grow up in more integrated schools. Part of it is demographic flux, as migrants from other states and countries add new strands to the social fabric. President Barack Obama's election has played a role as well, making what would once have been unthinkable—an African-American man in the White House—seem normal.
In South Carolina, the Republican Party has absorbed an influx of retirees from the Northeast who have mostly settled along the coast. Concerned above all with protecting their nest eggs, they cherish fiscal more than social conservatism, unlike their brethren upstate. "They don't care what color you are as long as you protect their green," says Huffmon. Case in point: the state GOP just chose Tim Scott as its nominee in the First Congressional District, which encompasses a coastal stretch from Charleston to Myrtle Beach. Poised to become the first black Republican congressman from the South since Reconstruction, he defeated, of all people, the late Sen. Strom Thurmond's son, Paul, in the primary. "There's a myth that South Carolina is stuck 30 years ago," he says. "We're not. What my election shows is that the voters of South Carolina are enlightened folks."
The South Carolina that Haley was born into, though, was a more traditional version. Her parents, Ajit and Raj Randhawa, traveled to the state in the late 1960s to visit friends, and ended up settling in the tiny town of Bamberg (population: 2,500). They were the only Sikh family around. "We knew we were different," says Haley. "There certainly were times where it was very apparent." She then recounts—not for the first time—how her mother entered her and her sister into the Little Miss Bamberg pageant. Accustomed to crowning a black queen and a white queen, organizers didn't know what to make of the two Indian-Americans. So the girls were disqualified. "But I was still allowed to sing my song, 'This Land Is Your Land,'?" says Haley. Whatever discrimination the family experienced, however, it certainly didn't hold them back. Haley's parents launched a clothing business out of their living room and eventually built it into a multimillion-dollar enterprise. Little Nikki started keeping the books when she was 13.
With a knack for numbers, she later got an accounting degree at Clemson University, where she met her future husband, Michael Haley, a white Methodist (and now an officer in the Army National Guard). She converted to his faith before they got married, though they held both Christian and Sikh ceremonies. Haley's religious background surfaced as an issue during the primary, forcing her to clarify that she's raising her two kids Methodist, that the family regularly attends a Methodist church, and that she only occasionally visits a Sikh temple, when invited by her parents.
Haley says her political beliefs were shaped by her experience working in the family company. "I'm an accountant and a small-business person who saw how hard it was to make a dollar and how easy it was for government to take it," she says. This is a favorite line of hers, and one she repeats regularly in the course of a day on the campaign trail. It was one of the first talking points she hit when I met with her at her campaign headquarters—a creaking, shabby office with wood paneling and dingy carpet. ("So '70s, I love it," she says. "It screams underdog.") She sat during the interview with perfect posture, her pen poised over a legal pad, ready to jot down notes—reminiscent, in a way, of an eager school pupil. Her intensity and drive are apparent, yet always tempered by a genial disposition. Ayers recalls that Haley was the first candidate to arrive at an RGA training retreat in Sun Valley, Idaho, last year. "She was really impressive, asked good questions, made sure to meet everyone," he says. "She sat down and very methodically listed off how she was going to win the race."
Those qualities were on display in her first race for the state House in 2004. She took on what many considered an impossible challenge: to depose the longest-serving representative in the legislature, a 30-year veteran. He was the epitome of old rural South Carolina. Yet his district, in Lexington County, was rapidly developing and suburbanizing, and Haley personified its new face. She campaigned tenaciously. She knocked on doors. She plunked herself down at the entrance to subdivisions and handed out coffee and doughnuts. She marched into smoke-filled redneck bars and wooed the blue-collar clientele inside. "She was very hardworking, incredibly focused," says Walter Whetsell, who advised her campaign. But as she gained on her opponent, the state's legendary skullduggery insinuated its way into the race. A mailer went out that noted her full birth name: Nimrata Randhawa. A whisper campaign suggested she might be Buddhist or Hindu. Disconcerted, she asked Katon Dawson, the state party chair at the time, "Is it worth all this?" In the end, it was; she won.
Haley remained just as feisty once she arrived at the capitol. She became a protégée of Gov. Mark Sanford and took up the cause of shrinking government and strengthening accountability. The issue she championed most ardently was transparency—specifically, a bill she filed that would force lawmakers to publicly record their votes on bills (South Carolina is one of the few states that don't require this). "She showed the good ol' boys right away," says Ashley Landess, president of the South Carolina Policy Council and an ally on the issue. A study by the group showed that only 8 percent of House bills involved recorded votes. "I went across the state," Haley recounts, "and I said, 'If you didn't know how your House member voted 92 percent of the time…how is it that you know who to vote for when you go to the polls?'?" The bill never became law, and Haley says the House leadership retaliated by stripping her of a subcommittee chair in 2008 (a spokesman for the Speaker says she was reassigned after she unsuccessfully sought to become chair of the overall committee in a contentious race).
Haley obviously relishes her anti-establishment posture. But it has rankled many of her colleagues in the legislature, on both sides of the aisle. They complain that, like Sanford, she seems a little too quick to call a press conference to beat up on fellow lawmakers. They note that she's had her own issues with transparency, having failed to disclose $42,500 in consulting fees she received from 2007 to 2009. (Her campaign says she disclosed everything she was required to at the time and has since released more.) And they rap her for a thin list of legislative accomplishments; the only bill she's introduced that became law exempted salon workers who solely shampoo hair from having to obtain a cosmetology license. (Her campaign responds that she's done plenty more, like getting new legislative rules approved that increased transparency.) "She's really followed Sanford's example of trying to grab media," says Gilda Cobb-Hunter, a Democratic representative. "But often, the substance is not there. She's great on clichés and knows the buzzwords of how to get people motivated. But when you get down to governing, you need more than simplistic solutions."
Just as in 2004, Haley launched her gubernatorial bid as a long shot. Ayers says that when he took her to meet some deep-pocketed donors in Atlanta about nine months ago, it was a hard sell. "They all said the same thing," he recalls. "?'We like her, but there's no way she can win that state.'?" She got a boost when Jenny Sanford, the governor's ex-wife, endorsed her and helped shake loose some fundraising cash. But the real break came one day in May. The campaign received a call from Sarah Palin's husband, Todd, who said she'd seen a video of Haley at a Tea Party rally and liked what she saw. Sarah was in North Carolina for a National Rifle Association convention and wanted to come down the next day to endorse Haley. The event drew about 1,000 people, many of whom knew nothing about Haley. Her campaign caught fire, and she surged in the polls.
Yet soon thereafter, scandal hit. In quick succession, two men—a political blogger and a lobbyist—separately claimed to have had dalliances with her, which she denied. Then state Sen. Jake Knotts created an uproar by calling her (and Obama) a "raghead." Through it all, Haley remained disciplined. "She was cool as a cucumber," says Bruce Ransom, a political-science professor at Clemson. "She stayed on message, she did not become defensive, and at some point, she was viewed as a victim."
The Tea Partiers played a critical role in Haley's rise. Yet again, her timing was fortuitous. She had already laid claim to the accountability banner. When the Tea Party movement gathered steam, with its take-our-government-back fervor, it made for a neat ideological and rhetorical fit. Once Palin offered her imprimatur, the alliance was sealed. "This is definitely a case of serendipity," says Winthrop University's Huffmon. The movement benefits from her as well. In the face of persistent accusations that they harbor racist grudges, the Tea Partiers can point to Haley as evidence that they're just as color-blind as anyone else.
Haley is now turning her attention to the general election. Her opponent, state Sen. Vincent Sheheen, is regarded as one of the strongest candidates Democrats have put forth in years. A solid fundraiser with strong ties to the business community, he may prove to be a formidable challenger (though the latest polling shows him trailing Haley by double digits). His campaign has quickly unfurled its central line of attack: vote for Haley, and get four more years of Sanford (someone whom South Carolinians are eager to show the door, given the national ridicule he's invited). "The manner in which she approaches governing is exactly like Mark Sanford's," says Trav Robertson, Sheheen's campaign manager. "It's adversarial." All of which suggests that a bruising battle could lie ahead—one that Haley, if her past is any guide, should take delight in fighting.
with Daniel Stone