Woman Wants to Pop 'Trump Baby' Blimp But GoFundMe Took Her Campaign Down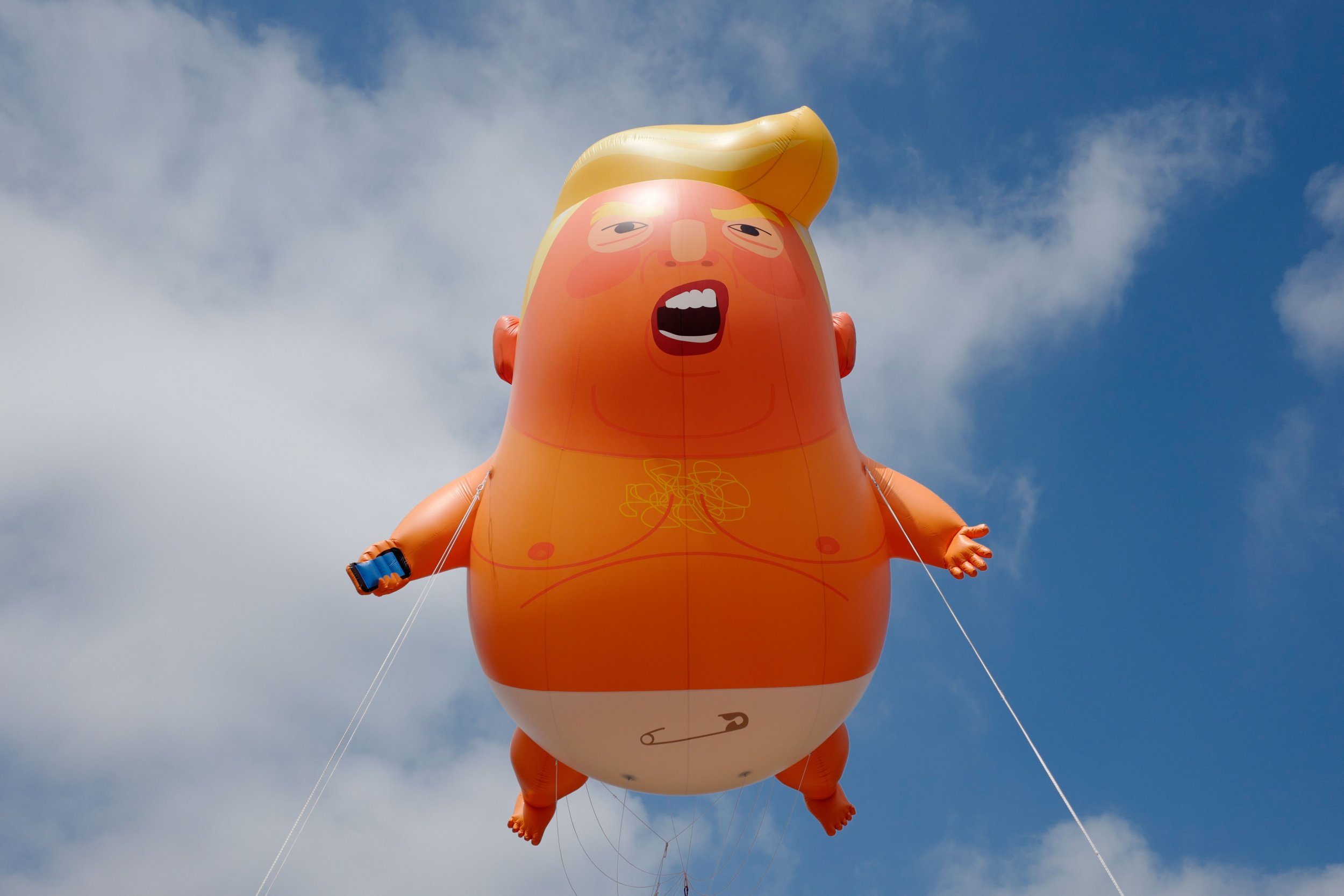 While tens of thousands of dollars have been raised to bring the "Trump baby" blimp aired in the U.K. to New Jersey, a Trump supporter launched a counter crowdfunding campaign to pop it.
Related: Three-Quarters of British Public Dislikes Donald Trump, Half Don't Want Him to Meet Queen: Poll
"I'm tired of people disrespecting our President!" New Jersey resident Kathie Kitt Conklin stated in a GoFundMe page she started Thursday, according to the Asbury Park Press. "I plan on taking out this ridiculous balloon..."
Conklin specifically sought to raise bail money, in case the giant balloon depicting an angry President Donald Trump makes it to New Jersey and she gets arrested for destroying it. But her crowdfunding page was taken down by GoFundMe soon after she started it because it violated terms of service, a spokesperson for the platform told the newspaper. The $285 in contributions toward her goal of $1,000 was refunded to the donors.
Her page did not detail what method she planned to use to pop the blimp or acknowledge that New Jersey did away with cash bail last year.
"I don't want to talk to the press. They always twist things. Thanks," Conklin told the Asbury Park Press and hung up.
Meanwhile, a couple of New Jersey activists have already raised more than $23,000, as of Friday afternoon, to bring the blimp that flew over London during Trump's visit to Britain to Bedminster, where the president has a golf course. They said they plan to purchase more than one "Trump baby" and take them on a tour across the U.S.
"We were inspired by the patriotic actions of our friends in the UK," their GoFundMe page states. "We are dedicated to pushing back against Donald Trump and his administration's assault on our democracy and the American values we hold so dear."
Trump last week largely avoided the British capital, where the blimp was flown and multiple protests were organized. But he has made frequent visits to his golf courses including the one in Bedminster, from which he has held press conferences.
Ahead of his visit to the U.K., Trump told The Sun he was aware of the blimp and that it was one reason he decided against spending much time in the capital.
"I guess when they put out blimps to make me feel unwelcome, no reason for me to go to London," Trump said. "I used to love London as a city. I haven't been there in a long time. But when they make you feel unwelcome, why would I stay there?"