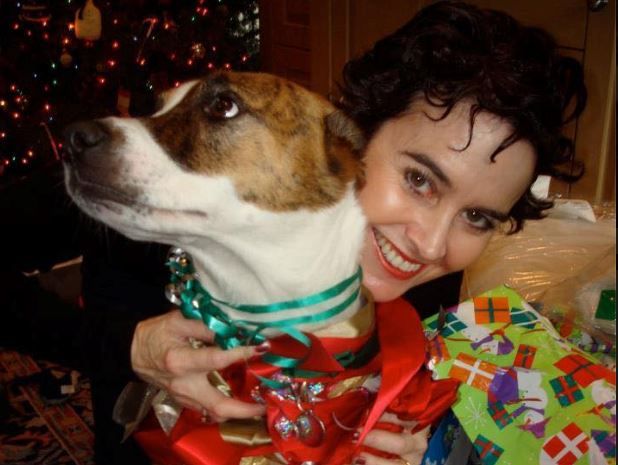 A Texas woman is warning pet owners to be wary of certain snacks after her beloved dog suffocated in a tragic accident.
Last week, Christina Young and her partner Christian came home to a horrifying scene: Their dog Petey had accidentally suffocated himself with a bag of chips while he was home alone. She posted about her ordeal on Facebook, writing that she had "an obligation to share" what happened to her pit bull to prevent similar heartbreaks.
She thinks the dog ate the chips from the bag but suffocated while struggling to reach the crumbs.
"With there being nothing left inside, every time he would go for more he would inhale, making the bag tighter and tighter around his head," she wrote.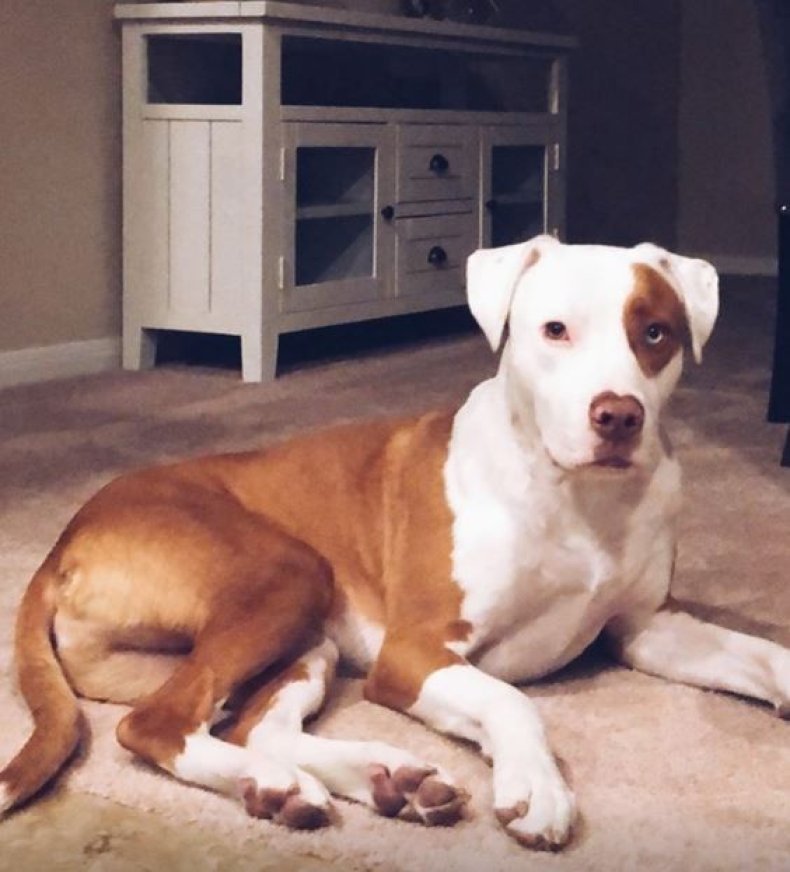 Young added that she and her partner are consumed with guilt over what happened and are still trying to make sense of the tragedy. "Petey was SMART so I didn't understand why he couldn't get it off with his paws," she wrote.
Sadly, her story is not unique. Bonnie Harlan started an organization called Prevent Pet Suffocation in 2011 after her dog, Blue, died after getting his head stuck in a Cheetos bag. Now, she runs a popular Facebook page and where people trade stories and information. In 2017, she registered Prevent Pet Suffocation as a nonprofit.
"I typically hear from three to four distraught dog owners per week," Harlan told Newsweek. "I have documented over 550 pups who have suffocated, and those are just the ones I have heard from. So, you can imagine, there are many, many more worldwide."
Harlan said the stories all share striking similarities, even down to the type of food packaging. She started a petition to urge Frito-Lay, the maker of Cheetos, Doritos and other popular chips, to add a warning label to wrappers and packaging more than four years ago. So far, the petition has more than 12,000 signatures.
"I've yet to reach Tom Greco, the president of the North American Division [for Frito-Lay], but he's had people call me," Harlan said of her efforts to petition the company. "But we stay in limbo."
In a statement to Newsweek, Frito-Lay said it was aware of the issue.
"The issue has been brought to our attention," said company representative Alexia Allina. "We are sympathetic to the loss of any pet and have shared this feedback for internal review."
Online, hundreds of stories also pour in to Preventive Vet each year, an organization composed of veterinarians and animal educators. The group started Pet Suffocation Awareness Week in 2015 in conjunction with Harlan to help pet parents understand the dangers posed by food wraps.
"It takes as few as three to five minutes for a dog or cat rummaging through a bag for crumbs to asphyxiate," warned Jason Nicholas, a veterinarian with Preventive Pet. "It can happen to any pet, regardless of their size, age, or strength; and it can, and has, happened even when the pet owners are in the same home, maybe even in the next room over."
In a survey of more than 1,300 pet owners, Preventive Pet found that most of the pets who suffocated discovered the bags in trashcans or on a table in the home. Nicholas reported that most pet-lovers don't know the wrappers pose a danger until a tragedy strikes them or someone they know.
Harlan, who has now dedicated close to a decade of her life fighting for animal safety, continues to console pet owners each week.
"I tell devastated pet owners who go through this that so many of us know exactly how you feel," she said. "We didn't know, either. Many of them feel extreme guilt that they didn't protect their beloved pet."
She continued: "I tell them we can't prevent what we don't know is a danger."
Uncommon Knowledge
Newsweek is committed to challenging conventional wisdom and finding connections in the search for common ground.
Newsweek is committed to challenging conventional wisdom and finding connections in the search for common ground.