Michigan Bank Calls Police on Woman Scared of Coronavirus Who Wore Face Mask: 'I Was Traumatized'
A Michigan woman with a weak immune system who wore a mask at her bank because she thought it would protect her from the new coronavirus said she was "traumatized" after staff called the police.
Amanda Ulmen told Fox 2 Detroit that she visited a branch of Key Bank in the city of Dearborn on Monday while wearing a mask covering her mouth and nose. Ulmen has an undisclosed medical condition which makes her vulnerable to infectious diseases. Ulmen's mask was black, featuring a smile made of large, white pointed teeth. She hoped the mask would stop her catching the new coronavirus dubbed 2019-nCoV which has killed over 600 people, all but two of them in mainland China.
The U.S. Centers for Disease Control and Prevention has said the general public don't need to use face masks against coronavirus—as 2019-nCoV hasn't spread in the general community— or any other respiratory illness like the flu.
But Ulmen said she and her family wear the masks as a precaution, because she is "scared" of the coronavirus.
Ulmen said the bank teller asked her to take off her mask. When she refused, Ulmen said the staff member picked up the phone, and pushed what she assumed was the panic button.
"I hear this giant locking sound," Ulmen recalled. She was then locked in the back until police arrived. Ulmen left after speaking with officers.
Ulmen had visited the bank for five years and claimed staff there know her. She said staff members didn't tell her that they found the design of her mask scary.
"They kept saying that it was for their protection. And I don't understand what my mask has to do with their protection," she said.
"I was scared and traumatized," said Ulmen. She now plans to close her Key Bank account.
"All I want to do is protect myself with the mask and I'm a criminal," she said, speaking through tears.
Last month, Ulmen visited the bank with her 10-year-old son, who was wearing a surgical mask as he was sick. The teller refused to serve her until he removed his mask, she claimed. Ulmen took her son back to her car and then came back to carry out her transaction.
Ulmen explained she wears the mask featuring the teeth, rather than a traditional disposable covering, as it is reusable and more eco-friendly.
Key Bank told Fox 2 Detroit in a statement: "We regret any inconvenience caused, but it is bank policy to request brief removal of anything blocking the face for the safety of our employees and clients."
So far, 12 cases of 2019-nCoV which emerged in a Chinese city late last year have been confirmed in the U.S., in Wisconsin, Arizona, California, Illinois, Massachusetts, and Washington. As shown in the infographic by Statista below, the U.S. is among the over 25 countries where it has spread.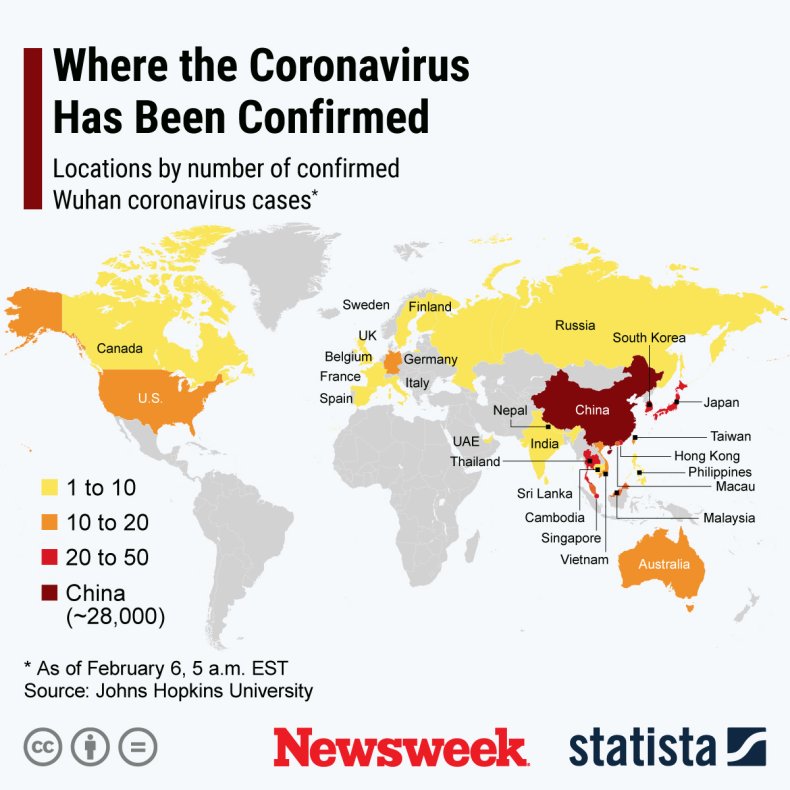 Dr. Amesh Adalja, a scholar at the Center for Health Security at the Johns Hopkins Bloomberg School of Public Health told Market Watch most people don't know how to use the masks correctly in order to prevent the catching bugs. He warned people rushing out to buy the coverings could stop health care providers from accessing them.
Eric Toner, of the Johns Hopkins University Center for Health Security, told Business Insider there's "little harm" in wearing face masks, but said: "it's not likely to be very effective in preventing it [coronavirus]."
As there is currently no vaccine to stop the spread of 2019-nCoV, the CDC states "the best way to prevent infection is to avoid being exposed to this virus." The public should also follow the following steps in general to prevent the spread of respiratory viruses.
These include washing hands often with soap and water for at least 20 seconds, particularly after using the bathroom, before eating, and after coughing, sneezing or blowing your nose. When sneezing or coughing, cover your mouth with a tissue or your elbow and throw away the tissue immediately. Try not to touch your eyes, nose or mouth with unwashed hands. Stay at home if you are sick, and if you are healthy avoid those who are ill. Objects and surfaces should be cleaned and disinfected regularly using spray or wipes.