Woman Who Clutched Tree Root Over 300-Foot Cliff Rescued by Firefighters
While out on a hike on a Multnomah Falls trail in Oregon Monday afternoon, a woman slipped and fell between 20 and 30 feet off of the trail before grabbing a tree root over a 300-foot drop.
NBC-affiliate station, KGW8, reported that officials with Corbett Fire said the woman was taking a photo in the Columbia River Gorge when she fell. On her way down, she was able to grab and hold on to a tree root to prevent her from falling down a 300-foot cliff.
A tweet published by Corbett Fire stated that bystanders tossed a small rope to the woman to help her until responders arrived at the scene. It appeared the area was snowy, based on the photos that accompanied the post.
"That section is always very icy," a Twitter user claimed, responding to Corbett Fire's tweet about the incident.
While the views can be beautiful, there are some tips hikers should take note of when hiking in the winter.
The North Country Trail Association encourages hikers to go out with someone and to let family or friends know where they are going, as well as when they can expect them to return and the planned route.
In addition to noting there may be reduced visibility due to blowing snow, hikers are also urged to wear proper footwear.
"Remember that even if it's not icy at home, a heavily used area of trail can get packed down and be icy," the North Country Trail Association's piece reads. "Use trekking poles with carbide tips to enhance your stability on icy trails. Or consider waiting until the ice clears to hike."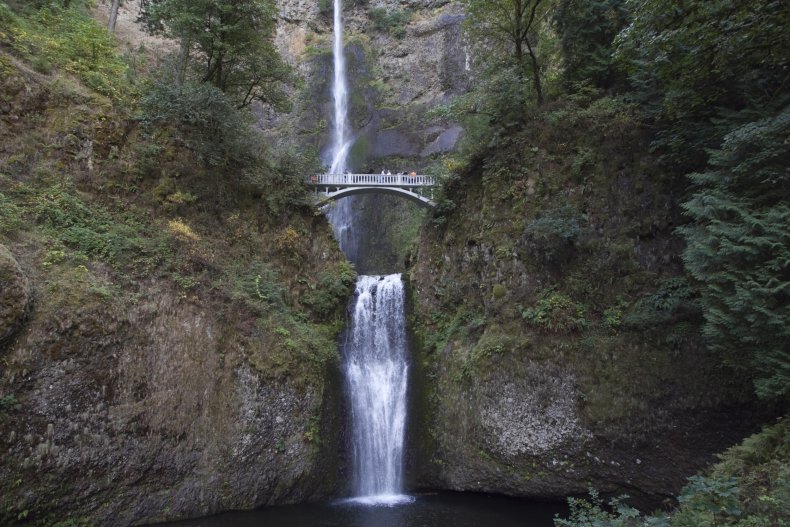 KGW8 reported that firefighters said a rescue technician helped the woman get into a harness to pull her up. No injuries were reported.
"She was very, very lucky," Rick Wunsch, chief of Corbett Fire told the outlet.
Speaking to Newsweek, Wunsch said it is not uncommon to receive calls from hikers. Firefighters respond to a wide array of calls, from bee stings to a rescue operation. He explained the area has been experiencing some winter weather recently and the trails were icy and slippery.
"She was standing in that particular spot, slipped and went over," he said.
The woman appeared to be in a climbing position, facing the cliffside while she was grasping the tree root. Wunsch estimated that the woman was in that position for 40 minutes until she was back on solid ground.
He said there were numerous calls about the situation, and when responders arrived at the scene, between 50 and 100 people were watching it unfold.
It took them roughly 10 minutes to race to the woman and about 15 minutes to pull the woman back up onto the path.
Newsweek previously reported that a dog that went missing for two weeks was found stuck on a cliff by rescuers.
A team with the Humane Society of the Pikes Peak Region in Colorado received a call about the dog, which was spotted on a small ledge.
With a climbing harness and some rope, a staff member managed to get to the ledge and attach a catchpole to the dog's neck and shoulder. The dog was then lifted from the ledge from a makeshift harness using a second rope.
Because the dog had both a name tag and a microchip, officials were able to track down and contact the owners of the dog.