Woman Who Died During Butt Enhancement Surgery Allegedly Rushed by Hospital Staff, Inquest Told
British plastic surgery patient Leah Cambridge, who died during a 2018 buttocks enhancement procedure at a hospital in Turkey, may not have been properly informed about the risks of the operation.
Cambridge's mother Theresa Hall, who accompanied Cambridge to Turkey for the surgery, told an inquest at Wakefield Coroner's Court in Yorkshire on Thursday that she felt her daughter was pressured into reading and signing paperwork that may have outlined the dangers of the procedures. Hall said things "all felt like such a rush" before the surgery.
"She was a willing participant but as to whether she was informed appropriately, I have my doubts that she was," said consultant plastic and reconstructive surgeon Simon Withey at the inquest. Withey was not involved directly with Cambridge's case, according to the Evening Standard.
"One of the things which anyone undertaking surgery in this area is aware of is the enthusiasm of the patients, which is almost a frenzy of excitement," Withey continued. "It's important that they spend time talking about their wishes with the surgeon, and seeing whether they are going to be met, and then talking about the risks of the surgery."
Newsweek subscription offers >
Cambridge had seen the buttocks enhancement surgery advertised on Instagram and saved up £6,500 (nearly $8,400) to have the operation, which involves surgically moving fat to the buttocks from other areas of the body.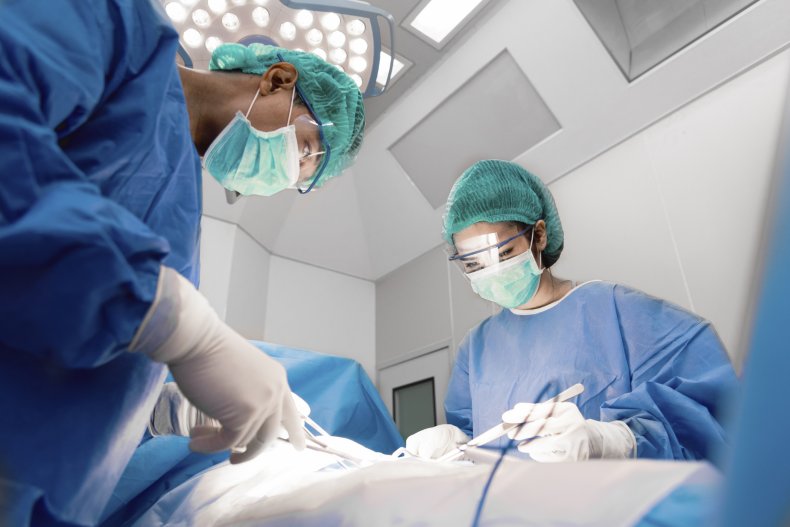 However, an autopsy revealed that Cambridge died of a fat embolism which caused Cambridge to suffer three heart attacks during the operation. Fat embolisms occur when fat enters the circulatory system. In this case, the fat clot blocked Cambridge's pulmonary artery to the lungs.
Upon the arrival of Cambridge's partner Scott Franks at the hospital, he was allegedly told by surgeon Dr. Ali Uckan that Cambridge's procedure was a "guessing game, you can't see where you are going into."
Newsweek subscription offers >
"I asked what happened and he said they had injected too far into the muscle," Franks told the inquest.
Arrangements for the procedure were made by Elite Aftercare who, after Cambridge's death, sent Cambridge's partner Scott Franks a letter claiming Cambridge had taken "illicit drugs" which contributed to her death. Results from the autopsy revealed that statement to be untrue.
"I felt belittled that someone had died and they used an excuse to try to cover it up," Franks said, according to the Daily Mail.
Buttocks enhancement surgery, also known as "Brazilian butt lifts," (BBL) are statistically the most dangerous form of plastic surgery with a mortality rate of 1 in 3,000, according to the American Society of Plastic Surgeons (ASPS).
"With any cosmetic procedure, patients should seek out board-certified plastic surgeons who have the necessary training to perform these procedures," said then-ASPS President Dr. Jeffrey E. Janis in 2018. "Patient safety is always our top concern, so we encourage all surgeons and potential patients to talk in-depth about the significant risks associated with gluteal fat grafting before considering a BBL."
Woman Who Died During Butt Enhancement Surgery Allegedly Rushed by Hospital Staff, Inquest Told | Health