Woman Who Drove Car Off Cliff, Hitting Mom and Baby, Escapes Prison Time
An Australian woman who drove her white Volkswagen Golf off a 98-foot-tall cliff in the harbor city of Newcastle last fall has escaped prison time after the sentencing judge deemed her "genuinely remorseful for her actions," according to 9news.com.au.
At approximately 10:15 a.m. on September 24, the car, which witnesses Denise Bloomfield described as "airborne," to 9news, landed in the shallow water adjacent to Bar Beach, hitting a mother and baby swimming at the site in full view of the baby's father.
The driver and the mother were seriously injured, prompting authorities to charge the driver with "driving in a dangerous manner causing grievous bodily harm," according to the local news source. Thankfully, the baby escaped with only minor scratches.
In court, Magistrate Andrew Miller took into account the driver's long history of mental illness. The unidentified woman reportedly "heard voices in her head from the devil," according to The Newcastle Herald via Newcastle Online News, and was seen driving erratically in the moments before the incident occurred.
However, she did not get off scot-free. She received a "15-month intensive corrections order," which the Herald describes as "a legal alternative to full-time imprisonment."
New South Wales Ambulance Inspector Jason Saper told the Australian Broadcasting Company (ABC) that he was amazed by the fact that everyone involved survived.
"The car took a substantial dive off the cliff and it was a miracle to find everyone alive when we arrived on scene," he said. "It was a significant fall from the cliff."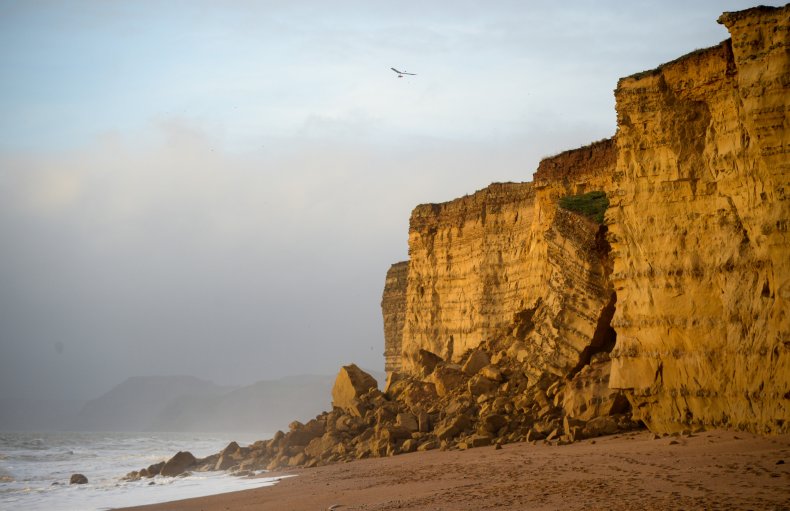 Saper also praised the work of the first responders.
They did a "fantastic job today under very intense and difficult circumstances. When we are called to an accident like this, the scene can be quite chaotic," he said.
The woman drove off the cliff at around 80 kilometers per hour (50 miles per hour), destroying a protective barrier in the process. Eyewitnesses told ABC that doctors swimming nearby and a lifeguard rushed to the aid of the victims.
When paramedics arrived on the scene some 15 minutes later, they took all three to nearby John Hunter Hospital for treatment. Both the driver and the mother suffered suspected fractures.
At the hospital, the driver underwent drug and alcohol testing, according to 7news.com.au. In a search of the car, police found "drug paraphernalia," which they confiscated as evidence. The driver was charged the next day and refused bail at a bedside hearing.
Drone footage shared by ABC depicts the totaled car sitting in the shallows as waves wash over its crushed hood.