Had it not been for the pandemic, Emily Houser would likely be recovering from surgery for a rare brain disease. Instead, she's biding her time at home, hoping she doesn't have another stroke that permanently alters her life and that a hospital bed will be available when she needs one.
Over Christmas, Houser, 25, suffered 10 to 15 strokes in one week, at times having three or four in one day and some coming back to back. They came on suddenly and without warning, causing her to drop plates and her son; and took away her ability to be independent.
Diagnosed with a rare brain disorder, surgery is Houser's best chance for survival, but a scarcity of beds delayed the operation. Knowing the potential risks of playing the waiting game, her neurosurgeon contacted Governor Tony Evers to express his frustration.
"I live in the woods, you don't see crazy amounts of COVID. I didn't realize we're still in the trenches of the pandemic to the point where if you need any medical help that's not COVID-related, it's tough to get it," Houser told Newsweek. "If COVID wasn't happening, I would have had the surgery right away when I was diagnosed in the hospital."
Iron Mountain, Michigan, or "the sticks" as Houser refers to her town, is home to only about 7,000 people and none of them could keep her alive if she has a serious stroke. However, she and her husband decided to risk waiting for the surgery at home because they have two sons—aged 2 and almost 1—and hospital officials couldn't tell them when a bed would become available for the surgery.
"I was number one on the top of the critical care list," Houser said. "The hospital said I could be there for another week, a month, who knows."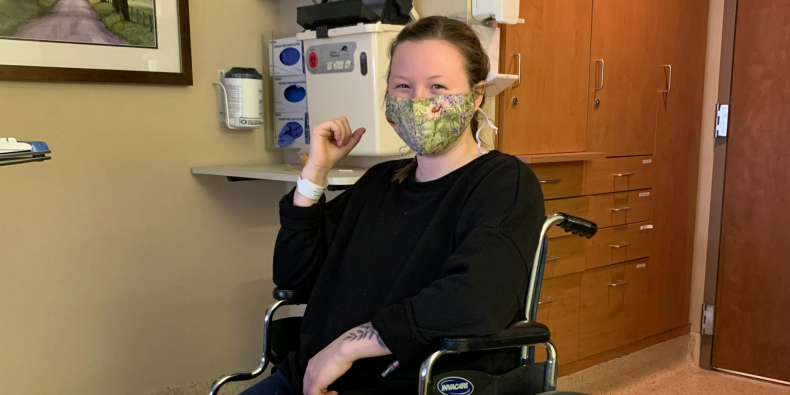 Around Christmas, Houser started having these "episodes," and she suddenly couldn't lift her left leg while sitting on the floor with her kids. She described it as feeling like her leg was "bolted to the floor." A few minutes after the sensation subsided, it happened again.
At 25, Houser dismissed the possibility it was a heart attack and thought it could be related to her blood pressure since she'd experienced hypertension since having kids.
With her whole left side limp, her primary care physician recommended she get an MRI. The results of the scan sent her two hours away from her home to an emergency department at St. Vincent's in Green Bay, Wisconsin. She was diagnosed with moyamoya, a one-in-a-million brain disease that causes blood blockages to the brain.
Since the condition is so rare, Houser needed to be cared for by a neurosurgeon who was at the University of Wisconsin in Madison. After about a week and a half in the intensive care unit at St. Vincent's, Houser was still unable to be transferred because there were no open beds at UW Madison for her.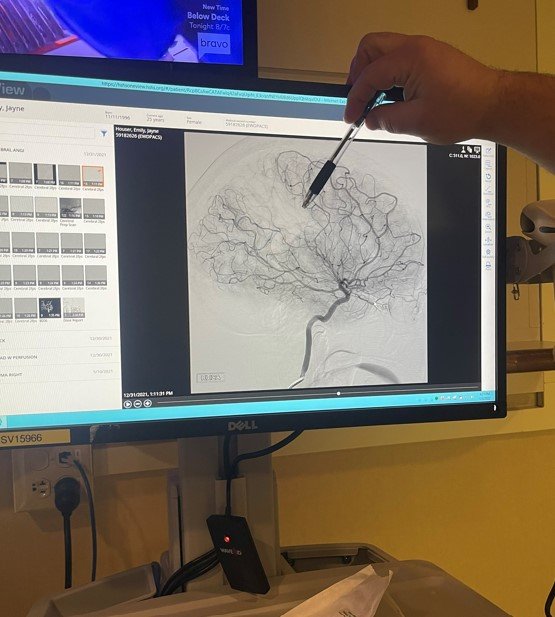 A scan of Emily Houser's brain shows a white "cloud" where blood is being blocked from flowing to her brain.
Emily Houser
"The neurosurgeon I was supposed to see at UW reached out to Governor Tony Evers to say, 'This is ridiculous. I have a critical patient who can't get here,'" Houser said.
America's health care system wasn't designed for hospitals to operate in anticipation of a pandemic because it's not profitable to regularly have open beds. So, when hospitals are hit with an influx of COVID patients, they're resources are often quickly pushed to their limits.
In Wisconsin, about 80 percent of ICU beds are in use with nearly half being used for COVID patients, according to the Department of Health and Human Services (HHS). While unvaccinated people still account for the majority of hospitalizations, officials have cautioned people that surges in anyone being hospitalized for COVID-19 could have a trickle-down effect.
Hospital beds are largely given on a first-come, first-served basis so if an area is seeing a surge in COVID patients, there are fewer beds available for people who need emergency care and some hospitals have paused elective surgeries to open up beds.
Without the resources to conduct the surgery, UW Madison had Houser come in for an appointment so she could at least meet with the neurosurgeon. The hospital determined she had so many strokes it would be best to wait for the surgery unless she was in "dire need." This would give her brain time to heal, but there's no guarantee a bed will be available when she needs it in potentially two weeks.
"I'm no longer at the top of the critical care list because I'm not in the ICU, and you need a certain number of people to care for a moyamoya patient," Houser said. "I'm basically just waiting to have another stroke and that's the scary part."
Since Houser could have a stroke at any moment, it's unsafe for her to be home alone with her two young children or to drive anywhere. So, her husband has taken off work and isn't being paid. Adding to the financial strain are medical bills, basic care for their children and the need for temporary housing when the couple travels four hours away to Madison for appointments and the surgery.
Houser's friend, Megan Hansen, started a GoFundMe for the couple and it's already surpassed its goal of $10,000. However, Houser said the medical bills are sure to add up and every donation is helping them stay afloat.