Woman Who Survived Horrific Car Crash Found Clinging to Life Six Days Later in Arizona Desert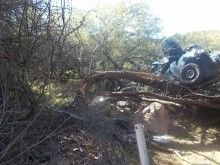 A woman who spent six days in the desert after her car crashed off an isolated highway has been found alive.
The unnamed 53-year-old had lost control of her vehicle along US 60 near milepost 117 near Wickenburg, in Arizona and crashed through the right-of-way fence.
The car then plunged 50 feet and landed in a mesquite tree where it was stuck above the ground. Trapped for several days, the woman managed to extricate herself from the car.
She tried to walk toward some railroad tracks in the hope of being found. But she was unable to reach them because of her injuries, the Arizona Department of Public Safety (AZDPS) said in a statement.
State transportation workers and a rancher were corralling a bull when they noticed the break in the fence and saw the car dangling in the tree on October 18, about 65 miles northwest of Phoenix.
Highway operations technician Zach Moralez said they checked the car and found it was empty and when other members of a maintenance crew arrived they scoured the area.
A footprint led them to the woman who was severely dehydrated and left cowering in a dry riverbed in a t-shirt, shorts and flip flops, dirty from sleeping on the ground and suffering from facial trauma.
"She was in the fetal position, and there was no movement. We started asking her a bunch of questions: 'How long have you been here? Do you have any pain?'" Moralez told the Associated Press.
She was then airlifted to hospital where she is recovering.
Colonel Frank Milstead, AZDPS Director, said in a statement: "The diligence of the Arizona Department of Transport crew and teamwork of everyone involved is exemplary and to be commended. Due to their outstanding efforts, this woman's life was saved."
"I believe people are put in the right place in the right time," Moralez told the AP.