An Ohio animal rights activist, previously accused of trying to hire a hitman to stab a person wearing fur so she could hand out antifur fliers has been accused of stabbing another woman inside of a church for wearing fur boots.
Meredith Lowell, 35, has been charged with stabbing an unnamed woman inside of Fairmount Presbyterian Church at Cleveland Heights November 20. The woman that Lowell attacked was allegedly a babysitter dropping children off at the church for choir practice. The babysitter had been waiting for the practice to begin when Lowell allegedly accosted her, stabbing her multiple times.
A woman who had been sitting with the victim in the main body of the church said that Lowell "suddenly appeared and walked through the wooden doors that leads to the main hall," then appeared to punch or push the victim multiple times before walking away.
The victim didn't know they'd been stabbed, they told the police, until they noticed blood on their clothing.
Police arrived to find the victim on the floor of the church in a puddle of blood, holding her left side, according to WEWS. Lowell was restrained by members of the church on the floor, and beside her on the ground was a bloody yellow kitchen knife, the alleged assault weapon.
The victim received two stab wounds to the left arm and one to the left abdomen during the alleged attack. She is currently staying at a local hospital while her non-life-threatening wounds are treated. No one else was hurt in the incident.
Lowell is currently being held at Cleveland Heights City Jail, where she is waiting arraignment. Her bond has been set at $1 million.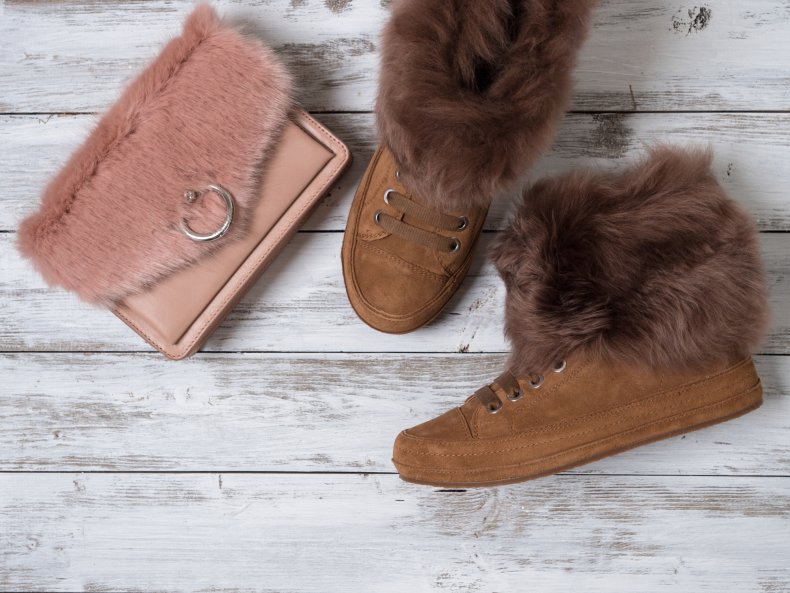 The alleged attacker is no stranger to inciting violence against those who wear fur. Lowell was previously arrested in 2012 for federal solicitation to commit murder and using an interstate device for murder for hire for attempting to hire a hitman on Facebook to kill a random woman for wearing a fur coat, either by slitting her throat or shooting her.
"I would like to create an online community on facebook which would allow me to find someone who is willing to kill someone who is wearing fur toward the end of October 2011 or early November 2011 or possibly in January 2012 or February 2012 at the latest," Lowell allegedly wrote under the name Anne Lowery. She requested that the murder take place at a local library, so she could both witness it take place and hand out fliers about animal cruelty after it took place. Lowell also requested the victim be preferably "14 years or older," though she would be fine with it if the victim was 12 to 14.
"I want the person dead in less than 2 minutes (under 2 minutes or 1 minute or less would be better.)," she added in emails to the assassin she thought she'd hired, who was actually an FBI undercover officer.
The charges were later dismissed because Lowell was found incompetent to stand trial "due to a mental defect", and was prohibited from possessing a gun as a result of the finding. During hearings for those charges she described herself as an animal rights activist, and agents found animal rights literature when they searched her trash.
Lowell also allegedly contacted Ohio police and "indicated that she had been investigating the fur industry and believes the police should also conduct an investigation," according to the 2012 affidavit.
Rev. Jessie MacMilllan, pastor of Fairmount Presbyterian Church, released a statement that thanked EMS and police for their prompt actions, explaining that the church would be closed until Saturday, and reading in part, "Please keep all involved in your prayers."