Woman Who Wishes Trump Would 'Smile More' Is Reminding Many People of a Certain Hamilton Song
Was this woman's compliment for President Donald Trump a nod to a Hamilton tune? During Trump's Town Hall on Thursday evening, registered Republican Paulette Dale told Trump that he looked handsome when he smiles.
"I have to say, you have a great smile," Dale told the president. "You're so handsome when you smile." However, her compliment was more of a reference to the play, Hamilton (perhaps you've heard of it) and not so much high praise for Trump.
"I wish he would smile more and talk less," she elaborated after the event, according to Miami New Times. Many interpreted this comment to be a reference to the song "Aaron Burr, Sir," from the Tony winner's first act.
At this moment of the play, Burr offers Alexander Hamilton some unsolicited advice over beer. "While we're talking, let me offer you some free advice: talk less, smile more," Burr sang to a shocked Hamilton. "Don't let them know what you're against or what you're for."
When asked for further context about her compliment for the president, Dale said that she believes Trump "steps in it every time he opens his mouth. I think the man has a nice smile. However, I'm not a fan," she continued.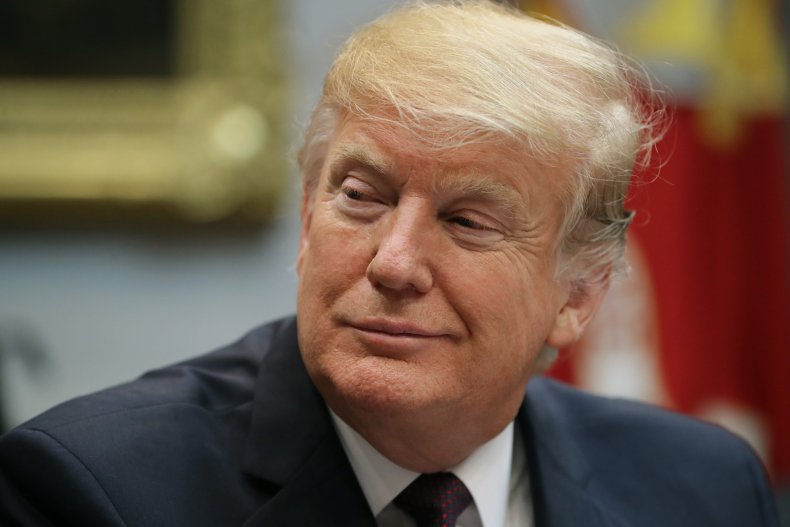 Dale's, who is the daughter of immigrants from Russia and Poland, appearance during the Town Hall was a last-minute one. She submitted a question for the event, and was contacted hours later by NBC.
"As the daughter of immigrants to the United States who fled Eastern Europe due to religious persecution, the United States' immigration policies are very personal for me," she asked during the town hall Thursday evening. "Surveys show that most Americans and the majority of Republicans support the Dreamers program. So my question for you, Mr. President, is: If you are elected to a second term, do you expect to pursue your previous efforts to cut the DACA program?"
Trump responded: "We are working very hard on the DACA program and you will be, I think, very happy over the course of the next year, because I feel the same way that you do about it."
Despite Dale's satisfaction with the president's reassurance, his answer still wouldn't sway her vote. Dale will be voting for Joe Biden in the upcoming election next week, once Florida's early voting opens.
"He's very combative and he doesn't believe in science, and that's a big concern to me," she told Miami New Times. "And by his own words, he knows more than the [military] generals, knows more than the public-health experts, knows more than anybody. I believe Joe Biden will listen to the experts."