A renter made light of the affordable housing crisis in a video that went viral this week, showing off her new apartment—with almost nothing inside.
"POV: you just had enough to get the apartment," said @keythebratt in her TikTok video viewed over 3 million times. The footage panned across her new apartment in Texas.
The white walls were bare and the gray floor uncarpeted. The apartment was furnished with a single Home Depot box that functioned as a stand for the woman's iPad. On the floor next to her was one box of half-eaten pizza.
"This place gone have a echo for a good minute," she joked in the caption.
"I kinda knew I wasn't going to have money left over after the whole moving process," the woman told Newsweek, asking to be identified only by her TikTok username. "Especially paying the first month's rent and the security deposit. My main focus was being able to move out of state and get my own."
Before her move, @keythebratt had been living in student housing that was already furnished, she said in a follow-up video.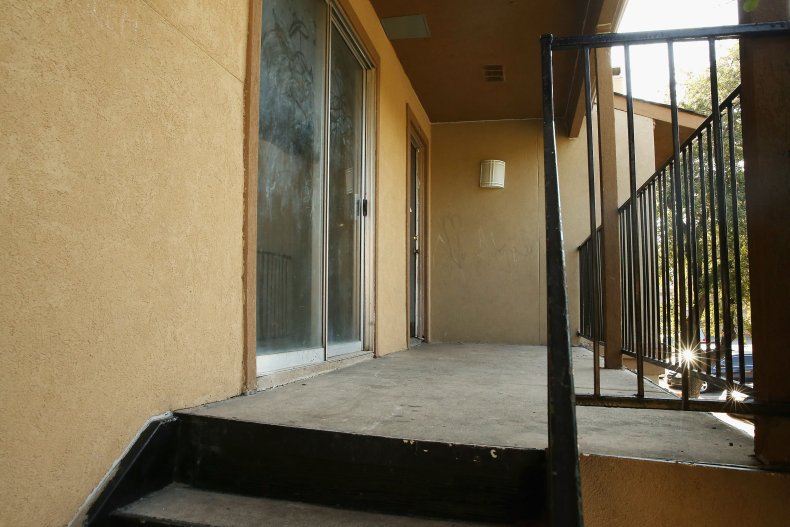 "I'm really starting from scratch," she said, showing an air mattress on the floor. "All I have with me right now are clothes. Me and my boyfriend are going to the other state that we were living in to get our TVs, but other than that, that's all we got."
Housing Affordability Crisis
The nationwide shortage of housing has intensified a housing affordability crisis in the United States. Job and income losses early in the pandemic exacerbated financial challenges for millions of American families, with 24 percent of renters considered "severely burdened" in 2020, spending more than half of their incomes on shelter, according to The State of the Nation's Housing 2022 report from the Joint Center for Housing Studies of Harvard University.
The U.S. also chronically underfunds housing subsidies for low-income Americans. Only one in four households that qualify for a Section 8 housing voucher ever actually receive assistance, according to the Urban Institute. Families who do receive vouchers spend an average of nearly two-and-a-half years waiting—sometimes much longer. A Chicago alderwoman said in June that she was approved for an affordable housing voucher 29 years after she applied.
The Dallas renter's video drew an outpouring of support online, with many users sharing their own difficulty affording anything after rent was paid.
'Amazing'
"Food and shelter, you winning," said one encouraging comment.
"Congrats," wrote another user. "My first apartment, my TV was sitting on a hamper and all I had in the fridge was chicken nuggets and fries from Dollar Tree."
The renter told Newsweek that she was keeping her spirits up and appreciated the "humbling experience."
"The echo is a constant, but when I look around and see what I have and how it's mine the feeling is amazing," she said.