A woman in San Antonio, Texas was robbed at gunpoint during a Zoom call as witnesses watched and called for help.
The San Antonio Police Department (SAPD) said the unnamed adult victim was taking a video Zoom call in her bedroom in Northwest Side, a neighborhood in Bexar County, on Friday afternoon at around 2:50 p.m. local time when the robbery took place.
Three suspects—Adrian Guillen, 19, Jaime Trevino, 39, and an unnamed 15-year-old girl—forced their way into her home on the 5500 block of Pecan Springs Road and held the female victim at gunpoint, authorities said, adding that the 15-year-old juvenile will not be identified.
"Guillen and the juvenile began to ransack the victim's residence taking multiple pieces of property," the SAPD said in a statement shared to Facebook.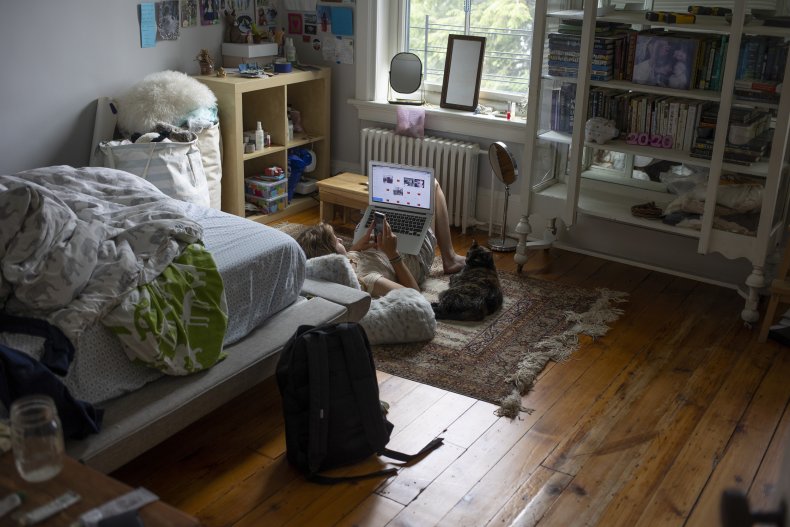 Onlookers in the virtual Zoom call phoned the victim's boss as the suspects began taking items from her property, including a safe, reported KENS-5.
The three suspects then reportedly drove away from the scene with the stolen items in a white Honda Accord. Police responding to the incident found the suspects at a home in the 4300 block of Fortuna as they were attempting to crack the safe.
Authorities watched as the suspects ransacked the safe and transported the items inside into their vehicle. Police then followed the suspects to a motel, where they were arrested and taken into custody. Police also searched the Fortuna property and found other items that were stolen from the victim.
"Responding officers relayed to Robbery Detectives that they were able to track down the suspects. While searching the area, RTFU detectives observed and recorded Guillen, the female juvenile and Trevino in possession of the victim's property," the SAPD said. "All three suspects became mobile. EAGLE was our eye in the sky monitoring the suspects as they traveled to their next stop."
According to KENS-5, authorities identified Guillen as having an active Capital Murder warrant in Bandera County.
San Antonio has one of the highest crime rates—51 per one thousand residents—in America among communities of all sizes, according to Neighborhood Scout. An individual's chances of being a victim of either a property or violent crime in the city is one in 20. San Antonio has a crime rate that's higher than 97 percent of communities in Texas.
Newsweek reached out to the San Antonio Police Department for further information. This story will be updated with any response.