Woman's Date Accidentally Sends 'Red Flag' Text Intended for His Friend
A TikToker went viral after sharing texts she allegedly received from a guy she was about to go on a first date with. The video, posted Sunday, has amassed more than 3.9 million views.
Molly Hair, or @mollyhair on TikTok, said she was on her way to a first date when she received a text message. "Chivalry is alive," the caption of the video read. "#Firstdatefail."
"Waiting on this c**t," the text read. "I took a pinch for confidence."
Quickly, the guy responded saying, "omg I was joking with a buddy I'm just going to leave," with the facepalm emoji.
In a follow-up video, which also quickly went viral and has more than 1.5 million views, Hair shows the rest of the text interaction between her and the date.
"What? Am I the c**t?" she replied to the text.
"Omg I don't really think that at all I just joke too much," the man replied. "I say s**t that just to say it."
He also said he would "completely understand if this is over."
In her reply, Hair said she really wasn't "comfortable meeting anymore" and that she doesn't think it's okay "to call women that even as a joke." She also told him that she sees it all as a "red flag."
The phrase "red flag" has quickly become a way to warn someone of possible danger. Some people use the term to describe undesirable personality traits or situations. Red flag emojis have also become a meme across Twitter, with brands tweeting red flag emojis to stir up attention.
Some have suggested the "red flag" trend was created by Black Twitter users who used it to describe unwanted dating scenarios or things to avoid in future partners.
In a follow-up video, Hair explained that she received the initial text while she was parking her car and getting ready to go inside. She said at first she was confused but then realized he was referring to her and decided to drive away.
"He started trying to call me and I ignored it," she explained. "So he did continue to try to reach out to me. I was probably way too nice in rejecting him. The social worker in me just wants to help people to learn and grow from their mistakes."
According to the screenshot of the texts, the man said he was sick to his stomach and that he was "just trying to be funny with joe omg." Hair replied that her feelings weren't hurt and that this could be an opportunity for him to "learn not to throw that around to friends!"
She said she should have just ignored him but that he kept continuing to reach out to her. According to the screenshots, he invited her to hang out in July but she didn't reply. He then texted her "hey" four months later and also got no reply.
"I see that persistence as also a red flag," she said in the video.
In the comments, many posted the red flag emoji along with direct quotes from the guy's texts. Others mentioned Hair was "very nice and mature" in the way she handled the situation.
"If anyone is questioning if the persistence is a [red flag emoji]," one user commented. "As someone who accepted that persistence at one point, I can confirm that it is indeed a red flag."
Others joked in the comments that if this happened in Australia, it would not be considered a red flag because the word did not have a bad connotation.
"Me watching this as an Australian," one user commented. "Wondering what the big deal is."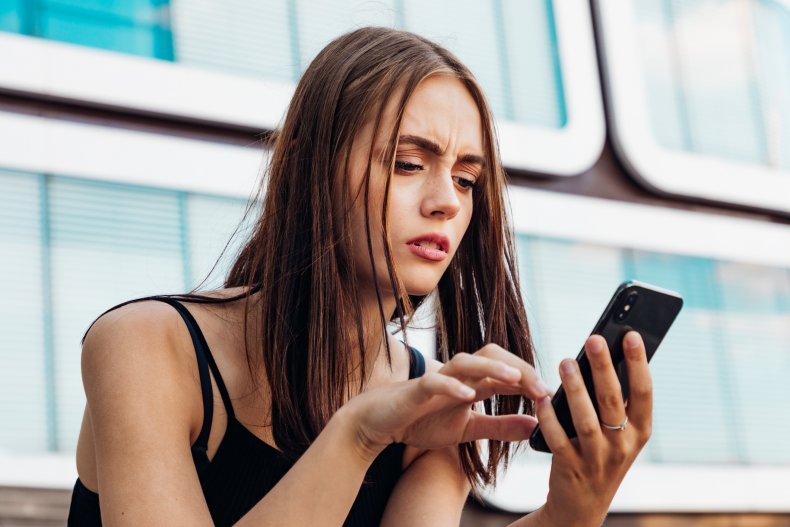 This isn't the first instance of a woman airing out another person's red flags. In August, TikToker @jadealyzaee posted footage from her doorbell camera that showed her date drive away before she had time to walk into the door.
The video received more than 13.3 million views and 22,000 comments. In the footage, Jade can be heard saying she is going to ghost the man because he drove away before he saw her get inside her home.
Many users were divided as to whether or not this was actually a dating red flag.
"Red flag #3 he should've walked you to your door," one user commented.
But others in the comments argued that Jade was asking for "too much" and that her red flag was ghosting him.
"Least you can do is tell him. That's your red flag," one user said. "Ghosting isn't nice. Tell him what he did wrong. Some guys simply didn't learn this."