After announcing the winners of an essay competition geared toward female empowerment, the Alberta government was forced to delete the post following controversy by readers online.
The announcement Monday shared the three winning essays, and many readers compared the third-place essay to something out of a dystopian novel, such as The Handmaid's Tale.

The contest, which was sponsored by the Legislative Assembly of Alberta on February 22, was allegedly launched by the Alberta Associate Minister of Status of Women Jackie Armstrong-Homeniuk.
Sexism Around the World
The World Economic Forum rates Canada at 29 out of 156 countries for political empowerment for women, with the United States ranking at 37.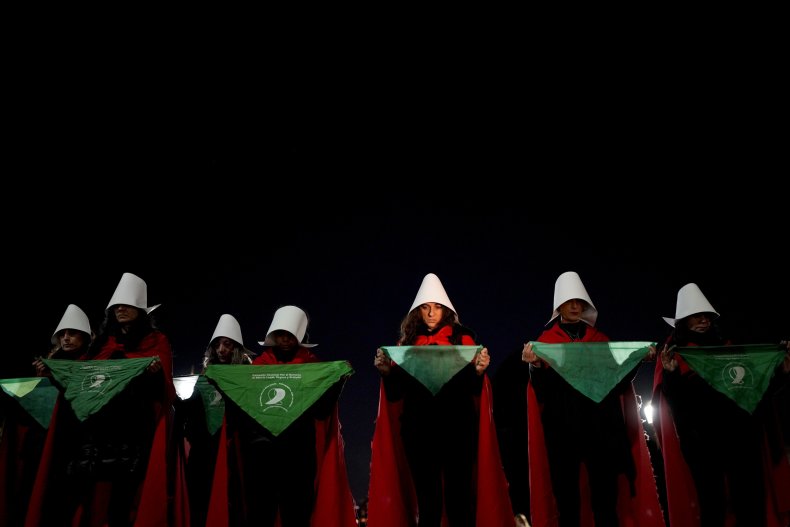 As for the gender pay gap, the World Economic Forum reported that Western Europe has the narrowest gender gap followed by North America, then Latin America and the Caribbean.
In Canada, working women make about $0.76 for every dollar their male counterparts earn, the Canadian Women's Foundation reports.
Another report published by software company PayScale found women in America in 2022 make $0.82 for every dollar their male counterparts make.
Contest Winners
In the now-deleted post, the Legislative Assembly of Alberta on Monday announced the three essay winners, but it's the third-place essay that caused a stir online for what some are calling "fascist" ideas and comparing the ideology to that of Nazis.
"Women have a unique strength: our ability to give birth," the essay began.
Author S. Silver stated that many believe Albertan children are "unnecessary as we can import foreigners to replace ourselves" which is a "sickly mentality" that results in a "drive for cultural suicide."
According to a statement made to Newsweek by the Alberta Legislative Assembly Office, "the Her Vision Inspires essay contest was conceived and administered by the chair of the Commonwealth Women Parliamentarians Canadian Region Alberta branch."
The statement said that neither the Legislative Assembly Office nor the Speaker's Office was involved in the selection of the essays, "including who was on the MLA panel judging the contest."
"As soon as the content of the third-place winner was brought to the Speaker's attention he immediately made the decision for the content to be removed," the statement read. "The content is abhorrent and does not reflect the views of the Speaker or the Legislative Assembly Office."
'Biological Reality'
"Women are not exactly equal to men," the essay continued. "This biological reality is also under attack by present-day delusion. To try to promote that women break into careers that men traditionally dominate is not only misguided, but it is harmful."
Users have compared portions of the essay to fascist rhetoric, such as giving out medals to families with two or more children.
"My vision of Alberta is a place that is oriented around healthy families and community again, not around personal greed and selfishness," the essay continued. "I believe that the best approach would be to reward families for their reproductive service..."
The writer suggested offering financial rewards to "offset" the financial burden of additional children and medals to "symbolize their valuable achievement of having 2+ children."
'The Nazis Gave Out Medals For That!'
"The Nazis gave out medals for that!" one user mentioned on Twitter.
"So like, the Alberta government just gave a third-place prize in an essay contest to some words that I'm pretty sure are really, really fascist," user @reportrix tweeted.
"Is this a joke? As a female Albertan, this is offensive + truly demeaning for women + our Cdns," user @YEG_REKmom tweeted. "Wake up @HomeniukJ this thought process is out dated, white privileged + anti everything but evangelical Christian. I am embarrassed to breathe the same air as you and 3rd place winner"
Members of the province's New Democratic Party (NDP) also criticized the essay winners on Twitter.
"Imagine being the Minister for the Status of Women and thinking you should give an award to an essay that tells women their only value is their reproductive capacity," @KathleenGanley tweeted.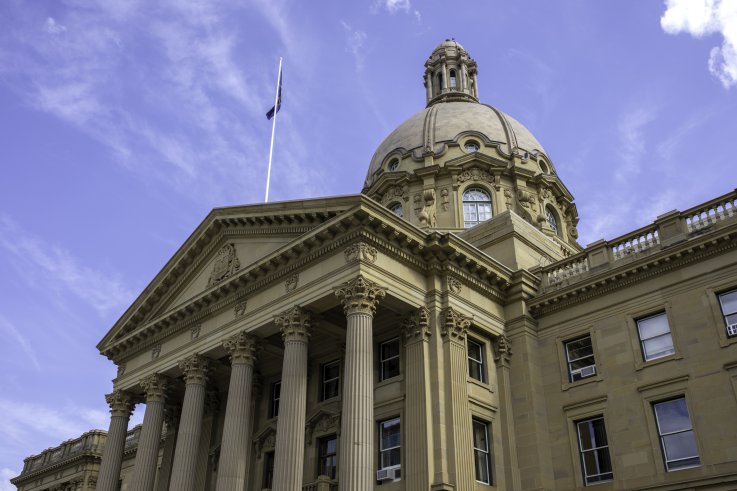 Individuals were outraged after Alberta legislature announced the three winners of an essay contest about women's empowerment.
Rita Petcu/iStock
"Oh boy. Racist. Sexist. Shaming. Mistaken on basically every level," @KathleenGanley wrote in another tweet. "This is some seriously dystopian worldview."
"This is just so messed up," @JanisIrwin tweeted. "Explain, @HomeniukJ. You proudly launched this contest. Did you pick the winners? Is this your party's vision for Alberta?"
"Want to know what my vision for Alberta is? That my strong, smart, empowered daughter and every single other woman, girl or non-binary person in Alberta is seen as equal," @HMcPhersonMP tweeted. "Can't actually believe that has to be said in 2022."
Newsweek reached out to Jackie Armstrong-Homeniuk and the Alberta Legislative Assembly Office for comment.
Other Viral Posts
In a viral Reddit post from the "antiwork" forum, an employee was praised for saying she refuses to "work for a company based in a state that does not support women's reproductive rights."
Another company was praised for offering to cover travel expenses of employees seeking an abortion in another state.
Other companies including Apple, Disney, Nike, Starbucks, and Meta have announced plans to cover employees' necessary travel costs and additional support to help workers travel to other states for procedures.
Updated 08/09/2022, 5:14 p.m. ET: This story has been updated with a statement from the Alberta Legislative Assembly Office.