Woman's Household Substitute for Shampoo Gets Mixed Reactions: 'Speechless'
There are a number of different techniques people use to wash their hair, and one woman's now-viral video shows the unique product she uses occasionally instead of shampoo.
Shared by @hanzochristie, the video—viewed more than 500,000 times— reveals that she washes her hair with dish soap once a month, which she said slows the rate at which her hair became "greasy" after washing it.
This hack drew a mixed response from viewers.
According to a piece published by Healthline, people with different hair types are advised to use different types of shampoo. These shampoos can help address different concerns.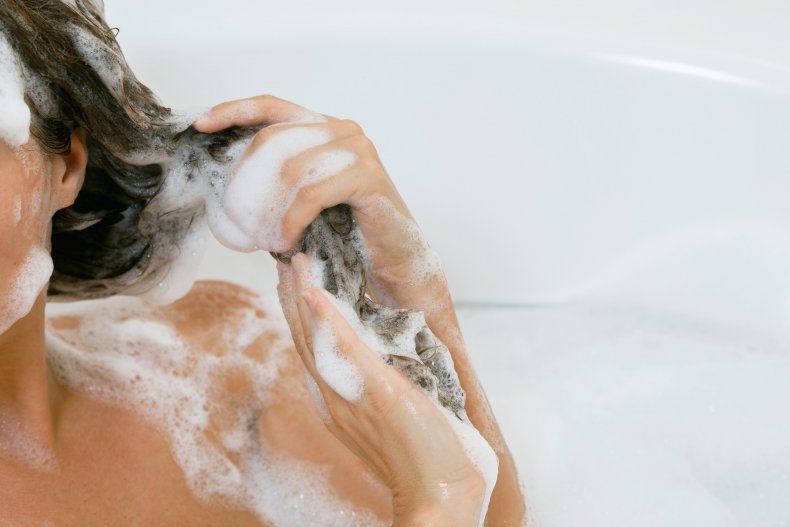 "You can also try using household items like apple cider vinegar and baking soda, as long as you dilute them with water," the piece stated. "These products will clean your hair and maintain your hair's natural moisture."
However, the article cautioned against washing hair every day as it can strip it from its natural oils.
"This can dry and damage your hair in the long run," the piece noted.
Another woman documented her experience using dish soap as a substitute for shampoo for Bustle. She explained that her hair felt clean but did not recommend using it often, pointing out that it can be harsh.
In her video, @hanzochristie is seen squirting some soap out onto her scalp before massaging it in as the sound used in the background said, "Wow, you're crazy. Crazy girl."
"When people find out that I wash my hair with washing up liquid," the text over the video read.
Some viewers were stunned by the hack.
"Girl...I'm speechless," a TikTok user wrote.
One shared that they knew someone who tried this hack but lost their hair as a result.
"You can't just shampoo twice?" another asked.
@hanzochristie replied that she tried several types of shampoos and washed her hair twice with them to no avail, but this method has worked well for her.
Though some were skeptical, others responded positively.
"It's supposed to help greasy hair I'm genuinely considering it," one viewer wrote.
Another TikTok user commented that they planned to try the hack.
"I have to wash my hair every day because it gets greasy so this might be the answer for me," they shared.
Some wrote that they use dish soap in their hair from time to time themselves and said it has been effective.
Newsweek reached out to @hanzochristie for further comment.
This hack is not the first to have gone viral.
A woman recommended that those getting their wisdom teeth removed should drink 64 ounces of pineapple juice the night before the surgery to reduce swelling. Newsweek reported that a dental professional said it can work.
Another TikTok video offered a hack on how to cut a mandarin, while one showed bakers how they can easily measure and add sticky ingredients to a mixture.