Woman's McDonald's Joke Backfires As She Is Relentlessly Harassed Online
A TikTok video joking about a woman eating McDonald's at a restaurant has backfired and sparked a backlash, as viewers express their outrage at her friends for not paying for her.
The TikTok user who uploaded the video is now being harassed on the social media app by viewers labeling her a bad friend, despite both women saying it was just a joke.
The TikTok video by @helenb2020 that sparked the outrage is captioned: "When [you're] too broke for Ale House but [you] still wanna go out with the girls." It shows her friend Jazlyn Perez pull a bag of McDonald's fries out of her purse before pouring them on an empty plate. The clip then shows her friends' restaurant dishes.
The TikTok video has been viewed more than 3 million times on the app and the top comments include "They could've paid for her, this is upsetting to watch," and "Nah. She needs better friends."
The video was also shared on Twitter by user @mamalifewithme who said: "It's the fake ass friends for me... Can't even spell *you're* but you want to poke fun." The video has been viewed 2.6 million times on Twitter at the time of writing.
Twitter user @NotDojafat shared the video in a tweet that has since been liked 30,000 times and said: "The way y'all are so comfortable with embarrassing your 'friends' for views will never not be weird to me."
In a tweet that has amassed more than 150,000 likes, @BayouBun shared the video from @NotDojafat and said: "No way I'm eating out and I let my dawg eat McDonald's.... either I'm paying for us or we both eating McDonald's."
However, Perez posted a video to Helen's TikTok page and defended her friend against the critics. Perez said: "Hey, so I just wanted to say that the whole video is literally a joke. We go to Ale House all the time so I just [brought] McDonald's because I didn't want Ale House."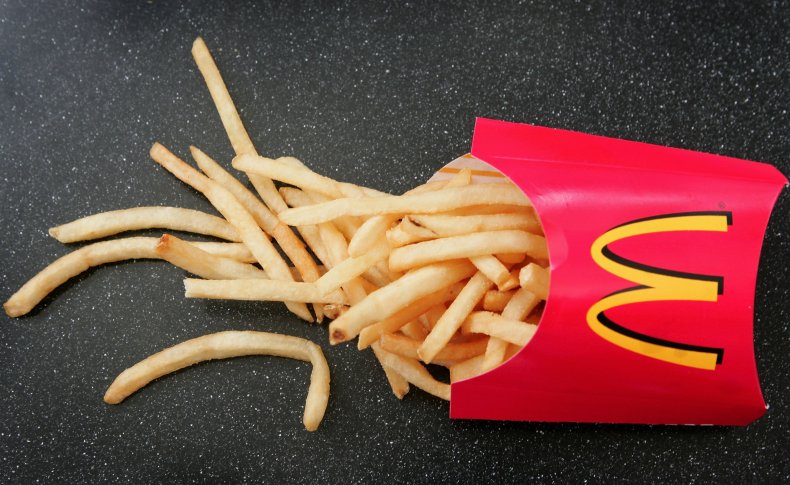 She added: "So it was literally just a joke. Some of you guys are kind of being rude for no reason, which is understandable, I mean you guys don't know the whole story, but don't talk if you don't know the whole story.
"Other than that, to go to her page and say rude things is out of line considering you guys don't know anything of the story. So just relax, it's a joke. TikTok doesn't know how to take a joke, because you guys are always the top ones to criticize other people. But I do appreciate the ones that were nice and were supportive."
But Helen's videos were still flooded with critical comments calling her a bad friend and saying that she should have paid for Jazlyn or gone to McDonald's instead.
Helen has defended herself in the comments, reiterating that it was a joke, saying they are "all broke college kids" and has told the critics to "get over it."
However, Helen seems to be responding to the backlash by trolling her critics. She posted another video that suggested that she was paying for another friend's food. Another video followed suggesting that her friend had to return something she had purchased to be able to pay her back.
These videos were captioned with the hashtags "comedy" and "jokes."
Nevertheless, TikTok users remain furious at Helen. In response to a critic commenting on this video, Helen said: "If you went to middle school you would see the [hashtag] that said jokes." And, in response to a comment pointing out that she was simply trolling at this point, Helen said: "They big mad."
Newsweek has contacted Helen and Jazlyn for comment.