Woman's Reason To Avoid Bachelorette Party Praised—'Absolutely Not'
A woman's reason for not attending a bachelorette party despite having money to afford it has been praised online.
Bachelorette parties are a great opportunity for a bride-to-be and her friends to let their hair down before the wedding.
But one hen party guest in the U.K. said she was no longer keen on going after learning the cost.
Commenter mrsoodles said in a post shared on the U.K.-based discussion website Mumsnet that she thought about going to the party for a relaxing time where she could expect to get a massage and facial.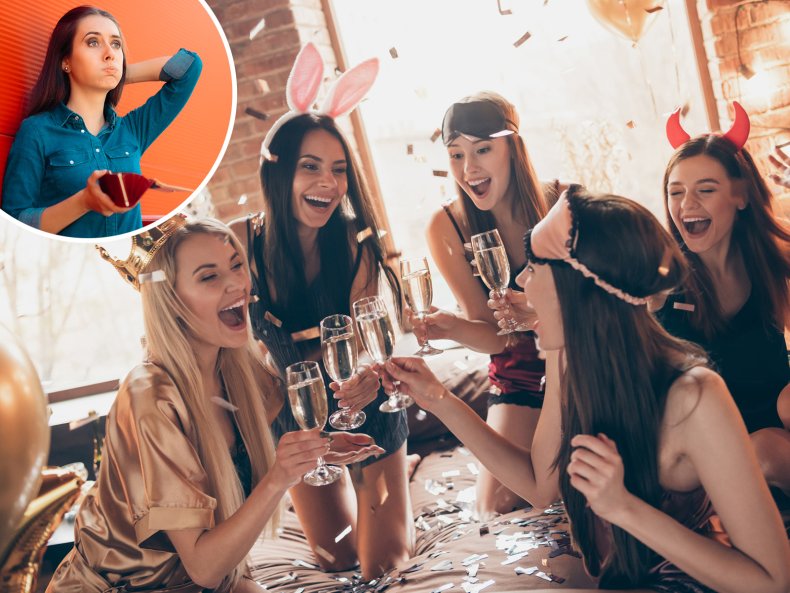 Hesitation later set in after she learned that the cost for it was not around £150 ($181) as she originally thought, but was instead more than double at £320 ($387).
The commenter added: "£320? Absolutely not. How do I word the text that I'm not going? I'm definitely not going.
"Problem is, the bride and family know I can afford it. I don't even want to go to the wedding either. I literally just don't want to pay £320 for something I'm not overly fussed on."
Zoe Burke, wedding expert and editor at wedding planning website Hitched, told Newsweek that bachelorette parties, which she refers to by the British English term "hen dos," can place a lot of strain on guests' purses.
She said: "Hen dos can be super fun—they provide the perfect opportunity to get together with your friends and celebrate the bride, but spiraling costs can easily turn excitement into anxiety.
"I would say that sometimes those planning the hen do—who are typically very close to the bride—might see the cost as something totally worth it for their best friend or relative, but for those who aren't as close to the bride or are on a tighter budget, it can appear as quite a staggering amount."
Reaction Online
Since being shared on Monday, the post has attracted 255 replies, many of which were sympathetic to the poster's plight and offered some advice.
MrsMikeDrop said: "Be honest. I think that's helpful as the bride may change her mind and do something cheaper.
"Others may feel the same. Plus if you lie and say you can't make that date, you're a bit s****** if she changes the date."
Viviennemary added: "Just say it's more expensive than you thought it would be and you can't make it, or invent a family get-together you can't get out of."
Planning Bachelorette Parties
Burke said there are several things that people should think about if they want to throw a bachelorette party, including taking cost into consideration.
She said: "In a survey of our Hitched community, we found a whopping 85 percent of people say they have felt worried about the cost of a hen do, and 44 percent have declined to attend a hen party due to the cost—which goes to show this poster isn't alone in being put off by the cost.
"It's also quite unusual in my experience to invite someone to the hen do who isn't going to the wedding—if you are having a small wedding or it's someone you don't plan to invite, such as a work colleague, I'd suggest having a smaller night out with them close to home to celebrate your upcoming wedding, but expecting someone to drop hundreds on an event marking the lead up to an event they're not going to, is a bit off.
"In our current climate, where the news is dominated by the cost of living crisis, I do think people need to be more budget conscious than ever before when planning a hen party, and that you shouldn't feel ashamed for saying you can't go. I'd suggest messaging the organizers directly and letting them know (politely) it's beyond your budget—you don't know, you might not be the only one to do this, and they might reconsider their plans to make it more affordable.
"The key thing to remember with a hen party is that it's a surprise and a treat for the bride, but it is an expense for everyone else and needs to be kept affordable and manageable so as many people as possible can comfortably celebrate her without worrying about their overdraft."
According to the wedding planning website The Knot, in 2019 one out of two attendees of both bachelor and bachelorette parties said they were willing to spend nearly $1,000 or more. The study quizzed 650 respondents in the U.S.