Woman's Surprise Reunion With Grandparents After Two Years Viewed 1M Times
As travel restrictions ease around the world, one woman recorded and posted the reunion she had with her grandparents after not seeing them for two years.
The video, shared on @achels10's TikTok where it was viewed more than one million times, opened with her sitting in the car preparing to see her grandparents for the first time since the start of the COVID-19 pandemic.
Travel guidelines and restrictions have changed throughout the course of the pandemic, depending on the number of cases.
Those who are hoping to travel are expected to abide by the regulations set by the countries they're looking to travel to.
According to the Centers for Disease Control and Prevention, people that are urged against traveling include those who are sick, those who tested positive for COVID-19 and individuals who were exposed to someone diagnosed with the virus.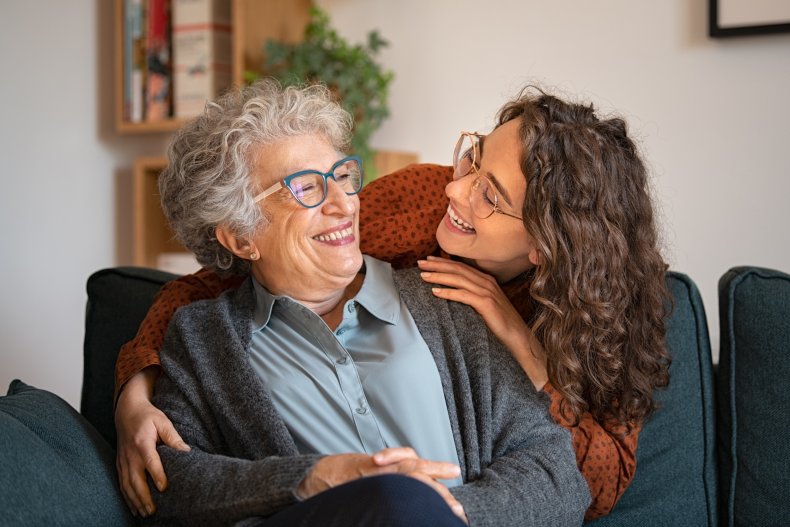 "So, my grandparents don't know that I'm here in the Philippines," @achels10 said at the start of her video.
The next shot shows her grandfather opening the car door.
It took him just a moment for him to register seeing his granddaughter before a surprised look flickered across his face.
The next clip shows @achels10 casually greeting her grandmother, who had her back turned to the TikToker.
"Hey...hey!" her grandmother said, doing a double-take and jumping slightly when she realized she was with her granddaughter.
Giving a small laugh, @achels10 walked toward her grandmother whose happiness to see her was written all over her face.
"Love their delayed reactions," @dekostiktok wrote.
"I love their reaction," @douglasfamily12 commented. "I don't know how many times I had to repeat this to see Lola's reaction lol"
@achels10 responded and said, "Her little jump gets me every time I watch."
She uploaded another video, this time showing her grandparents' reactions to seeing her mother.
Her mother gives a wave to everyone in the room, and @achels10's grandmother—sitting on a couch—looked shocked.
Her mother walked over to her grandmother before she pulled her to her feet and offered a gesture before enveloping her in a hug.
She then turned to @achels10's grandfather and offered the same gesture before she was wrapped in a hug.
In the comments section, @achels10 explained that the gesture was called "Mano," which is a cultural sign of respect to elders and acceptance of their blessing.
Commenters shared their love for the second sweet reunion.
"Omg your grandma is so cute," @yayastogan wrote. "Cherish that, I miss my grandma. Glad you're able to go home and visit."
Although one commenter wrote that their own grandmother died recently, they were still touched to see the happy reunions.
"The last couple videos have made my heart so happy," @melvinsingss commented.
Newsweek reached out to @achels10 for further comment but did not hear back in time for publication.