Woman's Viral 'TikTok of the Year' Shows How Her Boyfriend, a School Shooting Victim, Became Part of Star Wars Universe Forever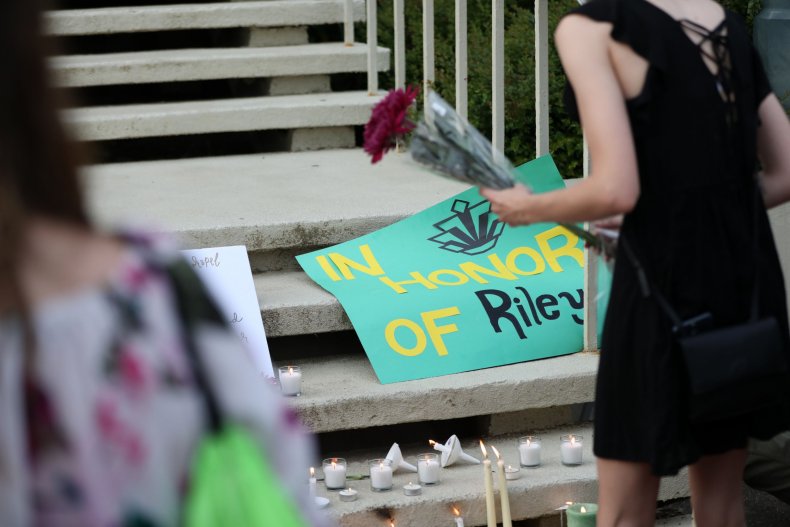 A viral video being hailed as "TikTok of the year" highlights how a women's boyfriend, Riley Howell, who died earlier this year after stopping the shooter at the University of North Carolina in Charlotte, was canonized into the Star Wars universe forever.
Howell had been considered a hero by many because of his actions. Lucasfilm, the production company behind the Star Wars series, honored his memory by including him in the canon as "Ri-Lee Howell," a Jedi master and historian.
In a poignant TikTok video, Howell's girlfriend, Lauren Westmoreland, shows pictures of them together and details the story behind their relationship. "I love him more than anything and we both planned to spend the rest of our lives together," Howell's girlfriend wrote in the video. "But on April 30, 2019, Riley sacrificed his life tackling a shooter that decided to fire on his classroom, saving all but one other student, Reed Parlier."
Howell was killed April 30 after a shooter opened fire in his classroom on the UNC Charlotte campus. According to police, four other students were injured but survived because Howell attacked the gunman to stop him.
Westmoreland said in the video that Howell was one of the biggest Star Wars fan she ever knew, and his fandom for the movie series became known in the days following his death. Howell's younger brother, Teddy, told a news outlet in North Carolina, WLOS 13, that Riley was "the only 20-year old, 21-year old who would willingly fight his lightsaber," with him.
His younger brother also told the New York Times that Howell had collected "a legion of Jedi action figures."
LucasFilm first found out about Howell's love for the series after a Florida man, who had no affiliation with Howell, sent an email to the company detailing his heroic acts and extreme Star Wars fandom.
According to the Charlotte Observer, the man, James Wes Carrens, wrote: "I cannot think of a person more deserving to be canonized somewhere in the Star Wars universe. I know that we can't name a major character after him, but even a minor character in a single comic book, animated episode, or other medium would be a fitting tribute."
"So when we got this letter from LucasFilms it seemed too good to be true," Westmoreland said in her TikTok video against images of the letter.
It read: "Riley's courage and selflessness brings out the Jedi in us all. As a small tribute, our Story Group has incorporated a re-imagining of Riley's name as a character in the Star Wars galaxy. We can't reveal the specific details at this time, but the character's name will appear in a forthcoming book publication later this year."
According to the Charlotte Observer, Howell's girlfriend was then contacted by a former high school teacher who told her he noticed Riley's name in the Star Wars book "The rise of Skywalker—The Visual Dictionary."
Westmoreland's TikTok video also showed a screenshot of Howell's character description in the Star Wars fansite Wookipeedia. "Ri-Lee Howell was a Jedi Master and historian of the Jedi order," the character description read. "Howell collected many accounts of exploration of the force in the two volumes of Aionomica. Aionomicum I and Aionomicum II carefully preserving the original texts."