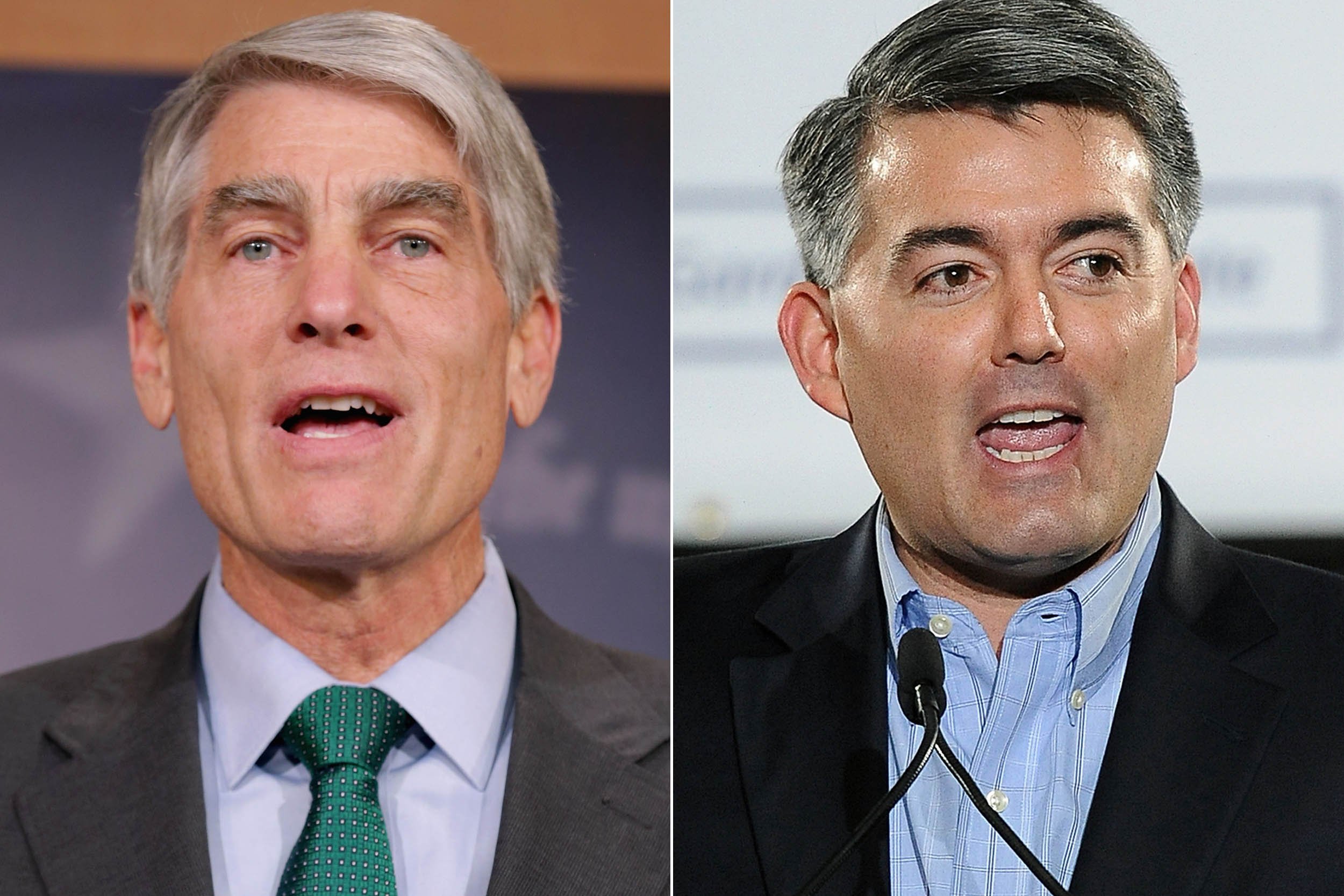 To understand the Democrats' election strategy in this year's midterms, look no further than Colorado.
Back in 2010, the year a Republican wave swept a Republican majority into the House of Representatives and helped the GOP take over state capitols around the country, Colorado Democratic Senator Michael Bennet persevered by pioneering a new electoral strategy. His methods proved so successful, his path to victory in 2010 became a model for Democrats around the country.
Credit for Bennet's success four years ago depended largely on two approaches: Outreach to women voters by championing access to abortion and contraception; and a superior on-the-ground effort to mobilize voters. Two years later, this pair of tried-and-tested Colorado tactics proved critical to President Barack Obama's successful re-election in 2012.
But as Bennet's colleague, Colorado's Democratic Senator Mark Udall, battles for re-election this November against Republican Representative Cory Gardner in one of the closest races in the country, the question is: Can the Colorado game plan still work in Colorado?
Because Bennet's double-pronged approach helped him survive the Republican wave of 2010, the national media assumed Udall will win his contest next month, too. More good news for Udall game this summer when Colorado's Democratic Governor John Hickenlooper brokered a deal to keep a series of fracking measures expected to bring a deluge of outside money benefiting Republicans off the ballot. Political observers started to take a Udall victory for granted. But they shouldn't have.
The two latest polls show Gardner stealing the lead from Udall, one by a whopping eight points. Though Democrats contest that huge margin, both sides are predicting that whoever wins next month, just a couple thousand votes will have made all the difference. According to Gallup, Colorado politics are "as divided as they get" — with exactly 42 percent of voters identifying as or leaning toward Republicans and 42 percent identifying or leaning toward Democrats.
This year, Bennet is serving as chair of the Democratic Senatorial Campaign Committee (DSCC), the party arm working to elect Democrats to the Senate, alongside DSCC executive director Guy Cecil, who was instrumental in Bennet's 2010 victory. The Colorado formula is the key to the Democrats' strategy in Senate races across the country. But in no state has a campaign so singlemindedly pursued it than Udall's reelection effort in Colorado.
"If Colorado's U.S. Senate race were a movie, the set would be a gynecologist's office, complete with an exam table and a set of stirrups," the Denver Post's Lynn Bartels wrote last week. "Personhood. Abortion. The pill."
Udall's campaign has hammered Gardner on his support for extreme "personhood" measures in Colorado that would ban abortion and some forms of contraception by giving fetuses the same rights as people from the moment of conception. Udall's first television ad in April attacked Gardner for sponsoring a bill in Colorado that would "make abortion a felony, including in cases of rape and incest" and "champion[ing] an eight-year crusade to outlaw birth control here in Colorado."
In June, Udall released an ad in which he spoke directly to the camera: "Because this really matters, it's important you hear this directly from me," he said, before repeating the attacks from the previous ad. In September, Udall filmed another direct-to-camera ad on the issue. Overall, half of his TV spots so far have focused on abortion and contraception.
"No one can blame you for checking a calendar, to remind yourself, yeah, it really is 2014," Udall says in the newest ad. "So how is it we're still debating a woman's access to abortion or birth control?... I'm Mark Udall. Those rights and freedoms are yours and we won't let anyone take us backwards." The ad drew notice for Udall's explicit use of the word abortion that even Democrats promoting abortion rights rarely use.
Gardner has worked hard to rebut Udall's accusations he is aiming to curtail women's rights. Shortly after entering the race, Gardner reversed his stance on personhood, saying he hadn't realized a law based on the notion would ban forms of contraception. "The fact that it restricts contraception. It was not the right position," Gardner told the Denver Post in March. "I don't get everything right the first time."
Gardner also became the first of several Republican Senate candidates this year to support over-the-counter access to the contraceptive pill, a policy he says would make birth control more available. That was a smart position, according to Colorado Republican consultant Dick Wadhams, who said it "took contraception off the table because it proved that Cory is not anti-contraception."
But Democrats haven't dropped the issue, charging that Gardner's new positions on reproductive rights are misleading. They point out that over-the-counter access is worse than the status quo because under current law, women with health insurance get all types of birth control for free. Under Gardner's plan, women don't need a prescription and pay for contraception out of their own pockets. Udall's campaign, as well as local media, point out that Gardner still supports a federal bill that would give Fourteenth Amendment protections to fetuses from the moment of conception — making it tantamount to the "personhood" measures Gardner now says he opposes.
Gardner's campaign has never come up with a rebuttal to this charge — nor has he removed himself as a sponsor to the federal bill. In an email to this reporter in June, Gardner's communications director, Alex Siciliano, called attention to his boss's reversal on the personhood issue. When Newsweek followed up asking how the federal bill, called the Life Begins at Conception Act, differs from a personhood measure, Siciliano did not respond. Gardner's campaign has not responded to requests for comment for this story.
Gardner is still struggling to distance himself from personhood. "There is no such thing as a federal personhood bill," Gardner insisted over the weekend during a television interview on Colorado's Sunday show #COpolitics: From The Source. The host, veteran Colorado political reporter Eli Stokols, tried to push back for several minutes, but Gardner persisted.
"Do you really think that just telling me that it's not a personhood bill makes it… does saying that make it true?" Stokols interjected at one point.
Despite Udall's efforts on women's rights, the race remains a nailbiter. Republicans suggest that maybe Udall's focus on abortion and contraception have lost their potency. "It is really good news for Cory Gardner that after more than six months of pounding on essentially one issue -- that being abortion and contraception by the Democrats -- that Cory is either tied or recent polling suggests that he is a handful of points ahead," Wadhams said. "That tells me that this one issue strategy of Mark Udall's has not succeeded and that Cory is in a position to win this."
But as the race enters the home stretch, the Udall campaign doesn't intend to back down on the issue. "People say we're running the 2010 playbook. I'd say we're running against a candidate with the same views," said Udall spokesman Chris Harris. "Why they would choose to run someone who is sponsoring the federal personhood bill? You'd have to ask them that."
You can expect the personhood issue to come up in the next debate between Udall and Gardner on October 6. "He's going to have to answer for that," Harris said.
One reason the attacks haven't sunk Gardner is his likeable personality, which helps insulate him from his conservative record in Congress and in the Colorado legislature before that. "The thing about Cory is that even though he has one of the top 10 conservative voting records in Congress...he's also one of the most affable people you will ever meet," said Ted Trimpa, a longtime Democratic operative in Colorado.
According to Trimpa, Democrats similarly hope Udall's likeability will insulate him from the anti-Obama mood of the Colorado electorate. Gardner's attacks paint his opponent as a rubber stamp who votes with the president 99 percent of the time.
With the race deadlocked, Democrats believe that while social issues will help, it's the second piece of Bennet's winning strategy, their ground game, that will put Udall over the edge.
"Women's issues is not what gave the margin to Bennet in 2010," said Trimpa, the Democratic consultant who helped turn Colorado from red to purple over the last 10 years. "Door to door retail politics is, in my opinion, how we've been winning in Colorado."
Democrats nationally have put resources into their ground game that are unprecedented for any previous midterm election. Earlier this year, the DSCC pledged $60 million to register and turn out voters in swing states — the effort was dubbed the Bannock Street Project after the Denver street where Bennet's 2010 campaign headquarters were located. A New York Times analysis of spending on staff and voter-contact operations by the parties, outside groups and candidates found that Democrats were outspending Republicans.
The numbers were starkest in Colorado. Democrats have spent an estimated $4.4 million, Republicans just $556,100.
"Bennet is the gold standard for Colorado in a midterm," Harris said. "We've successfully built on that model and doubled the staff, doubled the number of offices, doubled the number of volunteers of the original Bannock Street project."
But this year, get-out-the-vote efforts in Colorado will be different.
That's because last year Colorado passed a law making it easier for people to vote. This November will be the first major election in which everyone who is registered to vote will receive a ballot in the mail. Ballots go out October 14 and voters have until Election Day to send them back, drop them off or vote in person. Unregistered Coloradans can register and vote in person on Election Day.
But that's not all. Counties will record returned ballots with grocery store-style scanners as they come in, allowing the campaigns (and anyone who subscribes to a secure website) to track returns in real time, showing not just the number of ballots returned by who returned them. That means that as the November 4 approaches, both sides will be able to target their resources at voters who have not yet cast a ballot.
"There's really no way to accurately predict turnout," said Republican strategist Patrick Davis of Colorado Springs. Nor is it easy to figure out who is ahead. Polling close to an election relies on models of who is a likely voter. Though Colorado voters have increasingly used mail-in ballots in recent years, sending every voter a ballot makes it impossible to accurately find likely voters. Davis concedes that mail-in ballots tend to favor Democrats, however, because they have been more organized on the ground. Trimpa agrees.
"I would argue that an all mail ballot in Colorado, given our history of being able to win races, will benefit us," Trimpa said. "Because I just think we have a better underlying system for going door to door and making sure people have voted than they do."
But Wadhams says the narrative on Democrats' ground game is all wrong. It was Republicans who had the better ground game in 2010, says Wadhams, who was the chairman of the state Republican Party at the time. As evidence, he points to Republican gains down-ballot that year, saying Bennet only won because he convinced some Republicans to vote for him over his opponent, Weld County district attorney Ken Buck.
"The Republican ground game has been vastly underestimated by Democrats," he said. "I think Republicans will have a superior ground game in 2014 and that will be the difference in this election."
So who's right?
As David Axelrod, a senior adviser to the Obama campaign, told reporters two years ago: "We know what we know, and they know what they know, and we'll see who's bluffing in two weeks."