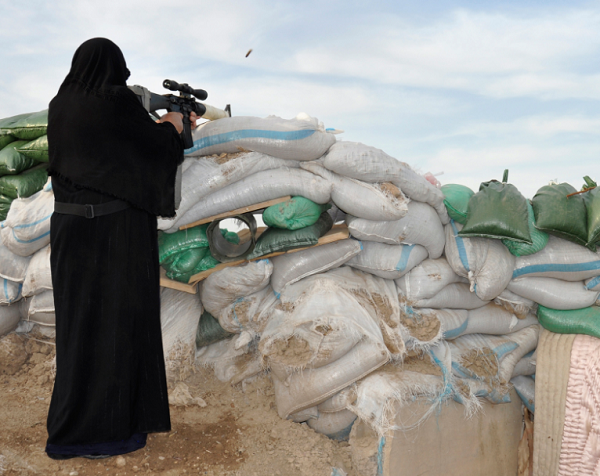 Amid deadly terrorist attacks and devastating conflicts, Republicans and Democrats just came together to pass a new law that could improve security around the world. Lawmakers realized that existing efforts to reduce conflict often overlook a critical strategy: including women. Recognizing that drawing on the talents and perspectives of women is essential for our nation's security, they passed the Women, Peace, and Security Act to ensure the United States supports women's participation in efforts to prevent terrorism and resolve conflict.
"Simply put, when women are at the negotiating table, peace is more likely," observed House Foreign Affairs Committee Chairman Ed Royce (R-CA). "The benefits of women's participation—and the risks of their exclusion—in all aspects of governance and peacemaking are too great to ignore." Senator Jeanne Shaheen (D-NH), recognized that despite this, "far too often [women] are under-represented at the negotiation table."
Where previous generations of lawmakers debated whether women had a place in security forces, the new law is founded on evidence of the unique contributions women bring to peace and security efforts.
Lawmakers recognized that female security officials help to keep the peace. They frequently have better access than men to certain populations and sites and can gather mission-critical information about threats to security. They also improve the security force's relationship with the local community: women in police forces help to de-escalate tensions and are less likely than their male counterparts to use excessive force.
The law further recognizes the contributions of women in countering terrorism and preventing conflict. Women can detect early signs of radicalization because they are often the first targets of fundamentalists. The rise of extremist groups—from the self-proclaimed Islamic State group to Boko Haram to the Taliban—frequently accompanies significant restrictions on women's rights. Women have a unique vantage point—drawing on their roles in families and communities and their influence on youth—that makes them well-situated to de-escalate tensions and to disseminate anti-terrorism messages. And ensuring gender diversity at the negotiating table contributes a breadth of perspectives that can advance conflict resolution. In fact, the participation of women and civil society groups in a peace negotiation makes the resulting agreement 64 percent less likely to fail.
Despite this, peace and security processes proceed with few women represented: between 1992 and 2011, women were fewer than 4 percent of signatories to peace agreements and 9 percent of negotiators. And while the United States issued a national strategy in 2011 to increase women's participation in conflict resolution, there are many missed opportunities where women could have improved the effectiveness of U.S. operations and advanced global security.
Take Syria: women have negotiated local ceasefires, secured the release of detainees, and were among the first to report attacks involving chemical weapons, but the latest round of peace talks blocked women's participation entirely.
And in Afghanistan: women have negotiated directly with insurgent leaders and countered extremist narratives in schools and communities, but in twenty-three rounds of talks between 2005 and 2014, on only two occasions were Afghan women at the table.
This continued failure to include women in peace processes ignores their critical contributions to security.
The new law—and a commitment by U.S. officials to implement it—holds the potential to shift this trend, but more is needed to deliver on it. First is leadership: the Trump administration should immediately nominate the next Ambassador-at-Large for Global Women's Issues and appoint coordinators at the Department of Defense and USAID. Second, few resources are allocated to promoting women's participation in security efforts—U.S. security strategy would be made more effective by correcting this omission. Third, the U.S. government should ensure that the rising generation of American diplomats and security professionals recognizes the value of women's participation in security efforts, so that it becomes standard practice for U.S. officials to see women leaders in places like Syria and Afghanistan as partners and not afterthoughts.
Restricted budgets make it even more important to promote women's participation, given the evidence that it will make security efforts more successful. Such investment will save lives and resources in conflict-affected countries, as well as in countries like the United States that send troops or invest in resolving conflicts.
Valuing the security benefits of women's inclusion is new ground for the U.S. government, and proponents must remain vigilant to ensure it is executed. But it has proven to be an issue that transcends political divisions. If the United States sustains its commitment to including women in its efforts to counter terrorism and prevent conflict, we will all be better off for it.
Jamille Bigio is a senior fellow for women and foreign policy at the Council on Foreign Relations.