Anti-ICE Protest: Women Arrested in Senate Building While Protesting Donald Trump's Immigration Policy
Multiple women were arrested for participating in an anti–Immigration and Customs Enforcement (ICE) protest, which took place in the Hart Senate office building on Thursday.
The protest of President Donald Trump's "zero tolerance" immigration policy consisted of hundreds of women, coming to Washington, D.C., from 47 states, many of whom wore white, according to The Washington Post.
It began at Freedom Plaza, then the group marched to the Department of Justice, where police had surrounded the building in preparation for the protest.
After chanting "we care" and "shame," the group ventured down Pennsylvania Avenue, past Trump International Hotel, until they reached the Hart Senate office building. The group sat on the atrium floor and many wrapped themselves in Mylar blankets representative of the ones that are given to undocumented immigrants.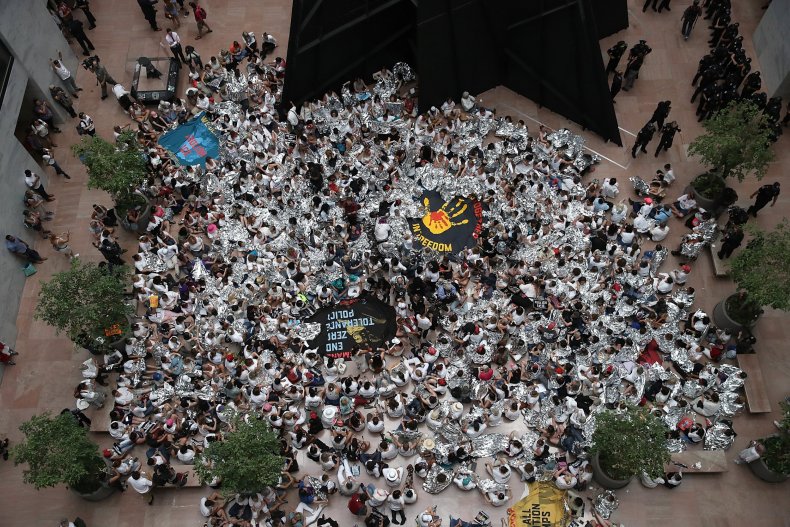 As Senate workers peered down from the floors above, protesters shouted "abolish ICE" and "We care," in reference to the jacket first lady Melania Trump wore before boarding Air Force One on a visit to an immigration detention facility in Texas.
Both Representative Pramila Jayapal and Senator Tammy Duckworth joined protesters on the atrium floor in a call for an end to family detention, according to two tweets by the Women's March.
"We can do better than that," Duckworth told The Washington Post reporter Marissa J. Lang. "I join them in calling on the Trump administration to reunite these families, get these kids back to their parents."
Read more: Arizona church posts banners saying, "Jesus doesn't want kids to be in cages"
CNN national correspondent Sunlen Serfaty said that the group wanted to "create a big moment" on Capitol Hill on the same day that many lawmakers will return to their home states for a week-long recess.
She added that most of the women were aware of the risk of arrest, but came anyway to vocalize their belief that ICE should be abolished. Among the protesters in D.C. was actress Susan Sarandon.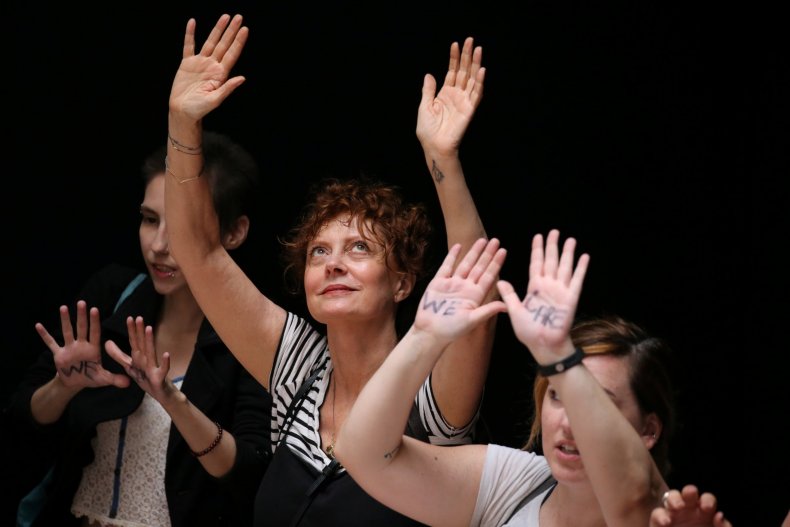 About 100 people were arrested at the protest in the Senate building, but CNN reported that Capitol Police are expecting to arrest "a couple of hundred."
Capitol Police later confirmed in an email to Newsweek that approximately 575 individuals were arrested and charged with D.C. Code §22-1307, crowding, obstructing or incommoding. Capitol Police said they were processed at the scene and released.
Democratic Senators Kirsten Gillibrand, Mazie Hirono, Ed Markey, and Richard Blumenthal also went to the atrium floor and spoke with protesters, according to CNN.
The female-led protest in Washington, D.C., is one of the multiple anti-ICE protests that occurred on Thursday.
This article has been updated to include the response from Capitol Police.