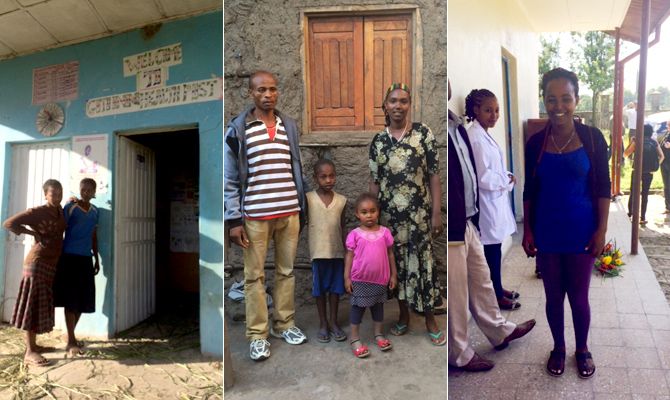 The Ethiopian government raves about its health extension program, which employs more than 36,000 workers who help rural families across the country access basic and crucial health care, ranging from family planning to malaria treatment and HIV testing. Thanks to the program, founded in 2003, the national contraceptive prevalence rate has doubled twice in less than a decade—Ethiopia is only one of three countries to boast such an improvement—and child mortality rates have been reduced by half. The country was ranked at 146 by the UN in 2000; in 2012, it moved up to No. 68.
Ethiopia's leaders particularly love to champion what the health extension program has done for women—less than 20 years ago, only 3 percent of married Ethiopian women used modern contraception and maternal and child mortality rates were catastrophic—but they don't always highlight the program's true champions: the health workers themselves. Aside from a few men stationed in remote areas for safety reasons, all the health workers are women. And that's by design.
The Health Extension Program was originally government-funded, but is now supported by European and U.S. donors, including Pathfinder International, a non-profit family planning and reproductive health organization that flew a few journalists out to tour a site in West Arsi, more than 200 miles from the country's capital, Addis Ababa, which hosted the 2013 International Conference on Family Planning this week.
The trip I attended was frustrating at times; there were no independent translators and it was difficult to get straight answers to tough questions (one day we were told the majority of Ethiopian men in the area supported their wives' access to family planning; the next, one worker admitted Depo Provera injections were the most popular form of contraception because women can keep them secret from their husbands). But one thing was clear: Although men might run the program and staff the control centers, the female health workers on the ground making sure families receive easy access to health care deserve credit for the program's success.
In order to become a health extension worker, a woman must have finished secondary school (up to 10th grade) and be at least 18 years old. She also must be from the area, so she can speak the local language and understand how the village operates. Two health extension workers are assigned to 15,000 health posts across the country that report to district health centers which, in turn, report to hospitals. The workers spend only 25 percent of their time in the posts; the rest is spent on house calls. If a woman excels, she can undergo an additional year of training to become a higher-paid health practitioner.
Why does the government mandate that the health extension workers be women? To empower them, said Worknesh Kereta Abshiro, Pathfinder's Senior Adolescent Sexual and Reproductive Health Advisor in Ethiopia. "It's a way to give girls responsibility and empower them economically," she said. "They are role models for others in the community."
They're also just better at it, said Dr. Kesetebirhan Admasu, Ethiopian Minister of Health. "Women can easily identify with women," he said. "When they advise the families and educate them, they can easily create an emotional connection."
During our site visit, we met Fanaye Birege, a calm and collected 23-year-old health practitioner clad in purple leggings with red highlights woven into her hair. Birege is responsible for 846 households, most of which have at least five residents. She works in a small, simple office with leaves strewn on the floor and walls covered with family-planning displays and immunization charts, but spends most of her time traveling around the village; she said she's excited to get a bicycle, because she often has to travel more than 10 miles in a day on foot. "I like changing the community," she said through a translator.
Ethiopia has one of the highest rates of early marriage in the world; according to a 2011 Demographic Health Survey, 63 percent of women marry before they turn 18. Birege is single and making her own money—1500 birr ($63) a month, almost four times the monthly minimum wage for public-sector employees. And she's doing something she seems to enjoy.
But the fact that the health extension program's lowest-paid, hardest working staffers have to be women plays into stereotypical gender roles. "If you look at our culture, the men are the breadwinners," Admasu said, adding that it's "culturally acceptable" for the workers to be women while the men delegate from offices.
And although he said the female workers send a "powerful message of what an educated girl can do,"—health extension workers and practitioners can ostensibly keep getting promoted as they gain more experience—no one could provide statistics about how many move on to better paid, more elite jobs. Still, Abshiro said, things today are "far, far better" for young Ethiopian women than they were a generation ago.
"Before when you were a nurse you stayed your whole life as a nurse," she said. "There was nowhere to go. Now there are so many ways to upgrade yourself."