Pennsylvania Has Zero Women in Congress but That Could Change Dramatically in November
Female candidates in Pennsylvania made a strong showing Tuesday night in a state notoriously unfriendly to women running for office. The Keystone State currently has zero women representing its residents in Congress.
Tuesday's results suggested that could soon change.
Out of the 20 women who ran in 13 Pennsylvania House districts—of which there are 18 in total—eight of them won their primaries, while two female candidates in Pennsylvania's 10th and 12th districts remain tied up in contests deemed too close to call as of Wednesday morning.
Given the makeup of their districts, four of Tuesday's decisive victors have a good shot at winning their seats and disrupting the state's current all-male congressional delegation in November.
"Our approach to this year is underpromising and overdelivering," Kelly Dittmar, the project director for Gender Watch 2018, an offshoot of the Center for American Women and Politics at Rutgers University, where she is an assistant professor of political science, told Newsweek ahead of Tuesday's results. "If we assume all women are going to win and put forth this narrative that it's a tsunami of women overtaking Congress, the narrative can easily become about women's failures."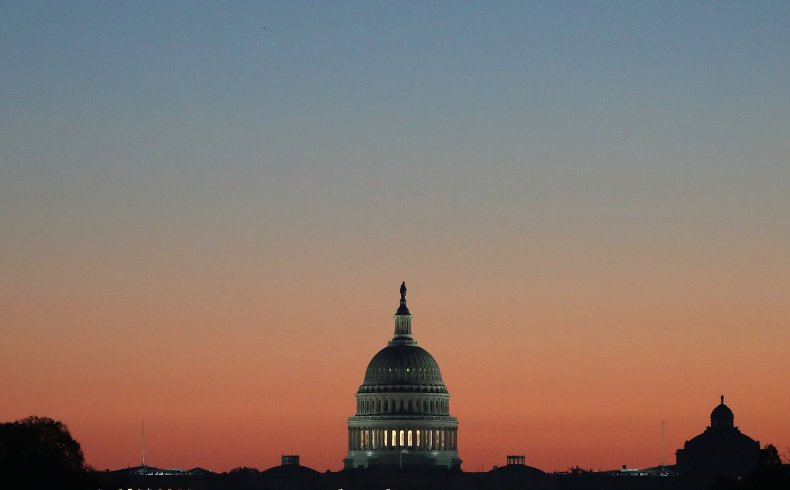 Madeleine Dean, an EMILY's List–backed state representative, came out on top in Pennsylvania's 4th Congressional District, when she defeated first-time female candidate Shira Goodman and Joe Hoeffel, the former representative, to earn the party's nomination. In the general election, she'll battle Republican Dan David in a solidly blue district that will likely send her to Washington.
In Pennsylvania's 5th Congressional District, Democratic candidates flooded the ticket after Republican Representative Patrick Meehan announced he wouldn't be seeking re-election this year, due to a sexual harassment case he settled with a former aide in 2017. Female candidates, in particular, saw an opening: Six out of the 10 Democratic contenders were women, with Mary Gay Scanlon clinching the nomination. The general election will also be an all-female contest, being that Pearl Kim won her Republican primary in the district. In a deep-blue district, Scanlon is the likely winner.
Chrissy Houlahan, who ran unopposed in Pennsylvania's 6th, is another female candidate with a good chance to break the state's masculine streak. Cook Political Report rated the district as likely Democratic after new district lines gave it a nine-point Democratic edge.
And in the 7th, a swing district, Susan Wild, a progressive candidate who battled an anti-abortion, immigration hard-liner, won her primary and will have the opportunity to become the first woman to represent the Lehigh Valley in Congress.
These are satisfying wins to be sure. But Dittmar added that it's particularly important to maintain a sense of perspective in a state like Pennsylvania, where women have so much ground to make up and where a male-dominated political system has discouraged women for so long.
"Pennsylvania has its own version of a 'boys club' that has been fairly strong in the state," Dittmar said. "That can be true of other states, but the masculine culture and masculine dominance of the political structure in Pennsylvania has been persistent."
Jennie Sweet-Cushman, the assistant director of Pennsylvania's Center for Women & Politics, told Newsweek other features of the state's political system, like a lack of term limits and the parties' failure to recruit more women, have also contributed to the gender imbalance. But, as has been the case across the country, Sweet-Cushman said more people have woken up to the inequality.
"There's a lot of energy in the Democratic Party that's being driven by women," she said Tuesday. "There have been a lot of issues with sexual harassment...and just general attention brought to the fact that there are no women in Congress. The average voter is paying attention in ways they might not have before."
Should these Pennsylvania women lose come November, it shouldn't be chalked up as a loss for all women, advocates said. Besides, Dittmar added, it's too much pressure to place on female candidates running this cycle.
"Success for women shouldn't only be measured in terms of how many nominations they win or seats they gain in November. That's one measure of success, and it's important," Dittmar said. "But there are other measures of success, especially for women challenging incumbents or running in difficult races. They're challenging the norm of what it looks like to be a candidate for office."