Political Candidates of Color Are Winning by Listening to Their Constituents
Ayanna Pressley's triumph over a 10-term incumbent in the Democratic congressional primary for Massachusetts's 7th District on Tuesday was called an upset.
For many African-American voters, though, Pressley's victory came as no surprise.
A spate of Democratic women of color have recently upstaged incumbents or won primaries over favorites. Catalyzed by the current presidency, a brewing combination of forces has helped usher in candidates who better reflect the country's diversity and are pushing for policies that more directly address the issues affecting their constituents.
"People are horrified over what they see happening, and they're looking for people who are not just going to stand up to Trump but people who can stand up with their own ideas about how they can make lives better," Daniella Gibbs Léger, senior vice president of communications and strategy at the Center for American Progress, told Newsweek. "The people who are out there winning right now have a very positive, forward looking agenda."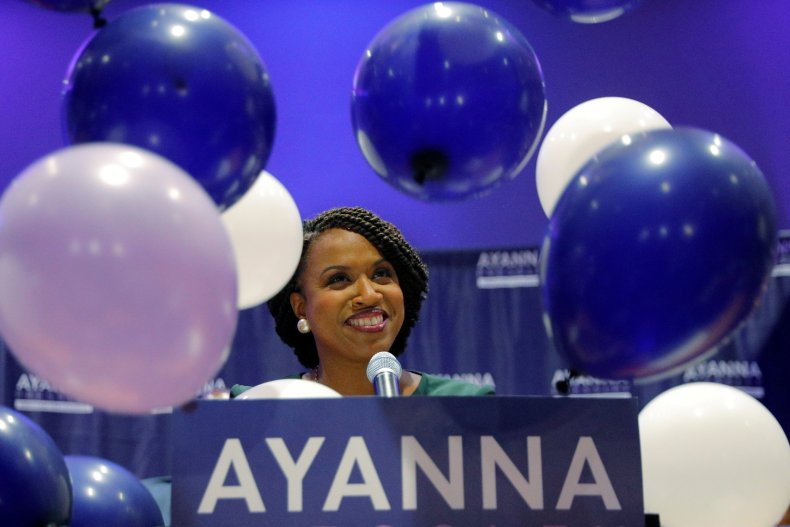 Pressley is not alone in her victory. Stacey Abrams won her party's nomination in the Georgia gubernatorial Democratic primary, and could become the first black woman governor if she wins in November. Lucy McBath in Georgia, Ilhan Omar in Minnesota, Jahana Hayes in Connecticut and Lauren Underwood in Illinois all won their congressional primaries.
While recognizing the more unusual cases of politicians of color pulling off surprise victories—Abrams in Georgia and Andrew Gillum in Florida, for example—Will Marshall, the president of the Progressive Policy Institute, said that the candidates who lean further to the left are running in predominantly liberal areas.
"What I see happening is we're getting in deep-blue places more left-leaning candidates running and winning," Marshall told Newsweek. "There's efforts to claim there are big ideological movements afoot, but they're mostly exaggerated. What you see is a diverse and mixed picture."
In some cases, the up-and-coming challengers who have emerged victorious do come from more left-leaning districts. Pressley campaigned in Massachusetts's 7th Congressional District, where no Republican candidate even ran in the 2016 race. Alexandria Ocasio-Cortez, who triumphed over 10-term Congressman Joseph Crowley in the Democratic primary, ran in New York's 14th Congressional District. Nearly 83 percent of voters selected Crowley over his Republican challenger in 2016.
In addition to addressing constituents' issues, Ocasio-Cortez was aided by her district's demographics. Crowley doesn't speak Spanish, limiting his ability to connect with the district's 50 percent Latino residents, 40 of whom are Spanish-speaking. But as Slate has noted, the demographic representation did not alone explain her victory, as "demographic representation in Congress doesn't mean much if those representatives abandon the concerns of their demographics."
But the narrative professed by Marshall doesn't always hold true. Hayes, who endorses some progressive policies like Medicare for all, won in a district where 42 percent of voters chose the Republican candidate in the 2016 election, and which is not as left-leaning as some other areas that produced surprise results. Her challenger, Mary Glassman, was endorsed by the Republican-aligned U.S. Chamber of Commerce. Glassman, who promoted herself as a consensus-builder, earned almost 38 percent of votes in the primary.
The strategies that led to the victories of Pressley and Ocasio-Cortez, though, should not be underestimated. Ocasio-Cortez knocked on doors. She listened to constituents. She addressed the issues that people cared about—the same tactics that Barack Obama used when running for his first presidential term, reported The New Yorker. And this is at the core of their success, both in helping to gain the vote and reflect the needs of their communities, said Léger.
"When you have candidates that can speak to these communities, that's why you see these victories happening," Léger told Newsweek. "It's articulation of goals, it's speaking to people directly, and again showing that they are going to fight for them...representative democracy is important, and for a very long time people of color didn't see people who looked like them representing them."