Women Come to Power in the Vatican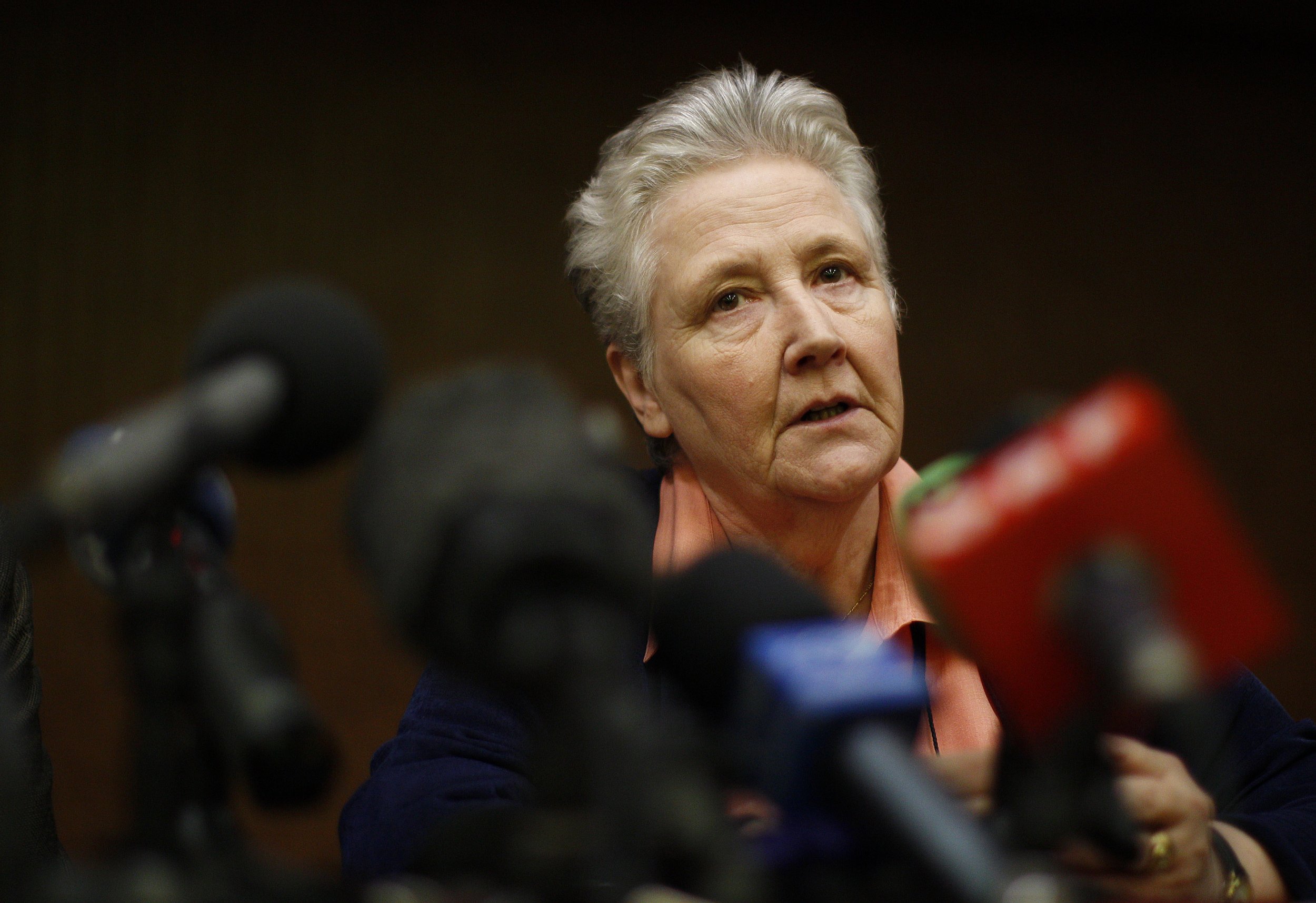 When she was 13 years old in 1960, Marie Collins underwent treatment for a bone infection in a Dublin hospital. In the privacy of a ward cubicle, she was raped by the hospital chaplain, Father Paul McGennis. She did not report the priest until 1995, some 35 years later. When she went public, she says, she received only "lies and deceit" from the archdiocese of Dublin. In 1996, the then archbishop of Dublin, Desmond Connell, refused to turn over McGennis's file (detailing his known offences) to the police. The archbishop apologised for this in 2002. McGennis was sent to jail for multiple acts of abuse in 1997.
Today, Marie Collins is one of four lay women appointed by Pope Francis to an eight-member Vatican commission for the protection of children. The appointments have astonished the Catholic world for they place the women involved in positions of authority usually reserved for Cardinals and high-ranking clerics, demonstrating a dramatic alteration in papal regard for women and their scope for participation in Church governance. But how deep, and how lasting?
After the reforming Second Vatican Council of the mid 1960s, religious women united to improve their status, some even calling for a women's priesthood. Successive popes outlawed even discussion of ordination for women. John Paul II made it a matter of infallibility that women could never be priests. Even as feminist theology flourished in universities throughout the world, the hierarchies continued to promote an ideal of Catholic womanhood as the embodied virtues of the Virgin Mary - chastity and obedience.
Francis appears set to break that ancient relegation of women. At the beginning of his papacy last year, he shocked Catholic traditionalists when he went down on his knees to wash and kiss the feet of two women in a Holy Week ceremony. One of them was a Muslim. More recently, he appointed 71-year-old Margaret Archer to head the Pontifical Academy of Social Sciences. The international body founded by John Paul II in 1994, meets occasionally in the Vatican to offer advice on justice and peace issues.
But the appointment of four women to protect children goes far beyond symbolic gestures and academic dialogue. Known officially as the Pontifical Commission for the Protection of Minors, it is a high level Vatican body, reporting directly to the Pope and intended to deliver major policy. The women commissioners, from Poland, France, Britain and Ireland, clearly embody leadership qualities, specialist knowledge and life experience that no celibate male prelate could bring to the job. Tina Beattie, Professor of Catholic Studies at the University of Roehampton in London, says: "They are first class. Their credentials are impeccable."
They will look into the crucial issue of the relationship between the Church and civil authorities, such as the police, in the reporting of abusers. Unavoidable, too, will be criteria for priestly recruitment, seminary training, and the pressures of celibate life. The women will bring a critical eye, moreover, to the culture of clericalism and its entitlements. All four have experience and expertise in dealing with child abuse.
Marie Collins, now 67 and head of an abuse survivors charity, the Marie Collins Foundation, based in Dublin, has openly called for criminal charges to be brought against bishops who have covered up wrong-doing, yet have so-far escaped investigation. This could mean indicting hundreds of bishops now in retirement.
Warm and voluble, Marie stresses the long-term effects of sexual abuse. She says that McGennis used her "vulnerability as a sick child, separated for the first time from home and family". He took lewd photographs, an aspect that had a "devastating effect". "I began to suffer from anxiety problems, necessitating medication for the first time at 17 years-old," she says. After her marriage at 28 and the birth of her son two years later, she suffered "more and more from bouts of depression, panic attacks and severe anxiety." As a result, she was hospitalised with depression "many times". Originally reluctant to join the commission for fear of appearing cosy with the Church, Collins says that she changed her mind in order to alter the way the Church treats survivors of abuse.
Collins will be backed up by a world-class expert on child and adolescent psychiatry with extensive knowledge of child sexual abuse. Dr Catherine Bonnet, a 69-year-old practitioner based in Paris, is a renowned expert in the diagnosis and treatment of child abuse. Twenty years ago she found herself in the eye of a storm over her treatment of children who claimed that they had been abused by parents, and fathers in particular.
Through the 1980s and 1990s she had treated a number of victims of child abuse, including child pornography. But in 1996 she was accused of slander by groups and individuals representing mainly fathers who claimed that they had been unjustly accused of incest because of her case work. They claimed that false allegations had often been made by mothers attempting to bar former husbands from access to their children. Bonnet responded that, although false memory syndrome and other factors can lead to unsafe accusations, these were a small minority.
Complaints against her professional conduct were taken up by the French national regulation and ethical body Conseil Departemental de l'Ordre des Médecins. Bonnet alleges that neither parents, nor victims, nor experts who confirmed her diagnoses, were invited to give evidence. The problem in France, she adds, is that "people find it difficult to admit that the family can be a place of danger for children, or that abuse can occur among people from prosperous backgrounds."
The Conseil found against her and she was suspended from practice in France for three years. In her bid to overturn the verdict, she lost her livelihood and her home. It would take her seven years to dismiss each of eight charges against her: the final charge was overturned in 2004. In the meantime, national support for her work and belief in her integrity had won her the Legion d'honneur in 2001. In 2006, the World Psychiatric Association, representing 117 countries and 200,000 qualified psychiatrists, confirmed the validity of her work. Following her study of the symptoms of sexual abuse in children, The Broken Child, she published The Muzzled Childhood in 2007, a controversial history of the heated conflict between herself and her accusers.
The third commissioner is 69-year-old British mother of four, Sheila Hollins, who brings wide experience as a general medical practitioner and consultant psychiatrist specialising in learning disabilities. She has filled an impressive series of posts, including President of the British Medical Association and President of the Royal College of Psychiatrists. In 2010, she was made a life peer in Britain's House of Lords, with the title Baroness Hollins of Wimbledon.
She is also well-known in Britain as the mother of Abigail Witchalls, who was stabbed in the neck in April 2005 while wheeling her infant son near her home in Surrey. After a period in neuro-intensive care, where she was taught to communicate by blinking, her speech and some arm movement returned. The prime suspect was Richard Cazaly, a 23-year-old schizophrenia sufferer who committed suicide two weeks later, leaving a suicide note that suggested his guilt.
Of the four women commissioners, Hollins is the most openly religious. She belongs to a lay group of Benedictines, followers of the spiritual ideals of the sixth century monk, Saint Benedict, and regularly visits Lourdes, the Marian healing shrine. She has published her "Five a Day" acts of spiritual sustenance in emulation of the five items of fruit and vegetables recommended for a healthy lifestyle. They include spiritual reading, silence and prayer.
Hollins is more likely than the others to take into consideration the psychological state of paedophile abusers, whether priests or not. In a recent interview with the British weekly, the Catholic Herald, she said that while she laments the lack of contrition and honesty on the part of some guilty priests, "too many institutions, including the Catholic Church, were slow to understand the pathology behind child abusers." She said: "I think it's much more likely that people who abuse are people who are vulnerable themselves, perhaps because of something bad that happened to them during their development, something which they have not worked through and something which becomes part of their personality."
This accords with her vociferous rejection of government moves to legislate enforced medication for the mentally ill. It is more important, she said in a speech in the House of Lords, to reach out to the mentally ill and avoid stigmatising their plight. She is also against moves to allow medically assisted suicide. Her public outspokenness has already found her in conflict with interest groups defending the Catholic Church in Ireland over treatment of victims of clerical abuse.
At the February 2012 Vatican-sponsored conference on paedophile priests in Rome, she observed: "In Ireland, it is said that very few victims have had any counselling or therapy. It is believed that very few had received an apology and hardly any had received compensation." The official Catholic media office in Ireland immediately complained that her statement "grossly" misrepresented "the reality and extent of the ongoing outreach to survivors by Irish bishops and religious congregations." The clash indicates the commission's potential for heated disagreements between the lay women commissioners and defensive clerical and religious bodies.
The fourth female member is the 68-year-old former Polish premier, Hanna Suchocka. A formidable veteran-politician and diplomat, the late William Safire once dubbed her "the Polish Thatcher" – as much for her ability to outclass men as for her hair-styling.
The daughter of a pharmacist, she was raised in a small village near Poznań. She studied constitutional law and went on to teach at the Catholic University of Lublin. She is a consummate political animal. Originally rising through the ranks of the communist-approved democratic opposition, she was expelled from the Democratic Party after she opposed imposition of martial law in 1981 and refused to vote for the 1984 act banning Solidarity, a Polish trade union.
She was the favourite for prime minister in the 1992 post-Communist parliament under Lech Wałęsa's presidency because she was trusted by traditionalist Roman Catholic parties for her stand against abortion, and by the moderates for her leftwing views. She managed to bring together a parliamentary victory with a shaky coalition of her own Democratic Union, the Catholic Christian National Union, and the centre-right Liberal Democratic Congress. Her premiership was marked by a tranche of attempted market reforms, deficit reductions, and privatisations, against a background of rail and coal strikes. In a parliament of 29 parties, she lost a vote of no confidence by a single vote in October 1993.
She has been resident in Rome as the Polish ambassador to the Holy See since 2002; hence she knows the Vatican labyrinth and its denizens intimately. She is a member of the Pontifical Council for Social Sciences, a member of the Club of Madrid, and member of the Council of Women World Leaders – an international network of current and former women presidents and prime ministers who promote female leadership.
Views of Hanna Suchocka tend to be mixed. Veteran journalist, Neal Ascherson, who reported on Polish affairs for the Observer during the 1980s and 1990s, found her "warm, affectionate, solidly self-confident…and reliable." Ascherson adds that her appointment to the commission as a leading Polish figure is significant, because the Vatican is yet to be rocked by clerical sexual abuse in Poland. He says: "The paedophilia star-shell hasn't yet really burst to illuminate sexual abuse there…the abuse total is probably enormous and tragic."
The correspondent for the British Catholic weekly, The Tablet, Jonathan Luxmoore, comments, "she's viewed as someone very much in the Church's pocket." He recollects that she "ended her premiership in 1993 in great controversy by signing a Concordat with the Vatican, under church pressure, after her government had already lost a confidence motion and resigned." Luxmoore adds that she was accused of violating the constitution; in consequence the Concordat's parliamentary ratification was blocked for six years. "As ambassador to the Vatican…she was pretty much forgotten about in Poland, resurfacing only occasionally to praise the Church and Rome."
The female commissioners clearly come from different backgrounds, socially and politically, with potential both to complement each other and to clash. They have in common their Catholic faith, but their religious perspectives are different. Baroness Hollins favours a spirituality that appeals to pieties unmediated by clerics; whereas Hanna Suchocka is evidently a follower of John Paul II, who nurtured reverence for the priesthood as an estate higher than that of the angels. Marie Collins retains a cynicism and wariness of the official Catholic Church, which she believes has done her and many others great harm. Catherine Bonnet can be relied upon to dismiss clerical entitlement, but appears to follow the Church in its teaching on contraception.
Whatever the difficulties that lie ahead, Catholic women will see these commissioners as an advance guard for further lay female involvement in the running of their Church. If they can help to heal the appalling damage of the paedophile priest scourge, other women may be called upon to help solve other issues.
The four women have much to prove and much to lose. They will certainly face opposition from forces within the Vatican bureaucracy and they may encounter conflict among themselves. But they come to their task without links to the all-male clericalism which most Catholics accept was the systemic basis of the paedophile phenomenon and its cover-ups in the first place.
Failure to deliver will have profound consequences. As the trusted Vatican watcher, John Allen, says: "If this commission is unable to produce results, the Vatican's already-crumbling image will not have much left to save it."