Women Who Confronted Harvey Weinstein Kicked Out of New York Bar
Two women who confronted disgraced movie producer Harvey Weinstein—who stands accused of rape and sexual assault by numerous women—were allegedly kicked out of a New York City bar after speaking out against him on Wednesday night.
The fracas took place at Downtime Bar NYC, which hosted a private event held by a group called Actor's Hour, a gathering of actors, writers and other performers.
Comedian Amber Rollo detailed in a now-viral Twitter thread how she and another woman confronted Weinstein, who they spotted sitting in the audience, and were subsequently asked to leave the venue.
Another comedian, Kelly Bachman, who performed a set at the show, was allegedly told to "shut up" after referring to Weinstein's presence and calling him "Freddy Krueger."
In a clip shared on Twitter, Bachman joked that she didn't know people "had to bring mace and our own rape whistle to Actor's Hour," prompting audible boos from parts of the crowd. Others, however, cheered the comedian for calling out Weinstein.
Rollo wrote that she was "shocked" to see Weinstein at the event and claimed that he was put on the guest list by Actor's Hour organizer Alexandra Laliberte.
"Some people didn't realize what was going on, some artists knew and were scared and some were outright supporting this f***ing serial rapist monster," wrote Rollo.
"At the show's intermission a woman started yelling about him being there. She was shouting and crying and seemed to be the only sane person there. SHE was kicked out. What the actual f**k?!"
Rollo said that she too confronted Weinstein, calling him a "f***ing monster," but a member of Weinstein's group called her a "c***."
"There was a woman at the table with him who gently guided me out. I don't know who she is but I hope she is ok," said Rollo. "Please do not support Downtime Bar or Actors Hour, the position they put us in is horrifying."
In a statement posted to its Facebook page, Downtime Bar NYC said: "A company called Actors Hour rented our bar for a private event, with a guest list all their own. Shortly into the evening, one guest began heckling another, causing a disturbance to everyone in attendance. After several requests to stop were ignored, we kindly asked the heckler to leave."
The bar added that it wanted "to ensure that all guests are treated equally, with the same service and respect."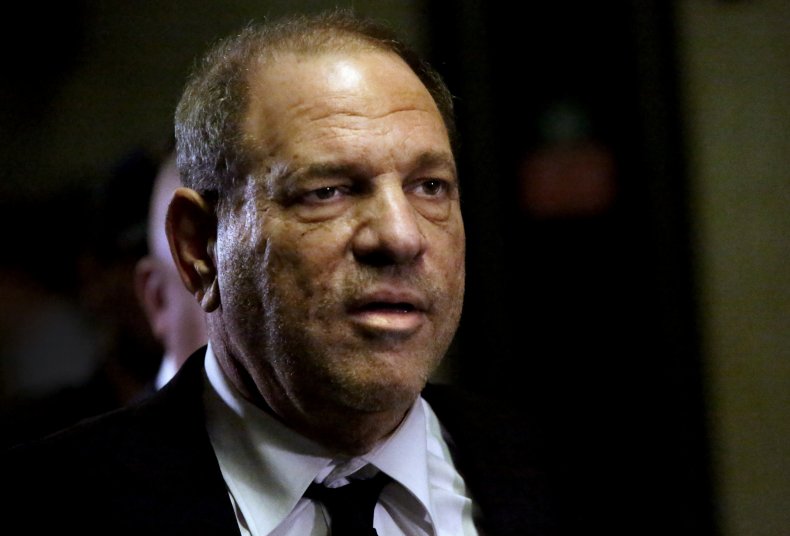 A spokesperson for Weinstein told Variety that "this scene was uncalled for, downright rude and an example of how due process today is being squashed by the public, trying to take it away in the courtroom too."
The spokesperson said that the woman who was asked to leave was ejected by Downtime's staff and not at Weinstein's insistence.
"I would just point out that he being treated as if he has been convicted. Accusations are, in fact, not convictions. Due process is still the foundation of each and every one of our civil rights in this country," said the spokesperson of the numerous sexual assault and rape allegations against Weinstein.
Weinstein is due to stand trial for rape and predatory sexual assault in New York in January.
Rollo, one of the comedians who confronted Weinstein on Wednesday night, mocked his spokesperson's statement on Twitter early Friday morning.
"Harvey Weinstein statement called me "downright rude." You know what's rude? Rape. GTFOH," Rollo wrote.
Alexandra Laliberte and Downtime Bar NYC did not return a request for comment.