Video: Two Women Drug Man at Casino, Rob Him at His Hotel—Police Offer $3,000 Award to Help Catch Them
Authorities are offering a $3,000 reward to help track down two women who they said were caught on camera as they drugged a man at a casino before stealing his $15,000 Rolex from his hotel room.
The Broward Sheriff's Office said the women drugged their victim at the Seminole Hard Rock Hotel Casino in Hollywood, Florida, in the early hours of September 13.
They then took their victim back to his hotel room in Dania Beach and when he woke the next morning, his gold and silver Rolex watch, worth $15,000, was gone along with $1,000 in cash, CBS Miami reported.
The sheriff's office has now released surveillance footage of the two women in a bid to identify them.
According to the sheriff's office, the security video showed the two women approached the man as he was playing poker at the casino at around 2 a.m., WPTV reported. They were later seen sitting by thee slot machines and one of the women was caught on camera spiking his drink with an unidentified substance before handing it to the man.
The man later told deputies that he felt drugged immediately after having the drink and found it difficult to move, according to WPTV.
The women then walked the man out of the casino and into a waiting car. They all traveled back to man's hotel, the Sleeping Inn, in the dark-colored Honda Fit.
Detectives at first thought the driver of the vehicle was a third suspect who was pretending to be a rideshare driver. But WPTV reported that they had managed to make contact with the driver and do not believe he had any involvement in the crime.
The victim said he lost consciousness as he entered his hotel room, WSVN reported. When he woke up, his Rolex and cash were missing.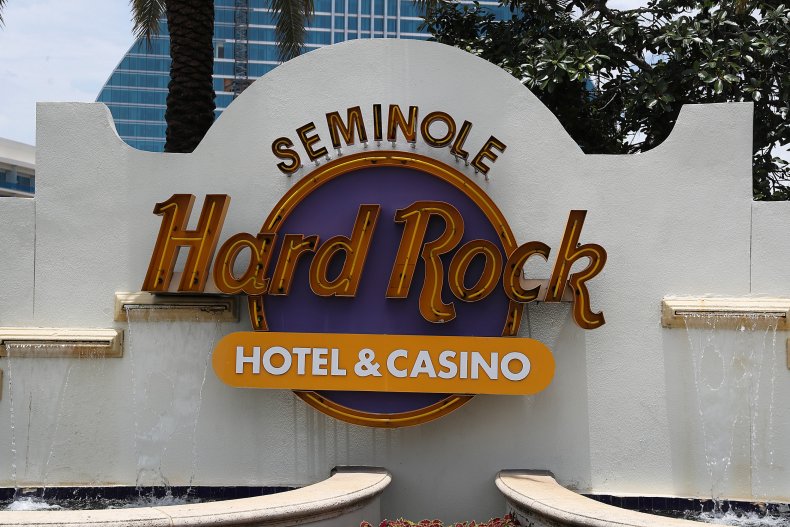 Miranda Grossman, a spokesperson for Broward Sheriff's Office, told CBS Miami: "They had a plan in mind. They engaged him in conversation. You can see them laughing in the video and they made him feel comfortable."
Newsweek has contacted the Broward Sheriff's Office for further comment.
One of the suspects was described as about 35 to 45 years old, with blonde hair and a tattoo on her upper left chest. She wore a black shirt and black pants during the incident.
The other suspect is also 35 to 45 years old and was wearing a leopard print jumpsuit at the time.
Authorities are offering a reward of up to $3,000 for any information that leads to an arrest. Anyone with information is urged to call Broward Crime Stoppers at 954-493-TIPS.