Women Edited Out of Pic at Paris Rally Sparks Backlash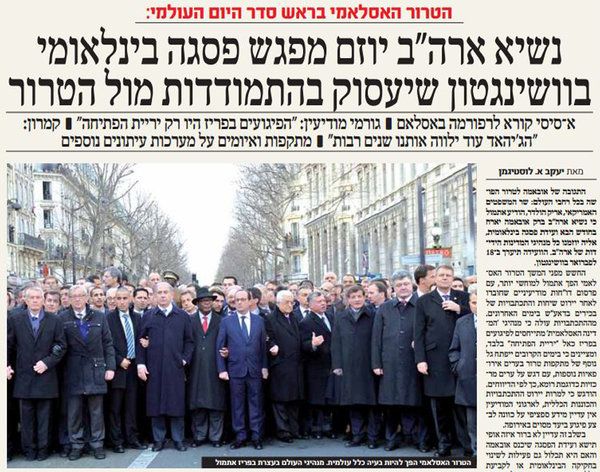 Call it an iconic photo with a bizarre twist. On Sunday, thousands attended a unity rally in Paris for the victims killed in the attack on French satirical magazine Charlie Hebdo. At the head of the rally were various world leaders, including German Chancellor Angela Merkel. Photographers captured the powerful scene, and the image quickly spread.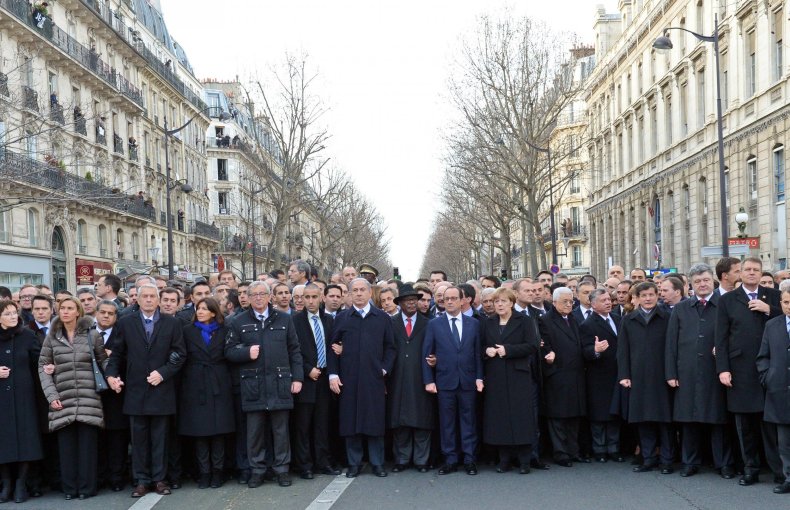 However, as first reported by Israeli website Walla, an ultra-Orthodox Jewish newspaper in Israel edited the photo to exclude several women, including Merkel and Paris Mayor Anne Hidalgo.
Over the past few days, the doctored image has spread across the Internet and drawn criticism. Reactions on social media were swift and cutting, as people expressed disappointment and anger at the decision by the newspaper, HaMevaser—and, by extension, at attitudes toward women in some ultra-Orthodox communities.
Newsweek was unable to reach HaMevaser, but Binyamin Lipkin, the paper's editor, told The New York Times that "from the perspective of a Haredi person, a woman is not a visual. Women are not presenters—they do not advertise toothpaste, tissue, dog food or anything else." He added that while Merkel was taken out of the image, she was listed elsewhere in the paper as one of the world leaders present at the rally.
The doctored Paris rally photo is not the first of its kind to make headlines. In 2011 Di Tzeitung, a Yiddish-language paper serving ultra-Orthodox Jews in New York, edited a photo of leaders gathered in the White House's Situation Room during the raid against Osama bin Laden's hideout. Removed from the photo: Secretary of State Hillary Clinton. At the time, the newspaper apologized for digitally altering the photo, which was not permitted under the White House's terms of use, but vehemently defended its removal of women from photographs.
"The readership of the Tzeitung believe that women should be appreciated for who they are and what they do, not for what they look like, and the Jewish laws of modesty are an expression of respect for women, not the opposite," the newspaper said in a statement. "The allegations by some, that Orthodox Judaism denigrates women or do not respect women in public office, is a malicious slander and libel."
The policy of not publishing images of women, or removing them from existing images, is not out of the ordinary for certain ultra-Orthodox publications. "For as long as I've been studying ultra-Orthodox communities, I know of major publications that would not publish pictures of women," says Moshe Krakowski. He is a professor at the Azrieli Graduate School of Jewish Education and Administration, part of Yeshiva University in New York, whose research interests include ultra‐Orthodox education and the ultra-Orthodox worldview and culture.
Two popular Orthodox magazines, Mishpacha and Ami, do not include photos of women.
"It's basically like someone walked in on a 13- or 14-year-old conversation," says Eliyahu Fink, a Modern Orthodox rabbi at Pacific Jewish Center in Venice, California. "This is an ongoing discussion. It's not like this just happened, crazy extremists came out of nowhere. There is tension between groups and within groups about what level of exposure is allowed for women."
The policy, both say, is based on an extreme interpretation of Jewish laws surrounding modesty and sexuality. "A major aspect of ultra-Orthodox life is men being very careful to channel sexuality only in the context of their spouses in marriages," says Krakowski. "There is the idea that one does not gaze at women who are not their spouse."
In Judaism, the practice of not gazing at a woman who isn't your wife is at least 2,000 years old. But different communities, even among Orthodox and ultra-Orthodox populations, have dramatically different interpretations. There are religious Jews whose dress doesn't differ from that of the secular population, while in other groups, women wear skirts and cover their arms to the elbow.
"My community has pictures of women in magazines and publications," says Allison Josephs, an Orthodox Jewish woman who lives in New York City and is the founder and director of Jew in the City, an organization that breaks down stereotypes about Orthodox Jews using social media. "If I'm dressed in a dignified way and look gorgeous, it's on the man to keep thoughts in the right place.... If men can make anything disgusting and women are beautiful, we have to meet somewhere in the middle."
In the most extreme groups, however, women might even wear burqas, says Fink, noting that "99.999 percent of Orthodox Jews believe that's crazy, that's over the line, that's just ridiculous." But publications that serve communities on various points of the spectrum will avoid publishing images of women, in reaction "to the people who would be most easily offended," he adds.
Those most easily offended are likely part of communities—some of them in the U.S.—that are "super-religious, very insular, seeking to avoid contact with outside world," Fink says. "They don't seek education, they don't speak English. Their goal is to be self-sufficient, to not have to leave community."
There's a sense in these groups that if a man sees a woman, he might have illicit thoughts, he says. To avoid the problem entirely, publications avoid printing photos of women, regardless of who they are or how they are dressed. "It's not a question of how attractive the woman is or how revealing the woman's dress. A lot of these ultra-Orthodox publications simply don't publish pictures of women," says Krakowski.
And unlike in the mainstream media, where doctoring of photos would be considered unethical, there's no real sense in ultra-Orthodox communities that this is a problematic thing to do. "It's not about any particular woman per se or marginalizing important world leaders," Krakowski says. These same papers, he thinks, "would be happy to run a feature-length interview with Merkel if there was reason to."
For her part, Josephs thinks the extreme step of avoiding any pictures of women in the past decade or two might be a reaction to the sexualization of women in secular media. "I don't want to be too critical of another community, and I don't want to give an impression that this necessarily leads to women feeling unhappy or disrespected," she says.
But when people go so far as to avoid printing the names of women, which is the case with some newspapers and even on some wedding invitations, that's different, in her opinion. "That's where I start judging," she says. "There's a certain point where it's just insane."