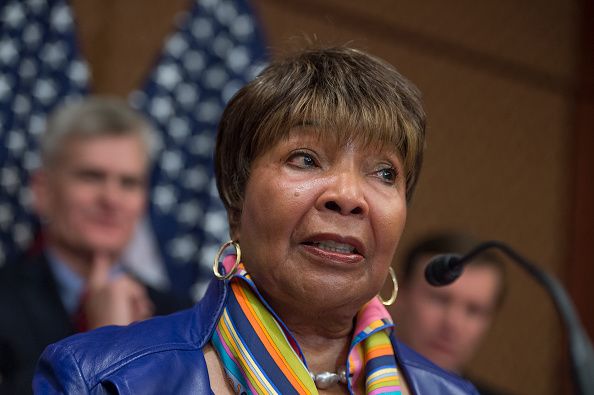 Oh, no, she didn't!
A Democratic Congresswoman is under fire after saying that women are partially to blame for sexual assault and harassment in the way they dress and act.
"I grew up in a time when it was as much the woman's responsibility as it was a man's — how you were dressed, what your behavior was," Rep. Eddie Bernice Johnson of Texas said on NBC DFW on Wednesday, as part of a discussion on disgraced movie mogul Harvey Weinstein. "I'm from the old school that you can have behaviors that appear to be inviting. It can be interpreted as such. That's the responsibility, I think, of the female. I think that males have a responsibility to be professional themselves."
Johnson also said women employees can ward off sexual assault or harassment from their superiors, insisting that her skewed point of view was meant to empower women because they are in control of the situation.
"There's law enforcement, you can refuse to cooperate with that kind of behavior. I think that many times, men get away with this because they are allowed to get away with it by the women," Johnson said.
The comments were immediately slammed by women's advocates.
"Women do not 'invite' sexual abuse. When one in three women experience sexual harassment while working, it is wrong and it is callous to hold the people who are victimized responsible. They are teenagers in fast food uniforms and grandmothers in scrubs and everything in between. This has nothing to do with manners or the length of one's skirt," Sonia Ossorio, president of the National Organization for Women, told Newsweek.
And CNN National Correspondent Dianne Gallagher tweeted, "Extremely problematic comments from Dem. Rep. Eddie Bernice Johnson on sexual harassment & abuse."
Johnson's comments come after a New York Times reported that Weinstein had sexually abused 40 women he encountered in his work for 30 years. Ironically, the A-list film producer suggested that his pattern of abuse stemmed from his own "old school" approach, which was the result of the workplace "culture" when he came of age.
The sexual assault allegations on Weinstein have led to his termination from the Weinstein Company. After multiple women of Hollywood came forward with their stories about sexual harassment from Weinstein, #MeToo trended through Twitter so other women could share their own stories.
Multiple Democratic lawmakers who received donations from Harvey have already distanced themselves from the Hollywood mogul.