Women in Iran Wear White on Wednesdays to Challenge Compulsory Hijab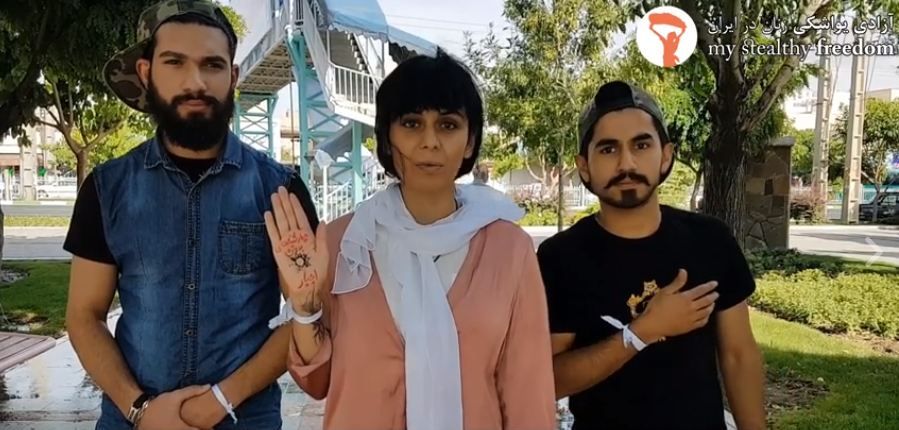 Women in Iran have found a middle ground in the struggle between those who want to cover their hair and those who don't in a new campaign called White Wednesday or "Wednesday without compulsion."
Now running for the fourth week, the campaign invites women and men to wear white veils, scarves or bracelets, the color of peace, to show their opposition to the mandatory dress code. It is the latest initiative of journalist Masih Alinejad, founder of My Stealthy Freedom, an online movement advocating freedom of choice.
"This campaign is addressed to women who willingly wear the veil, but who remain opposed to the idea of imposing it on others. Many veiled women in Iran also find the compulsory imposition of the veil to be an insult. By taking footages of themselves wearing white, these women can also show their disagreement with compulsion," Alinejad wrote in a post on the My Stealthy Freedom Facebook page announcing the beginning of the campaign on May 24.
Women who want to follow tradition and wear black veils, chadors or niqabs should have the freedom to do so, Alinejad explained in a video, but it should not become a mandatory rule for all women. "I'm not against you, and you shouldn't be against me" she said.
Dozens of women and men have joined the White Wednesday campaign in the past month, posting videos and photos of themselves, explaining their reasons for joining and encouraging others to join in the movement.
One of them is an 83-year-old grandmother. In her video message, she said Iranian women protested when the former ruler of Iran, Shah Reza Khan, banned the hijab in 1936 and will keep protesting the Islamic Republic that forces women to wear it. "All Iranians, especially young people, wear black stuff as if they are mourning," she said.
Iranian society is dictated by conservative Islamic law and since the Islamic Revolution of 1979 women have been required to cover their hair in accordance with these religious norms, facing arrest if they don't follow them. The religious authorities have issued other bans restricting women's choices throughout the years, and continue to do so.
A proposed ban on Zumba, the popular dance that is practised as a form of physical exercise in gyms worldwide, created controversy last week.
"Please issue a regulation to ban some activities, such as Zumba, which include rhythmic motions and dance and are unlawful in any shape and title," read a letter from Iran's Sport for All President Ali Majdara to the Ministry of Youth Affairs and Sports penned on June 7, as BBC reported.
The proposal was met with ridicule on Iranian social media, but women in Iran constantly face the risk of new bans limiting their freedom. Just in September, Supreme Leader Ali Khamenei issued a fatwa preventing women from biking in public - despite increasing levels of pollution in Tehran suggesting that biking should be encouraged rather than banned.
At the time, many women defied the restriction and posted videos of themselves biking proclaiming "Iranian Women Love Cycling" in a hashtag. But defiance comes at a cost. For Alinejad, this has come in the form of repeated smear campaigns.