Female Brett Kavanaugh Supporters Pray During Christine Blasey Ford's Hearing
Outside Christine Blasey Ford's testimony before the Senate Judiciary Committee, women gathered to protest Brett Kavanaugh's Supreme Court nomination. Next to those women was a group who came to show their support for the judge and to pray.
The group, organized by Concerned Women for America (CWA), a public policy women's organization, predominantly wore black T-shirts with the words, "Women for Kavanaugh" written in white. Others sported shirts that said, "I Stand With Brett." The group was separated from the protesters by a wall of police.
ABC News White House correspondent Tara Palmeri tweeted a photo of the group standing in the Hart Senate Office Building in Washington, D.C., in a circle with heads bowed, praying.
In a statement, Penny Nance, CEO and president of CWA, acknowledged that more accusations of Kavanaugh's alleged sexual misconduct have come to light but said the "frenzy" is based on "unsubstantiated allegations."
"Concerned Women for America is committed to standing in support of Judge Kavanaugh, as we have throughout this process," she said. "We are also committed to much larger goals—protection of the presumption of innocence, support of due process, and pursuit of truth and justice."
Ahead of their gathering at the Senate building, the group hosted a rally in support of Kavanaugh.
During the rally, the group prayed for President Donald Trump, Vice President Mike Pence, Kavanaugh and his family. The group also prayed for the senators and the nation as a whole.
"[God's] presence is here on Capitol Hill today," the prayer leader said.
Various speakers were invited to the podium to give their take on the situation, all calling for Kavanaugh to be confirmed to the Supreme Court. Many cited their faith in their speeches.
While the group's hope is that Kavanaugh will be confirmed to the Supreme Court, Mallory Quigley, vice president of communications for the anti–abortion rights Susan B. Anthony List, also applauded Senator Chuck Grassley for allowing Ford to be heard.
"The worst thing that can happen to any woman or man who has been a victim [of sexual assault] is to shut them down and not listen to them," Quigley stated. "That is why we commend Senator Grassley for working so hard and his staff to navigate this situation and make sure that Dr. Ford has her opportunity to tell her story."
She added that she's thankful that Kavanaugh also has the opportunity to respond, as it is only fair.
"It is disappointing that Senate Democrats seem to be cynically using the pain of others for their political agenda," Quigly said.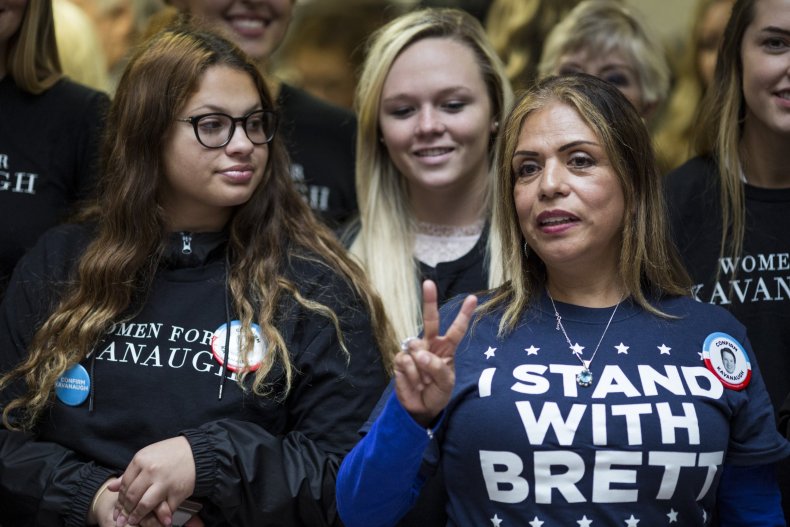 After a series of negotiations, Ford testified before the Senate Judiciary Committee on Thursday. Rachel Mitchell, a sex-crimes prosecutor in Arizona, was charged with the task of questioning her on behalf of Republican senators before opening it up to Democratic senators. During the hearing, Ford said it was her civic duty to share what happened between her and Kavanaugh.
Ford alleged that during a party while the two were in high school, Kavanaugh pushed her onto a bed and climbed on top of her. She claimed that she yelled and her attempts to escape were futile, as he outweighed her.
"Brett groped me and tried to take off my clothes. He had a hard time because he was so drunk, and because I was wearing a one-piece bathing suit under my clothes," she said. "I believed he was going to rape me."
Kavanaugh allegedly put his hand over her mouth to muffle her screams, at which point, she thought he would accidentally suffocate her.
In support of Ford, students at Yale University, Kavanaugh's alma mater, staged a sit-in to demand an investigation into a separate claim that the judge exposed himself to Deborah Ramirez while he was in college. Protesters also vocalized their opinions about his possible confirmation at the Senate building.
The Senate Judiciary Committee is expected to vote on Kavanaugh's confirmation within the next few days.