Women Make Up 40 Percent of Democratic Nominees So Far in 2018 House Midterms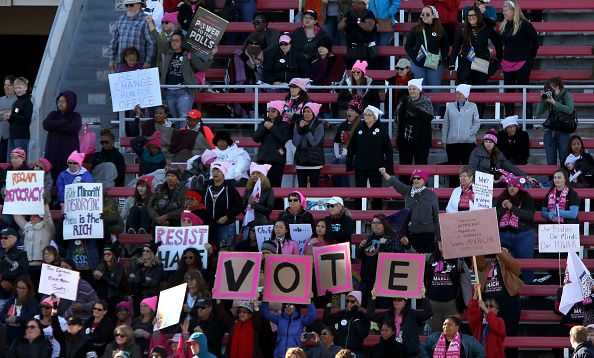 Women are quickly become the Democrats' best shot at winning back the House in November, after cleaning up in their primaries so far this cycle.
After the last three weeks of primaries, along with March's contests in Texas and Illinois, women made up more than 40 percent of the Democratic Party's House nominees, according to new data from NBC News. That number is more than double that of 2010, the first midterm election of President Barack Obama's tenure. That year Democrats lost six seats in the Senate and 63 in the House, costing them control of the latter—which they have yet to regain.
To make up the ground, Democrats need to hold onto the seats they have and flip another 23, a job largely up to the women candidates who have already won primaries in several critical districts for the party.
In Pennsylvania last week, first-time candidate Chrissy Houlahan, who ran unopposed, won the party's nomination in the state's 6th congressional district, one that gained a more sizable Democratic advantage after a state Supreme Court case redrew district lines. Party nominee Susan Wild faces a similar situation in Pennsylvania's 7th, which went from giving Republicans a slim lead, to tilting Democratic. The same night, Kara Eastman dealt the Democratic establishment a major upset when she beat party favorite Brad Ashford in Nebraska's 2nd congressional district, a Republican-held toss-up.
And Tuesday's results determined first-timers Lizzie Pannill Fletcher and Gina Ortiz Jones would be responsible for flipping toss-up seats in Texas's 7th and 23rd districts, respectively.
Pickup seats like these could be the difference between winning in November, or ceding control to Republicans for another two years.
NBC's findings bolster the narrative that 2018 will likely be a boundary-breaking year for women in politics. An April analysis from the Associated Press had already foretold that the seismic gender shift was most likely to occur in the House, where a historic 309 women had filed to run.
Conventional wisdom looks favorably on these women candidates because, as many advocates for women in politics have told Newsweek before, when women run, they win. This promising mantra is backed up by data: Studies from Smart Politics and Harvard University have found, respectively, that women are elected and re-elected at the same rates as men.
Still, some experts warn against hyping the anticipated "pink wave" too much. Some women this cycle are competiting against each other for their party's nomination; some are running in deep-red districts against longtime incumbents; some are finding that they still lack the institutional support they need to cross the finish line, even amid what's supposed to be the "Year of the Woman."
In other words, some women will lose.
"Our approach to this year is underpromising and overdelivering," Kelly Dittmar, the project director for Gender Watch 2018, an offshoot of the Center for American Women and Politics at Rutgers University, where she is an assistant professor of political science, told Newsweek last week. "If we assume all women are going to win and put forth this narrative that it's a tsunami of women overtaking Congress, the narrative can easily become about women's failures."
Women Make Up 40 Percent of Democratic Nominees So Far in 2018 House Midterms | U.S.