Women's March: Men Vow to Oppose Trump and Work for "A More Equal Country"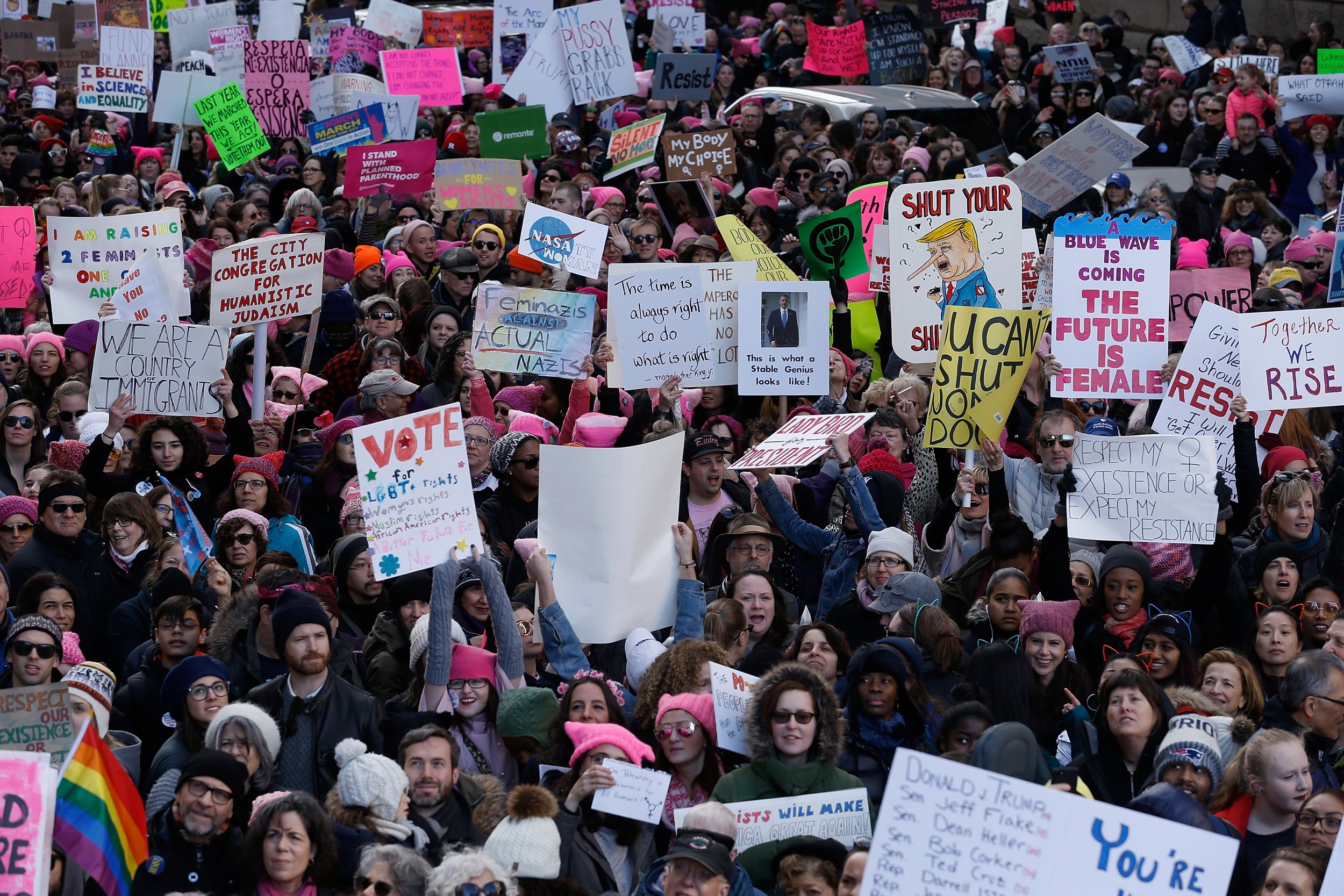 LAS VEGAS—If the future is female, as feminists often say, where does that leave men?
As thousands gathered in the stands of a college football stadium here for the second anniversary of the Women's March against Donald Trump, the answer was clear: right alongside women.
"I'm sitting back and listening today," Jose Sotelo, 33, told Newsweek. "It's all about the women—the men are just here to play a supporting part."
Sotelo came to the march with his wife, Ashleigh. Though they aren't currently expecting a child, Sotelo said he came to Sunday's event thinking of his future children. "Anytime President Donald Trump says something that goes against human rights, women's rights and general decency, I think about if I have a daughter," Sotelo said.
Organizers said they chose Las Vegas as the site of the official anniversary event Sunday because Nevada is home to one of the most competitive Senate races in the country this year, a prime backdrop for activists' "Power to the Polls" message.
"I'm here because I don't think any man should tell a woman what to do with her body," Erik Darby, 42, told Newsweek on Sunday. "Any man who loves a woman should be here supporting her."
Darby was sitting on the bleachers of Sam Boyd Stadium alongside his wife, Christina, and his 22-year-old daughter Emily, who all hail from Chicago. The three of them attended Saturday's Women's March in Los Angeles, one of several dozen rallies in cities across the country. Darby lamented that he hadn't been able to attend the Women's March on Washington last year with his wife and daughter; he had to work that day.
For many men, this year's #MeToo movement raised greater awareness of the fight for gender equality. The problem of sexual misconduct had been a focal point of the 2017 Women's March, primarily because of the president's own alleged misdeeds, which included allegations of sexual assault from more than a dozen women, as well as his now-infamous Access Hollywood hot-mic comments.
But after a string of other powerful men in a variety of industries were outed as alleged sexual abusers, men at Sunday's march said they felt an obligation to speak out about their gender's treatment of women and stand beside women as allies.
"Men need to speak up if they hear or see anything, and they need to believe women if they say that a man has treated them badly," Darby said, who added that the #MeToo movement was a motivating factor for him to come out to the march.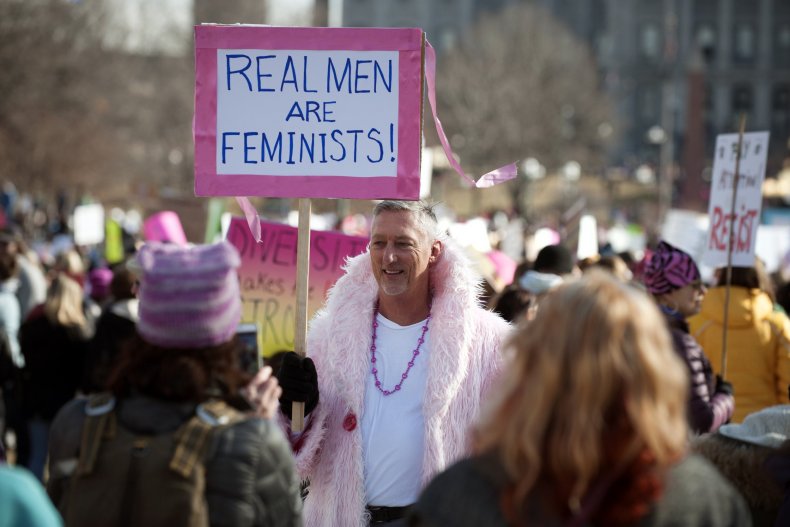 Ahead of the 2017 Women's March, some men weren't sure what role they should play in the day's events, if any. Men were "slow to support" the march, Washington Post writer Michael Alison Chandler wrote at the time, because they worried that attending a demonstration led by women would make them seem "unmasculine."
"There is a sense [that] if you outwardly support a woman, you are less deserving of your man stripes," Alex Mohajer, co-founder of "Bros 4 Hillary," told him.
Meanwhile, on Twitter, New York magazine writer Jonathan Chait had charged that Women's March organizers had chosen a "bad name" for their protest, and said that many men naturally assumed they weren't invited to join because of it.
"This is a movement that is led by women, but it is not just for women," Women's March co-chair Linda Sarsour told the Washington Post last year. "It's for all people. [But] you have to be okay with being led by women."
Despite the initial misgivings of a few, it seemed that plenty of men heeded Sarsour's words and turned out to last year's march to show support for the women in their lives and to buck the traditional masculinity they saw embodied in Trump and his cohorts.
A year later, those motivations remain.
"I'm here today to stand in opposition to the fact that there's a sexual predator in the White House," Cory Edwards, 26, told Newsweek. "It's important to support women and help us all get to a more equal country."